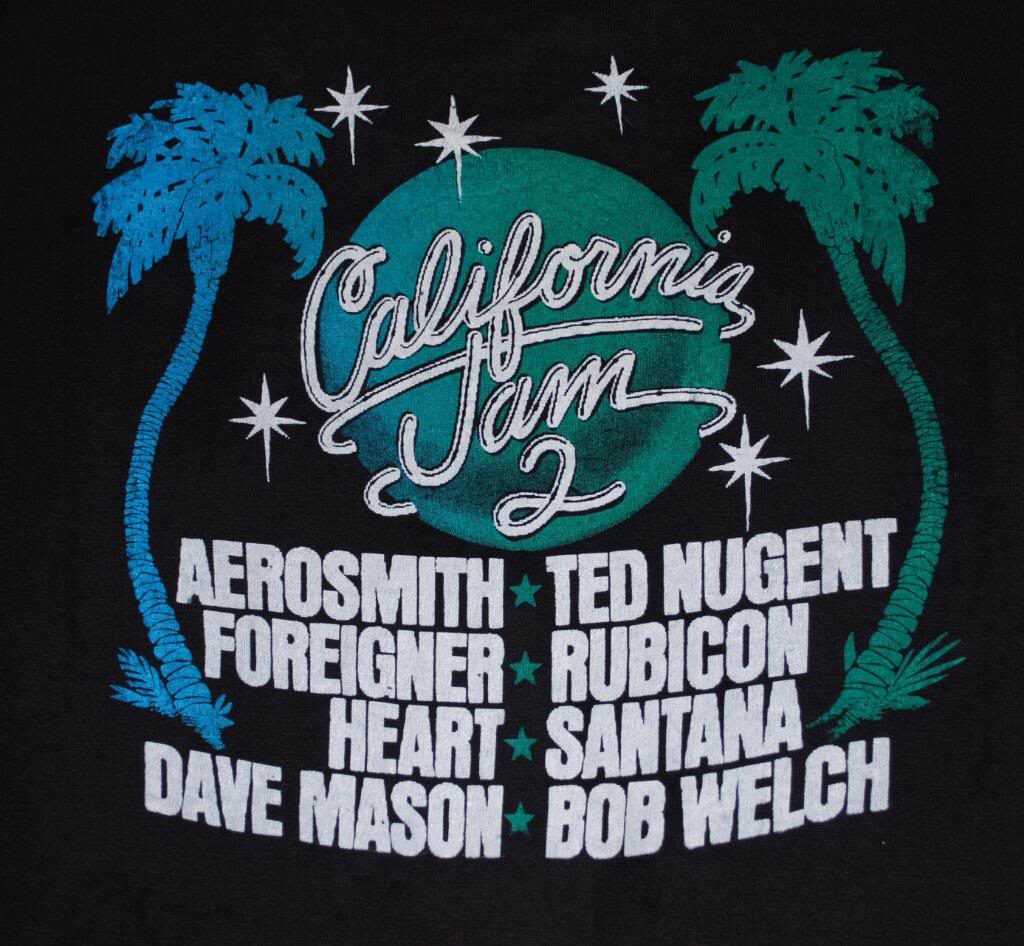 The original California Jam festival, held on April 6, 1974, was successful enough that it was inevitable there would be a sequel. On that single day, which took place at the Ontario Motor Speedway in Ontario, California, a crowd estimated at somewhere between 300,000 and 400,00 people partied to the sounds of Emerson, Lake & Palmer, Deep Purple, Black Sabbath, Black Oak Arkansas, Seals and Crofts (how they survived the rock-centric audience is a question never answered), Eagles, Earth, Wind and Fire and Rare Earth.
That concert went down in the history books for having the largest paid attendance ever at a rock event (most previous festivals were either free or crashed by thousands of non-ticket holders), the highest gross and—a dubious honor, perhaps—the loudest sound system ever employed for a music event.
For the most part, it was peaceful, although there were a few incidents. Due to the heat that day, the promoters at one point passed out thousands of gallon jugs of water, which restless audience members began throwing up in the air, causing not only a mini-rainstorm but presumably a few bumps on heads. But the larger incident of the day involved Deep Purple, then into its third lineup, featuring new members David Coverdale and Glenn Hughes.
Annoyed that the band was forced to take the stage earlier than usual, guitarist Ritchie Blackmore attacked a video camera that he felt was getting in his way (the band later paid $10,000 to the TV network that owned it) and, at the end of the show, threw several guitars and amplifiers into the audience. Not only that, but when one of the band's pyrotechnic displays misfired, it caused one of Blackmore's amps to explode, briefly causing a fire. The band, whose set was broadcast nationwide, left the grounds by helicopter in order to avoid any further trouble.
Watch Ritchie Blackmore give his side of the California Jam story
You might think that the promoters of California Jam would have seen the problems as an omen, but four years later came an announcement: California Jam 2 would be held at the same venue, on March 18, 1978. This time, although it was another single-day festival, the number of acts performing would be even larger: Aerosmith, Foreigner, Heart, Frank Marino and Mahogany Rush, Dave Mason, Santana, Ted Nugent, Bob Welch (joined by Stevie Nicks and Mick Fleetwood), Rubicon and Jean-Michel Jarre.
Watch Aerosmith play "Draw the Line"
Related: The great "lost" rock festival of 1969
This time the event was captured for a two-LP set on Columbia Records that would include music from all but Foreigner and Welch. In addition, two 90-minute specials aired on ABC-TV commemorating the show. For the most part things went relatively smoothly, considering the crowd size, also estimated at 300,000-350,000 concertgoers.
Reports of rowdiness among the large audience were met from the stage by pleas from the organizers to calm down and simply enjoy the music, and fortunately there were no major mishaps, other than a handful of bonfires on the grounds, which were quickly doused. Some 23 arrests were made for various infractions but local officials and residents later reported that Cali Jam II could be considered a success.
Not enough of a success that anyone welcomed another repeat: Whether or not a third festival was considered is unknown, but there would never be one. California Jam, all things considered—especially after what had transpired at another speedway, Altamont, in 1969—got off easy. The name would instead be associated with two great days of rock music, not with a disaster. Sometimes it's best to leave well enough alone.
Foreigner were still promoting their 1977 debut. Watch them perform "Feels Like the First Time"
Watch Santana perform several favorites at California Jam 2
And here's a very active Stevie Nicks (as well as Mick Fleetwood) joining in with ex-Fleetwood Mac member Bob Welch on "Ebony Eyes"
Heart performed "Barracuda" as part of their set.

Latest posts by Best Classic Bands Staff
(see all)