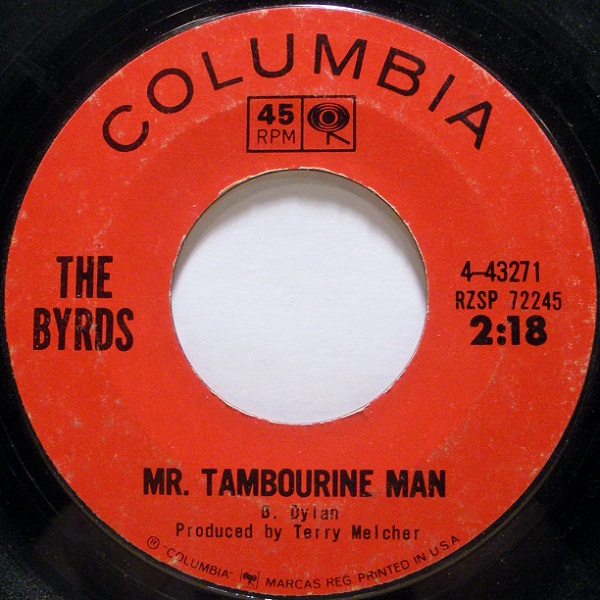 If the rise of folk-rock as a commercial force can be carbon-dated to a single event, this would be it, on June 26, 1965. It was on this date that an acoustic ballad written by America's leading young folk singer, and transformed into something new and exciting–a rock 'n' roll song–reached the top of the charts.
The stories of the origin of the Bob Dylan song–the first single released by The Byrds on Columbia Records–vary. Some say "Mr. Tambourine Man" is Greenwich Village folk scene guitarist Bruce Langhorne, who would also play a Turkish hand drum with small bells attached that sounded like a tambourine. Others claim it was the nickname for Dylan's pot dealer. The song is thought to recount a night Dylan spent at Mardi Gras in New Orleans in 1964.
The recording that topped both the U.S. and U.K. charts was not played by the Los Angeles-based band formed in the wake of the Beatles by folkies Jim McGuinn (later to change his first name to Roger), Gene Clark, David Crosby, Chris Hillman and drummer Michael Clarke. Instead, the L.A. studio musicians known as the Wrecking Crew backed McGuinn on his Rickenbacker electric 12-string guitar – one of the signature sounds of the track and band alongside the group's luscious vocal harmonies.
The Byrds' version was released on April 12 and took off almost instantaneously. Although other groups had sought to apply the lyrical sophistication of folk music to rock instrumentation, the Byrds were the first to put everything in the right places: McGuinn's dreamy lead vocal and the mysterious story he told proved a perfect fit for the times. Soon, other acts, among them Simon and Garfunkel, the Lovin' Spoonful, the Turtles, the Mamas and the Papas, Sonny and Cher and others would also enjoy hit records in the folk-rock style begun by The Byrds onto the charts.
Although the full Byrds band did not play on their initial smash hit, soon enough they took full control of their own music, remaining one of the most successful and influential American rock bands of the remainder of the '60s, and on into the early '70s. Even long after the Byrds split up (following numerous personnel changes that left only McGuinn from the original band), their influence could be detected in the music of groups like R.E.M., Tom Petty and the Heartbreakers and the Bangles.
If you're wondering how Dylan's own version scored on the Singles chart, you're not alone. But you'll be searching in vain; it was never released as a single. The Byrds would soon enjoy a second #1 with "Turn! Turn! Turn!"
Related: Dylan in '65: Evolving to electric

Latest posts by Best Classic Bands Staff
(see all)