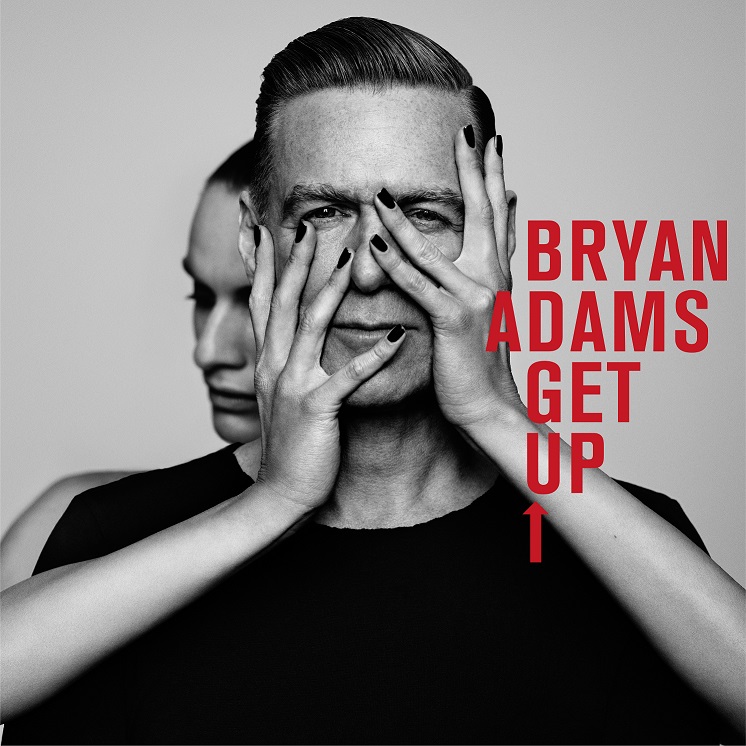 Well now! I did not expect this. There was a mere two weeks left to go in 2015. Not one disc had yet to hit my all-time favorite zone, much less prompt me to declare it my top release of the past year. That's OK. I have had such years before….
Then in a bit of artist research, I hit "play" on a recent release from Bryan Adams. Twang, twang bang into a rock 'n' roll super-shuffle goes song one, "You Belong To Me."
It's the 1950s calling from the '70s on Dave Edmunds' cellphone for Bryan Adams and Jeff Lynne (who produced this album, or to be more specific, really, nine of its 13 tracks). Just wondering guys: anybody hearing much real rock 'n' roll on the contemporary pop and, uh, rock charts anymore? Exactly. Didn't think so.
You won't likely hear Get Up unless you stumble upon it as I did, search it out, or happen to be a Bryan Adams fan, which I now am. Never expected to say that: Bryan Adams fan. Always liked the guy and his music. But if you can't stop playing an artist's new release and don't care to hear anything else… what can one say but fan?
Get Up is really like it's own little golden age of classic rock 'n' roll, displaying less homage and more just a deep and unbridled love for the music at its best. "Go Down Rocking" makes me think of Humble Pie, while "That's Rock and Roll" – a magnificently syncopated bit of crunch and splash that extols the virtues of "three chords and a rocking backbeat/bass and drums and you're good to go/a Marshall stack and a '55 Fender" but also observes how "if there ain't no audience there ain't no show" – plays like Mott the Hoople back when and Mott's Ian Hunter today.
But "if there ain't no audience," then Get Up is all but a compendium of what we're not hearing much if at all on the pop and rock charts today. I'd love to hear more echoes of power pop ("Do What Ya Gotta Do"), or, as on "Don't Even Try," the ghost of John Lennon truly inform a contemporary songwriting team…
…Adams wrote 8 of the 9 songs with his longtime songwriting partner Jim Vallance, a Canadian Tom Petty ("Yesterday"), and in maybe the niftiest trick here, ELO fans writing a Jeff Lynne-style song that Lynne then adds the ELO to ('We Did It All").
Every single production touch Lynne brings to the mix is… well, perfect. Like the four tracks that round out the album with the exact song demos that were sent to Lynne to enhance in one of those at-a-distance album projects. Imagine as they arrived he just smiled and thought, oh yeah, I can make this even better… even if in their simplest terms they're as good as it gets, dynamically delivered and sung by Adams like he means every word, nuance and emotion from the depths of his heart. It's all quite powerful stuff.
Maybe the four basic recordings are included to provide inherent commentary. Such as on how a singer with the serious skills – and Adams has the major rock vocal chops to remain a fave forever; guy can not just deliver songs but nail them to the side of your very soul – beats out any kid with autotune. Or maybe how rock 'n' roll is a family of stylistic variations that, done correctly, could enhance today's music. I could go on. Right now I simply like how when you're playing this set like a favorite over and over, the vibe begins to seamlessly shift form the arranged numbers to their basics as without the listener even noting. One simply lets this set of gems play.
At one point on the disc Adams sings "what goes around comes around" (in reference to another lyric). It's impossible to hear this album and not think he's a true believer in what rock 'n' roll can still bring to contemporary music.
So, yep, I've now got a favorite 2015 album (that's gonna play great in ragtop with the top down). Two weeks to spare, but worth all year to finally get one that's sure to graduate soon to all time fave.
[Editor's Note: Adams turned 60 on November 5, 2019. He and Vallance are among the creative team behind the 2018 hit Broadway musical, Pretty Woman, based on one of the most beloved romantic comedies of all time. The pair wrote the original music and lyrics.]

Rob Patterson began writing about music in 1976. Since his first published record review in Crawdaddy he has contributed to numerous national popular music magazines such as Creem, Musician, Circus, Spin, Request, Tower Pulse!, CD Review, Acoustic Guitar, Harp and many others along with major country music, consumer audio, musical instrument and studio recording magazines plus international publications New Musical Express and Country Music People in the U.K. From 1977 to '84 he wrote a nationally syndicated music column as well as stories for Newspaper Enterprises Association/United Feature Syndicate that ran in more than 400 daily newspapers across the nation. His work has also appeared in many weekly newspapers, onlinepublications like Salon.com and The Huffington Post, such books as the Rolling Stone Record Guide & Revised Record Guide, The Greenwood Encyclopedia of Rock History and The Year In Rock, 1980-81, plus liner notes for 20 album releases.

Latest posts by Rob Patterson (see all)