Brian Wilson
No Pier Pressure
(Capitol)
In A Word: Buoyant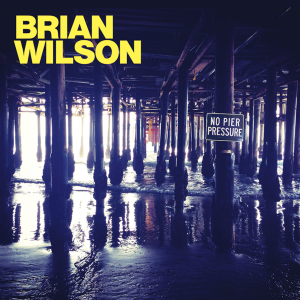 Brian Wilson is a pop music icon, and with the movie Love & Mercy out June 5 he's having another moment in the summer sun. His tour this year supports his 11th studio album, No Pier Pressure, which is as cheery as that punny title suggests, but also deeply moving and life-affirming.
The album stands beautifully on its own. But with the Brian Wilson and Beach Boys back catalog playing forever in whatever part of the brain safekeeps our favorite musical memories, the listening experience is that much deeper. It's an album that's nostalgic and retro yet current and timely – how'd he and co-producer Joe Thomas do that? Well, in part through Wilson's trademark sophisticated compositions, instrumentations and harmonies and in part through some fun collaborations and sensitive production. Twice, with "This Beautiful Day" and "One Kind of Love," he reached into my chest and squeezed my heart (figuratively speaking, of course).
The collaboration with She & Him, "On the Island," is particularly mellow and hipsway-inducing, an instant summer cocktail hour classic. Not surprisingly, the Al Jardine collaborations are the most evocative of classic Beach Boys hits. "Sail Away" could be the sequel to "Sloop John B." The Kacey Musgraves collaboration "Guess You Had to Be There" ties with the Sebu-paired "Runaway Dancer" for the title of weakest link in a strong chain; both are repetitive and bubblegum-y but not without charm.
Wilson's voice, most clearly displayed in "One Kind of Love" and "The Last Song," has aged but there's not a note he doesn't hit – if autotuning was used, as has been charged, it was used sensitively. That said, when he lets others, such as Nate Ruess of fun. take the lead, the energy level increases. The honesty behind Wilson's lyrics, voice and music is meant to be shared.
The lyrics call life a "wayward ride" and note "Whatever happened to my favorite places? Nothing is where it used to be" and "I wish that I could give you so much more." Yet Wilson claims "my dream came true" and "I feel alive again." This album acknowledges life is not all perfect waves and frolicking, that there's regret and loss, but ultimately acceptance and deep satisfaction. Love and mercy, you might say.

Latest posts by Laura Huntt Foti
(see all)