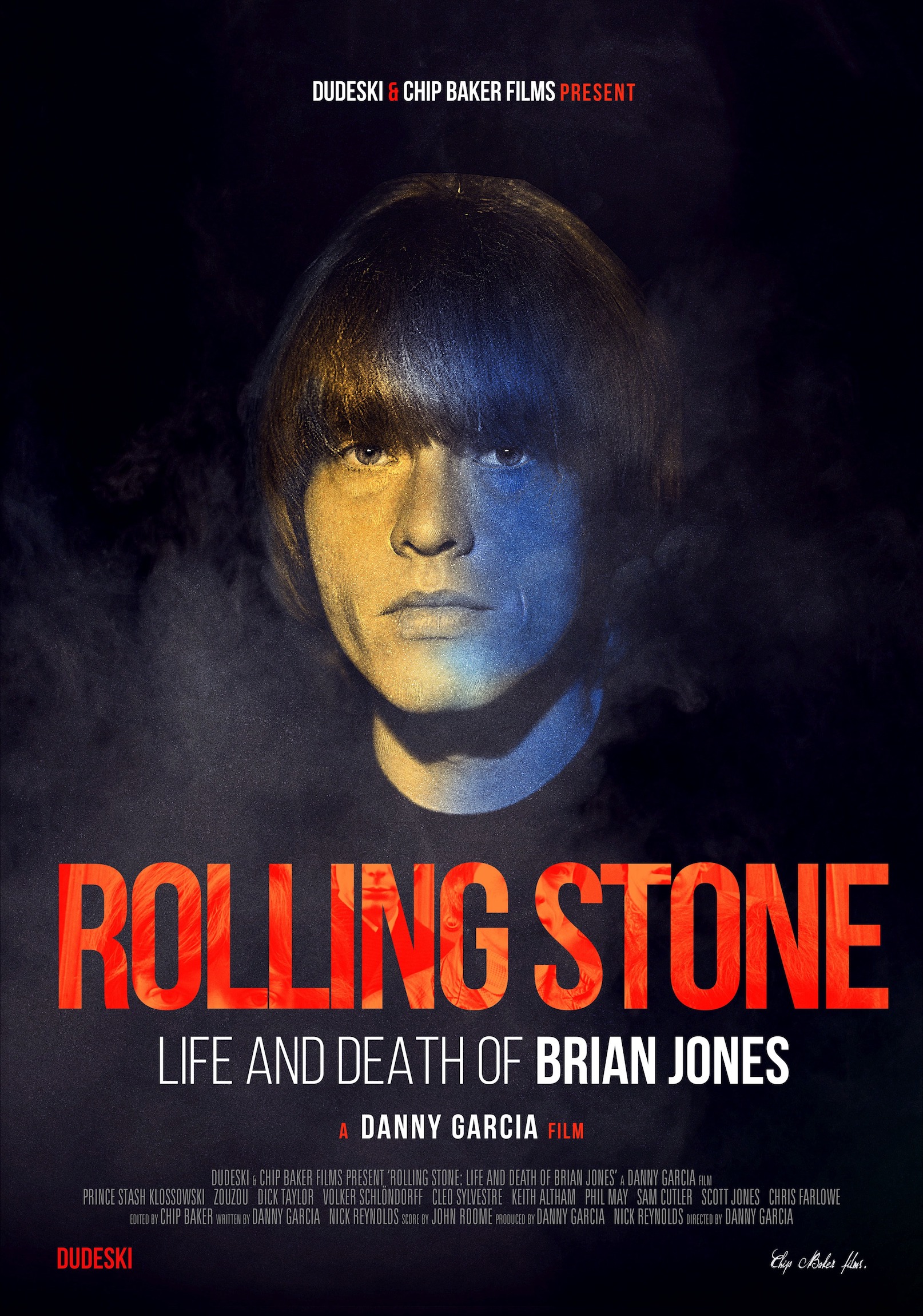 Rolling Stones founder Brian Jones is the subject of a new documentary. The title, Rolling Stone: Life and Death of Brian Jones, will receive a very limited run of theatrical screenings in select markets worldwide before the film's release on DVD in mid-April.
The announcement describes the film as the first documentary about the founder and original leader of the group. Watch the trailer below.
From the Jan. 24 announcement: In the mid-1960s, Brian Jones emerged as "the face" and poster boy of the Bohemian Swingin' London scene, topping the charts with the Rolling Stones and dating model/actress Anita Pallenberg.
Related: The London bar scene of the early days of the Stones
More from the announcement: However, his excessive lifestyle and his reputation as "the original bad boy of Rock & Roll" was to cost him dearly. As the scene descended into the acid-ridden year of 1967, so did Brian. Targeted by the authorities and media, he spiraled out of control losing both [Pallenberg] and the respect of the Stones. Two years later, on July 3, 1969, Brian was found at the bottom of his swimming pool, the verdict: death by misadventure.
During the last 50 years many theories have emerged, claiming that Jones was murdered and that it was covered up at high level, as this film discovers – the evidence for this is extremely compelling.
The film made its world premiere on Dec. 16 in London.
Watch the trailer for Rolling Stone: Life and Death of Brian Jones
Screenings for Rolling Stone: Life and Death of Brian Jones (Tickets are available through the theaters and via Eventbrite)
Jan 25 – Düsseldorf, Germany – Atelier
Jan 30 – New York, NY – Anthology Film Archives
Jan 30, Feb 1-4 – Boston, MA – Regent Theatre
Feb 06 – Munich, Germany – Werkstattkino
Feb 08 – Santa Ana, CA – The Frida Cinema
Feb 13 – Seattle, WA – Ark Lodge Cinemas
Feb 15 – Pittsburgh, PA – Harris Theatre Downtown
Feb 15 – Sao Paulo, Brazil – Olga 17
Feb 21-24 – Chichester, UK – Cinema at New Park
Feb 22 – Curitiba, Brazil – Centro Cultural Sistema Fiep
Feb 23 – Harrisburg, PA – Moviate
Feb 23 – Cleveland, OH – Grog Shop
Feb 24 – Gothenburg, Sweden – Bio Roy
Feb 27 – Chicago, IL – Music Box Theater
Mar 12 – Buenos Aires, Argentina – Strummer
Apr 08 – Minneapolis, MN – Trylon Cinema
Related: Former Stones bassist Bill Wyman talks about the birth of the Stones
Rolling Stone: Life and Death of Brian Jones is the fifth music documentary from Spanish filmmaker Danny Garcia. His other releases include The Rise and Fall of The Clash; Looking for Johnny, about New York Dolls guitarist Johnny Thunders; Sad Vacation, a film chronicling the final months in New York City of the Sex Pistols bassist Sid Vicious & his girlfriend Nancy Spungen; and Stiv: No Compromise, No Regrets about Stiv Bators, legendary frontman of the iconic Ohio band, the Dead Boys, and the Lords of the New Church.

Latest posts by Best Classic Bands Staff (see all)