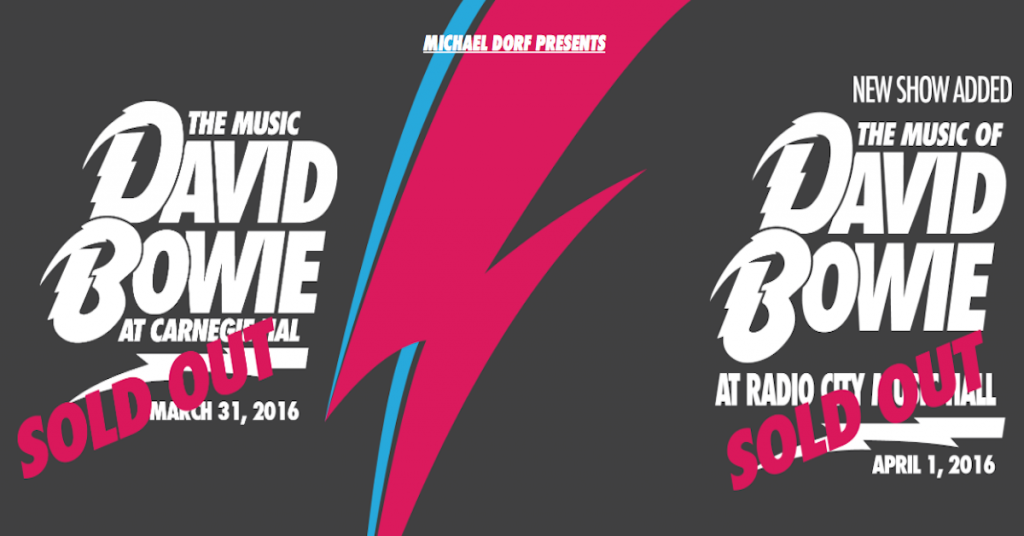 Update (March 30): On the eve of the two tribute concerts, some disharmony has been expressed by one of the planned participants.
The Roots -via Questlove – have indicated that they are backing out due to what they perceive as "Bitchassness." Translation: it sounds like some of the other performers weren't willing to share their equipment.
On Thursday night, the drummer posted on his Instagram account: "I've never been so insecure or petty as to deny a fellow musician use of ANY of my equipment (or my band's equipment—-or resources or contacts or knowledge or ANYTHING) it angers me when that same courtesy is not reciprocated."
As of 11:55 pm, The Roots still appeared on the performers list for both shows.
Update (March 29): Fans can now enjoy the sold-out April 1st Music of David Bowie tribute at Radio City Music Hall as it happens. Promoter Michael Dorf has teamed up with Skype and ammado to stream the concert around the world. Fans can enjoy all 18 artists performing classic Bowie songs in return for a small donation to the benefit show's charity partners (details here). A minimum donation of $20 is suggested.
Among the confirmed performers are Blondie, Mumford & Sons, Ann Wilson Of Heart, Michael Stipe, Rickie Lee Jones, Pixies, Perry Farrell, The Roots, Jakob Dylan and J Mascis.
Update (March 27): A limited number of tickets have been made available to the two tribute concerts. In addition, Rickie Lee Jones has been added to the lineup for both shows. Click here for Ticketmaster; and here for Ticket Network.
The David Bowie tribute concerts at Carnegie Hall on March 31st and at Radio City Music Hall on April 1st have just added several big classic rock names to the lineups. Joining previously announced performers like REM's Michael Stipe, Ann Wilson of Heart and Cyndi Lauper are Blondie and Mumford & Sons.
The Carnegie Hall event was in the works for seven months. But Bowie's unexpected death from cancer transformed the event into a memorial concert. Other previously announced performers include Perry Farrell, The Roots, Jakob Dylan, Robyn Hitchcock and more, performing the musician's classic rock tunes with a house band coordinated by his longtime producer and collaborator Tony Visconti.
All 2,800 tickets to the Carnegie Hall show sold out when they went on sale on January 11th, which coincidentally, was the same day the news first broke that Bowie had died – just two days after his 69th birthday and the release of his 26th album, Blackstar. (Read Best Classic Bands' coverage of Bowie's death here.)
The second show was added on January 14th. Even with the larger venue, the Radio City concert was an instant sell-out. Even a Music of David Bowie: Live Rehearsal Show featuring the house band and "Special Guests" sold-out immediately when it was announced last week.
The Carnegie Hall event now boasts Debbie Harry, Pixies, Laurie Anderson, Stipe, The Roots, Farrell, Lauper, Wilson, Dylan, Hitchcock and more. The Radio City lineup includes Mumford & Sons, Blondie, Pixies, Stipe, Wilson, The Roots, Farrell, and Dylan, among others.
The website indicates that the lineup is "Subject to Change." We'll keep you up-to-date on any additions.
"The Music of David Bowie" is the 12th annual tribute at Carnegie Hall produced by City Winery's Michael Dorf, who has previously staged tributes for Prince, Paul Simon, Bob Dylan, Bill Withers and more. In addition to honoring talented musicians, the concerts benefit charity. This year's productions aid a variety of music education programs serving underprivileged youth.
Prior to Bowie's death, Dorf had hoped the performer might attend the concert as other honorees had in the past. A statement on the concert's website reads: "While the series has featured surprise appearances and performances of honorees several times in the past, this year's concert will certainly be remembered as a poignant celebration of his music by his friends, peers and fans. We are all deeply saddened by this news. The timing of our public on-sale date is bizarre in its timing and the show is taking on many more emotions. RIP David and may god's love be with you."
For more information about the production, visit the "Music Of" concerts' official website.  In the days after Bowie's death, Dorf recognized that the infrastructure was in place to expand upon the original event. "There are no more tickets," Dorf said in an interview with Pollstar, "so we're looking at what else we could do the next day. How do we extend this? The whole thing is a benefit for charity. So if there's a way to add another day or something, we're exploring right now what else we can do. The whole thing is kind of unprecedented territory."

Latest posts by Best Classic Bands Staff
(see all)