Boston's Multi-Platinum Debut Album: More Than a Feeling
by Lee Zimmerman
Popular music boasts no shortage of bands that emerge suddenly out of the ether to make an immediate and indelible impact. After all, very few groups make their big breakthrough courtesy of a pedigree that prefigures their arrival. Even Elvis, the Beatles and the Stones seemed to appear out of nowhere once they made their mark, despite the fact that they had labored in obscurity until the public was given cause to take notice.
Still, the idea of becoming an overnight sensation is relatively rare in the music biz. Most artists are forced to put in their hard knocks prior to the point where discovery seems assured.
That said, Boston is the obvious exception. While Tom Scholz and the other musicians that would eventually join him could claim some degree of earlier experience, they were hardly in any position to believe success was imminent. Scholz himself practically instigated their efforts single-handedly, and given his background as a gadget geek, a graduate of the Massachusetts Institute of Technology and an employee of Polaroid's product development division, his background couldn't have been further from that of any other aspiring artist.
Nevertheless, Scholz did have an inherent interest in making music, and after studying classical piano as a child and later playing in cover bands in his native Boston, he was fully qualified—musically at least—to try his hand at writing and recording original songs in the home studio he built with funds saved from his salary from Polaroid. An early stint in a band called Mother's Milk—which also included future Boston members Barry Goudreau on guitar and vocalist Brad Delp—helped grease his efforts, while providing several of the songs that would eventually end up on the demo tape that Scholz sent to every major labor he could think of.
Listen to the original demo tape of "More Than a Feeling"
Ironically, despite the fact that the songs on the tape were fully formed—and performed almost entirely by Scholz himself with help from Delp and drummer/keyboardist Jim Masdea—it was met with rejection letters from each of the recipients. Eventually, however, Epic Records opted to take a chance on the condition that the group audition for label reps to prove their prowess as a live ensemble. By that time, Masdea had left the fold and been replaced by Dave Currier. Currier himself departed soon after, leaving it to Sib Hashian to take over the drum throne, until Masdea returned for the group's third album. Meanwhile, Scholz had also recruited bassist Fran Sheehan. The trio passed the audition, changed its name to Boston, and got the green light for a first album, simply dubbed Boston.
Epic insisted that the group record the album in a West Coast studio while also mandating that it effectively replicate the sound of the original demo. Scholz had other ideas, however, and with the help of producer John Boylan, ended up recording the majority of the album in his own basement studio entirely on his own, leaving Delp to do vocals at Capitol Studios in L.A., with Boylan's role mostly relegated to working with Delp and overseeing the mix. Because Scholz assumed the majority of the recording responsibilities on his own, the album cost only a few thousand dollars to produce. But because the songs still sounded superb, the label was unaware it had been blindsided in the process.
Then again, how would they have known? Opening track "More Than a Feeling" resounded like a call to arms, an anthemic epic with an opening enticing intro that segued into a searing guitar riff, a steady martial beat and soaring harmonies, before retreating into repose and that classic middle lament ("I see my Mary Ann walking away…").
"Peace of Mind," the track that followed, seemed an attempt to soothe that dispirited disposition, courtesy of its driving delivery and an upturn in optimism. The engaging embrace of melody and majesty brings the Doobie Brothers to mind, but the call to arms taps their own template.
"Foreplay/Long Time" continues that assertive streak. The first part of the song rings with resolve, an instrumental overture that proves a perfect setup for the sounds that follow. Keyboards play a major role in the mix, but here again, it's that driving delivery and a reverberating riff that take the song into the stratosphere.
In fact, the music that Boston would boast established a trademark template that the group would replicate on the efforts that followed. The spaceship that adorned their covers and the group's indelible logo were replicated throughout the course of that collective career. Still, it was the music that mattered most, an update of the classic "Wall of Sound" technique created by Phil Spector more than a dozen years before, all richly textured with overlaid guitars and keyboards, reverberating refrains, multi-tracked vocal harmonies and consistent tempos that ensured the energy and exuberance remained intact. While it aimed to achieve an ideal as far as its arena rock sound, it appeared during a somewhat auspicious era, where disco dominated the airwaves and punk was beginning to take rock back to its basics.
Related: Our interview with Tom Scholz
As if to drive their own intents to an inevitable conclusion, "Rock & Roll Band" also bares the basics, serving as a reminder that for all its flash and finesse, this was music meant to stir the senses and share the spirit and determination that ought to be the essence of any rock band's endeavors. It's humbling in a way ("We were just another band from Boston," the opening verse insists), but also an excellent reminder of the real reason why the music was made in the first place.
So too, "Hitch a Ride," the track that follows, keeps to that unfiltered exhilaration. There's no grand theme or concept conveyed here, other than the need to see the journey through to fruition.
Not surprisingly, then, the album, released on August 25, 1976, found its niche. Radio immediately embraced it, resulting in three hit singles ("More Than a Feeling," "Long Time" and "Peace of Mind"), sales of over 17 million LPs in the U.S., a Grammy nomination and a climb to #3 on the Billboard chart, where it would ultimately reside for an astounding 132 weeks.
It still ranks not only as one of the best-selling debut albums in music history, but also one of the fastest-selling as well.
Related: The 50 biggest U.S. albums – 24 never reached #1
Much of the album's reputation resonated on that later fact alone, and while successive albums came close—its immediate follow-up Don't Look Back and the belated Third Stage, which appeared a decade later—it was Boston that set the standard.
Watch a 1979 live performance of "Foreplay/Long Time"
Related: In 2021, Scholz reflected on 45 years of Boston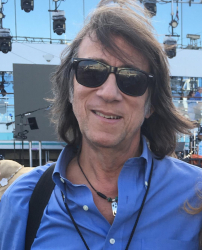 Latest posts by Lee Zimmerman
(see all)