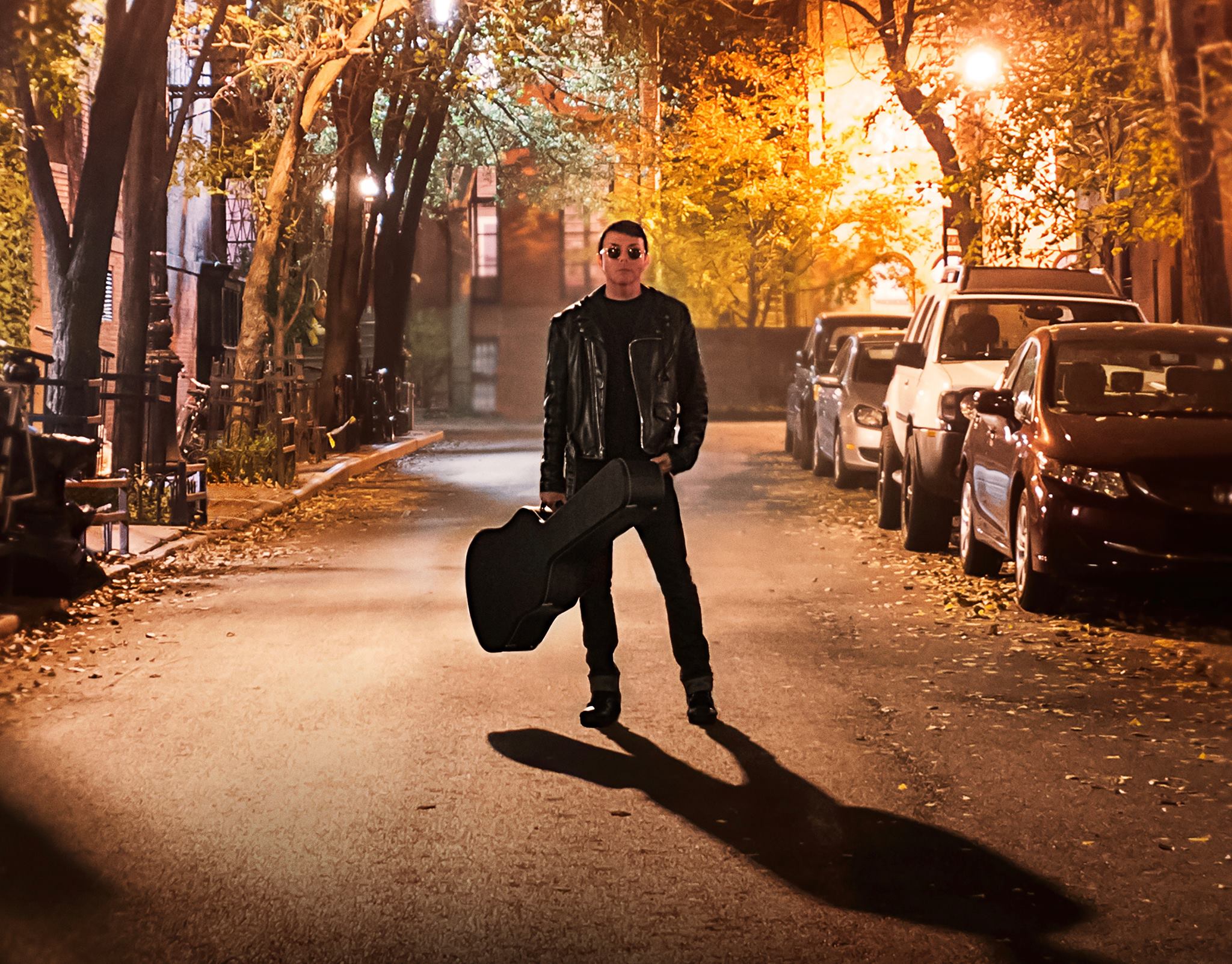 Richard Barone, the singer/songwriter/musician best known as the frontman of the New Jersey-based indie band The Bongos, released a solo album last November with a self-explanatory title: Sorrows & Promises: Greenwich Village In the 1960s.
Sorrows & Promises is now also available on vinyl.
On the 12-track recording, Barone revisits and reimagines songs originally associated with artists such as Fred Neil ("The Other Side of This Life"), John Sebastian and the Lovin' Spoonful (who guests on his own "Did You Ever Have to Make Up Your Mind"), Phil Ochs ("When I'm Gone"), Tim Hardin ("Don't Make Promises"), Eric Andersen ("Close the Door Lightly When You Go"), Janis Ian ("Sweet Misery") and, of course, Bob Dylan ("I'll Keep It With Mine").
Watch Barone perform "Did You Ever Have to Make Up Your Mind" at the record release party
Related: Bob Dylan signs with Columbia Records, 1961
Barone also reaches beyond those core artists to include songs by the Velvet Underground ("Sunday Morning"), Richard Fariña ("Pack Up Your Sorrows") and an early Paul Simon composition, "Bleecker Street." The album opens with a couple of tunes by artists not usually associated with the Village scene of the '60: Buddy Holly ("Learning the Game"), who was living and demoing songs in a New York City apartment shortly before he died, and Dion DiMucci, who is from The Bronx but performed solo acoustic blues in the Village clubs. Dion guests on Barone's cover of his "The Road I'm On (Gloria)."
Other guests on the album are Allison Moorer, Nellie McKay, David Amram, Jenni Muldaur and the Kennedys.
The album's producer is Steve Addabbo, whose credits as a producer, engineer and musician include albums by Suzanne Vega, Shawn Colvin and Eric Andersen.
Also contributing to the album is Mitchell Cohen, a longtime music critic – and occasional Best Classic Bands contributor – and A&R executive, who suggested the concept to Barone and worked with him on selecting the material.
Related: Another artist who found his muse in Greenwich Village, Jimi Hendrix
Says Barone in his liner notes, "Each time I walk out the door of my Greenwich Village apartment with guitar in hand, I'm aware that I stand in the long shadow of those who walked these streets before me. In the early 1960s, the Village became the epicenter for one of the most revolutionary movements in the history of popular music. Inspired by the folk revival of the '50s and early '60s, the voices of a new wave of young songwriters emanated from the local coffee houses to radios all over the world. It was a cultural phenomenon that forever changed the way we perceive popular music.
"To pay tribute to those trailblazing troubadours for their artistry was a privilege and also a duty. Some of these writers and singers are household names, while others are less widely remembered and celebrated. On Sorrows and Promises, they are all inspirational, all worthy of being discovered all over again, or for the first time. Making this album has been a journey of self-discovery through their words and music that continue to echo in my neighborhood and beyond."
Barone has numerous concerts scheduled (Click here for tickets):
June 2 – Beacon, NY – Towne Crier Cafe
June 15 – New Haven, CT – Cafe Nine
June 17 – Philadelphia, PA – World Cafe Live
June 22 – Asbury Park, NJ – The Saint
July 6 – New York, NY – Joe's Pub
July 11 – Cambridge, MA – Club Passim
July 13 – Teaneck, NJ – Mexicali Live
Aug 11 – New York, NY – Highline Ballroom

Latest posts by Best Classic Bands Staff
(see all)