Backstories. Everybody's got 'em. Whether they started out on street corners, in garages, thimble-sized folk clubs or their own bedrooms, the artists we revere today were all once aspiring unknowns. And often there's a (literal) record of their first fumbling efforts at music-making. Here's a sample of the earliest work by some of the biggest stars who came to prominence in the '60s and '70s (presented alphabetically by artist).
This article was co-written by Ken Barnes.
MARTY BALIN, "I Specialize in Love," 1962
Psychedelia and the founding of Jefferson Airplane hadn't yet entered Marty Balin's mind when he was clearly more fixed on pop music. At Los Angeles' Gold Star studios (most famous as the site of Phil Spector's sessions), he recorded two singles backed by Glen Campbell and other members of the Wrecking Crew. Of the four sides he cut, only one was a Balin original, but it's a moderately rockin' track featuring a surprisingly confident, typically soulful vocal from Mr. B.
EAGLES
Though they're famous for popularizing country-rock and came together backing Linda Ronstadt, the Eagles' roots are deep in the garage. Here's a backward glance at some of the key members' beginnings.
Glenn Frey, "Such a Lovely Child" (with the Mushrooms), 1967
As a young Detroit guitarist, Frey had the good fortune to befriend the town's biggest star, Bob Seger (then unknown outside of Michigan but with multiple local hits). Seger wrote two songs for Frey's band the Mushrooms, and they were released on Seger's manager's label. This one's notable for its semi-baroque touches, a far cry from "Smuggler's Blues."
Don Henley, "Why Did You Leave Me" (with the Four Speeds), 1965
Drummer/singer Henley got started a little earlier than Frey, playing in Linden, Tex., with the Four Speeds, later the Felicity, and still later Shiloh, who shared a label with Frey's late-'60s duo Longbranch Pennywhistle. The Felicity's "Hurtin'" is a cool folk-rocker, but this Four Speeds track has a hard-to-beat garage-guitar sound (and, apparently, somebody's French horn).
Randy Meisner, "You Send Me" (with the Drivin' Dynamics), 1962
Original Eagles bassist Meisner goes back even farther than Henley, adenoidally delivering this Sam Cooke classic with his Scottsbluff, Nebr., high-school band the Drivin' Dynamics. He went on to make first-rate garage rockers with the Soul Survivors (a Colorado band, not the "Expressway to Your Heart" Philly-soul phanatics) and the Poor before joining Poco and playing with Rick Nelson's Stone Canyon Band.
Timothy B. Schmit, "Want Ad Reader" (with the New Breed), 1966
Schmit, also a Poco alumnus, started with a Sacramento band of many incarnations: the Redwyne Singers (folkies), the New Breed (garage rockers), Glad (semi-psychedelic pop-rockers) and, after Schmit's departure, hard-rockers Redwing. "Want Ad Reader" is a catchy "Paperback Writer" knock-off with a touch of Townshend feedback.
Bernie Leadon and Don Felder, "2's Better Than 3" (with the Maundy Quintet), 1967
2's also better than 1 in this case, as Gainesville, Fla.'s Maundy Quintet gives you a pair of Eagles. (Not only that, Leadon replaced Stephen Stills in an unrecorded early version of the Maundys, the Continentals, and Gainesville High classmate Tom Petty was in a band at the same time called the Epics, which also included Leadon's brother Tom.) Leadon went on to Hearts & Flowers, the Dillard & Clark Expedition and the Flying Burrito Brothers before joining the Eagles, where he was reunited with Felder in 1974. The Maundy Quintet clearly had a thing for the Byrds, appropriately enough for future Eagles.
JIMI HENDRIX, "Testify" (with the Isley Brothers), 1964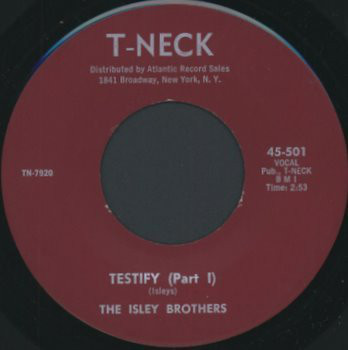 Hendrix apprenticed with a number of rhythm 'n' blues acts before going solo and transforming the world of guitar. There's some dispute as to whether his first recorded presence came on Rosa Lee Brooks' 1964 obscurity "My Diary" (written by future Love leader and Hendrix collaborator Arthur Lee) or on this workout, but you can hear clearer hints of his future direction in his instrumental testimony here (not to mention some interesting vocal impersonations from the Isleys).
ROGER McGUINN, "Beach Ball" (with the City Surfers) 1963
McGuinn's folk-music roots (back when he still had his original first name, Jim) ran plenty deep. By 1962, he had toured nationally and recorded (playing guitar and banjo) with the Limeliters and the Chad Mitchell Trio. He was also an accompanist to Bobby Darin, at whose request he went to work for the singer's publishing company, T.M. Music. (Coincidentally, Terry Melcher, who'd later produce the Byrds' "Mr. Tambourine Man," took up a similar offer from Darin.) Surf music being the dominant trend of 1963, it was only natural that the Chicago folkie and the Bronx dream-lover would try to catch the West Coast wave. McGuinn co-wrote and plays guitar on the City Surfers' single "Beach Ball."
PROCOL HARUM, "Poison Ivy" (as the Paramounts), 1963
It seems a bit of a stretch to evolve from this by-the-numbers cover of the Coasters' classic to the classical-inspired swell and sweep of "A Whiter Shade of Pale," but considering that "Pale" owes just as much to Percy Sledge's "When a Man Loves a Woman" as to Bach, maybe it makes sense. Singer Gary Brooker was the only Paramount heard on "Pale," but shortly thereafter his old bandmates Robin Trower, Chris Copping and B.J. Wilson became members of Procol Harum.
LOU REED, "Merry Go Round" (as Lewis Reed) 1962
At 16, Lou (then "Lewis") Reed wasn't traveling underground or taking a walk on the wild side. He was doing the same thing as many red-blooded, rock 'n' roll-obsessed American teens: angling to get into the music biz. As a member of the Jades vocal group Lou Reed played guitar and sang harmony on "Leave Her for Me" (1958). Four years later, he soloed on his own composition, "Merry Go Round."
Related: Lou Reed's archives have been acquired by the New York Library for the Performing Arts
SIMON & GARFUNKEL
Happy or unhappy together, Simon and Garfunkel made musical history throughout the late '60s and early '70s, though their first joint effort came in 1957, when, as Tom & Jerry, they scaled Billboard's Hot 100 (reaching #49) with the very Everly Brothers-ish "Hey Schoolgirl."  But both were active players in New York's Brill Building pop-music scene, singing on demos (Simon often with Carole King) and issuing singles under a variety of aliases.
Artie Garr, "Beat Love," 1959
Garfunkel mixes adolescent angst and bohemian attitude (and channels the spirit of Neil Sedaka) on 1959's "Beat Love."
Jerry Landis, "The Lone Teen Ranger," 1962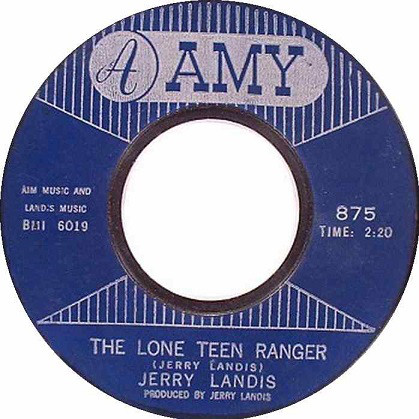 Masquerading as Jerry Landis, Simon gets rather worked up over his girlfriend's crush on a TV cowboy on this one.
STEPHEN STILLS, "High Flyin' Bird" (Au Go Go Singers), 1964
Like many other musicians of his generation (including future partner David Crosby), Stephen Stills started his recording career with a big hootenanny-styled folk ensemble. One of his eight compatriots on this record, in fact, was future Buffalo Springfield bandmate Richie Furay. This song, a folk standard written by Billy Edd Wheeler, features a gruff Stills vocal that foreshadows some of his earthier workouts in the Springfield and CSN.
SLY STONE, "You've Forgotten Me" (the Viscaynes), 1961
Boundaries and borders never sat well with Sly Stone. Even before he and his genre-crossing Family Stone reconfigured rock and soul, he'd trekked all over the music map, producing Bobby Freeman's Top 5 hit "C'mon and Swim" (1964) and the first recordings by the Beau Brummels (1964) and Grace Slick's pre-Airplane band, the Great Society (1966). In 1961, having relocated from Texas to the Bay Area, the teenaged super-talent fronted the interracial, mixed-gender sextet the Viscaynes, who made memorable doo-wop with the ballad "You've Forgotten Me."
NEIL YOUNG, "It's My Time" (Mynah Birds), 1966
Just months before decamping to L.A., shortly thereafter to meet up with the rest of the Buffalo Springfield, Neil Young recorded this folk-rocking ditty for Motown subsidiary VIP Records with the Toronto band he'd recently joined. Also of Mynah significance: Springfield bassist Bruce Palmer, future Steppenwolf organist Goldy McJohn and '80s funk superstar Rick James on lead vocals. Motown declined to release it, but it finally emerged on an anthology in 2006 and as a 45 in 2012.

Latest posts by Gene Sculatti
(see all)