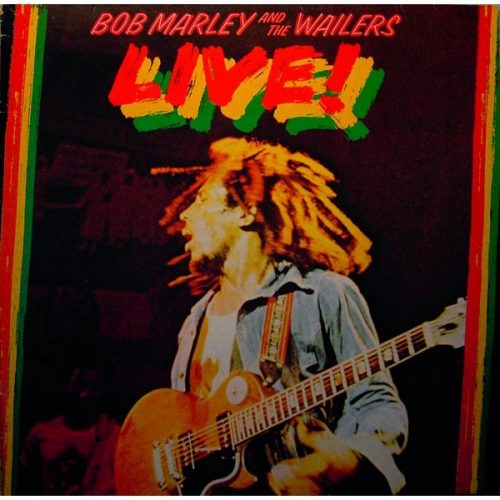 On the second evening of a two-night stand at London's Lyceum Ballroom, the Rolling Stones Mobile Studio recording truck captured Bob Marley and The Wailers in peak form. The classic Wailers line-up of Jamaicans Aston Barrett on bass, Carlton Barrett on drums, Tyrone Downie on keyboards, Alvin "Seeco" Patterson on percussion and American guitarist Alvin Anderson (not to be confused with former NRBQ guitarist Al Anderson) provided sterling backup along with background vocals by The I-Threes (who were only two that night, as Marcia Griffiths was pregnant and stayed home in Jamaica).
The group was fresh off its five-night stint at the Roxy Theatre in Los Angeles when they performed at London's Lyceum Theatre on July 18, 1975, for an abbreviated U.K. tour.
The album was released the following December 5, and the version of "No Woman, No Cry" from the concert was issued as a single (with the non-album track "Kinky Reggae" as its B-side) that reached #8 on the U.K. charts. Interestingly, Marley assigned songwriting credit for one "No Woman, No Cry," one of his most famous songs, to Vincent Ford, a friend who ran a soup kitchen in the Kingston, Jamaica ghetto of Trenchtown to fund its operations.
The album also includes the well known Marley songs "I Shot the Sheriff" and "Get Up, Stand Up" (the latter co-written with Peter Tosh).
Marley died of melanoma on May 11, 1981. His Tuff Gong brand remains as vibrant as his music.
Related: Our Album Rewind of Live!
Marley's accolades include inductions into the Rock and Roll Hall of Fame (1994) and ASCAP Songwriters Hall of Fame (2010), a GRAMMY® Lifetime Achievement Award (2001), multiple entries in the GRAMMY® Hall Of Fame, and a star on the Hollywood Walk of Fame (2001).
In 2016, UMe released for the first time, the complete sets from both shows, as a three-LP set on 180-gram black vinyl in a tri-gatefold package.
Related: Marley's final show, in 1980
Marley will be the subject of a feature film, Bob Marley: One Love, coming to theaters on January 12, 2024.

Latest posts by Best Classic Bands Staff
(see all)