Bob Dylan Rare Performances Live 1962-1966: Review
by Jeff Burger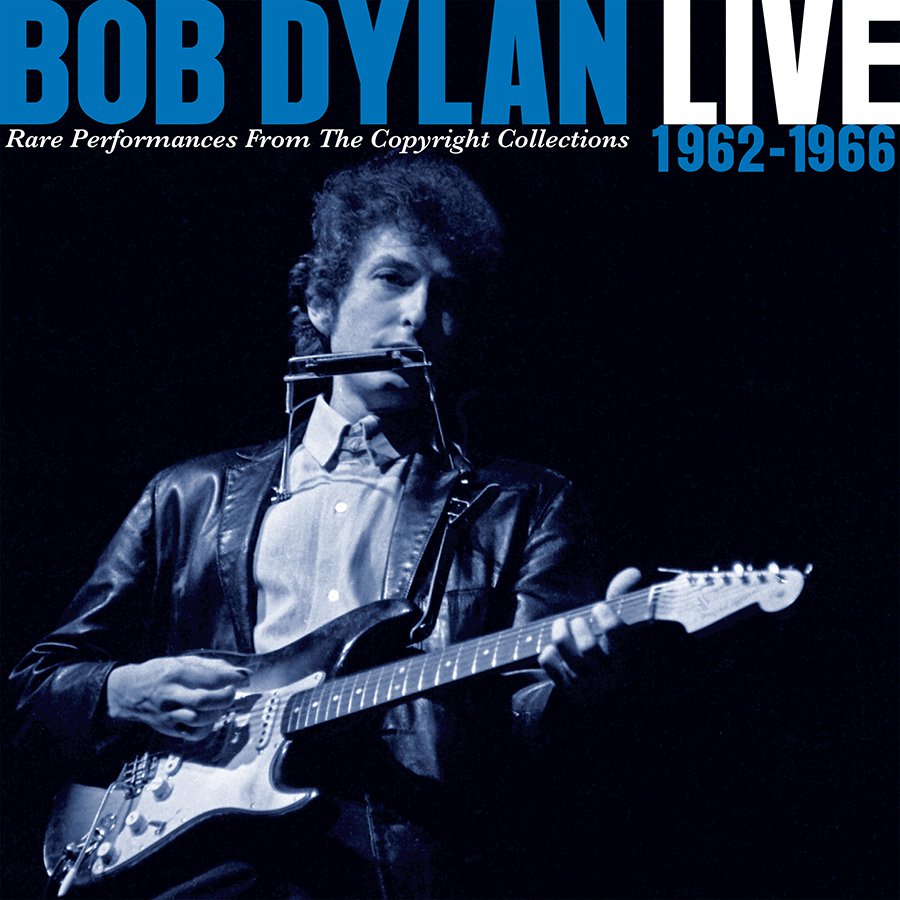 In Europe, recordings that have not been issued in 50 years enter the public domain. So to protect its copyrights, Sony released a trio of half-century-old live Bob Dylan compilations in 2012, 2013, and 2014. 
Good luck finding copies of the albums in this series, whose title, The Copyright Extension Collections, makes no attempt to mask its purpose: the label issued it just in Europe and reportedly produced only 100 copies of each of its three volumes. But if that disappoints you, there's good news: last month, Sony's Columbia Legacy subsidiary released a two-CD set that culls 29 highlights from all of these anthologies.
Called Live 1962–1966: Rare Performances from the Copyright Collections, the package delivers no revelations; and contemporaneous live versions of most if not all of these songs are available elsewhere. Still, these recordings are uniformly excellent; and unlike other anthologies of early Dylan, which mostly zero in on shorter, more artistically stable periods, this one spans 1962 to 1966. That was a time of astonishing creativity, experimentation, and change for Dylan, the likes of which has arguably been rivaled in popular music only by the Beatles, who traveled the distance from "I Want to Hold Your Hand" to "Strawberry Fields Forever" in a mind-boggling three years.
On the earliest performances here, from April 16, 1962—about four weeks after the release of Dylan's eponymous debut LP—he delivers "Blowin' in the Wind" and the country blues standard "Corrina, Corrina" at Gerde's Folk City, the  small Greenwich Village club where he had played his first professional gig a year earlier. Four years later, on this album's final track, he offers "Visions of Johanna," showcasing a totally original sound and lyrical approach before a large audience in Northern Ireland.
Related: Dylan at the Newport Folk Festival
In between these two extremes, we hear "Don't Think Twice, It's All Right," "Masters of War," "The Times They Are a-Changin'," "Mr. Tambourine Man," "Girl from the North Country," "Chimes of Freedom," "Maggie's Farm," "It's All Over Now, Baby Blue," "Desolation Row," and many other early classics. Venues include New York's Town Hall and Carnegie Hall, London's Royal Festival Hall and Royal Albert Hall, the Newport Folk Festival, and the Hollywood Bowl. 
The creative evolution chronicled on these discs mostly involves Dylan's lyrics, not his music, though a handful of numbers near the end signal his move into rock. The lion's share of the performances feature just Dylan, his acoustic guitar, and his harmonica. The exceptions are a performance of "When the Ship Comes In" at the August 1963 March on Washington, which incorporates background vocals by Joan Baez; and seven tracks from 1965 and 1966 where he is joined by various members of the group that would become the Band, as well as by Michael Bloomfield, Al Kooper, and others.  
Dylan's growth during the years covered by this collection is astounding. One minute he's a traditional folk artist, the next he's a protest singer, and the next he's writing highly original introspective material. Then, with songs like "Desolation Row" and "Visions of Johanna," he's leaping into completely uncharted territory.
Related: Greenwich Village in the '60s concert review
Interestingly, one thing never changes throughout all of these recordings. In the concert material from 1966, Dylan sounds supremely self-confident. That's rather understandable, since he had by then achieved worldwide fame. But he seems equally self-assured on the tracks from early 1962, when he was just another struggling folk singer. You get the sense that he had a pretty good idea of where he was headed.
Listen to "Seven Curses," a 1963 track from the Live 1962-1966 collection
Latest posts by Jeff Burger
(see all)