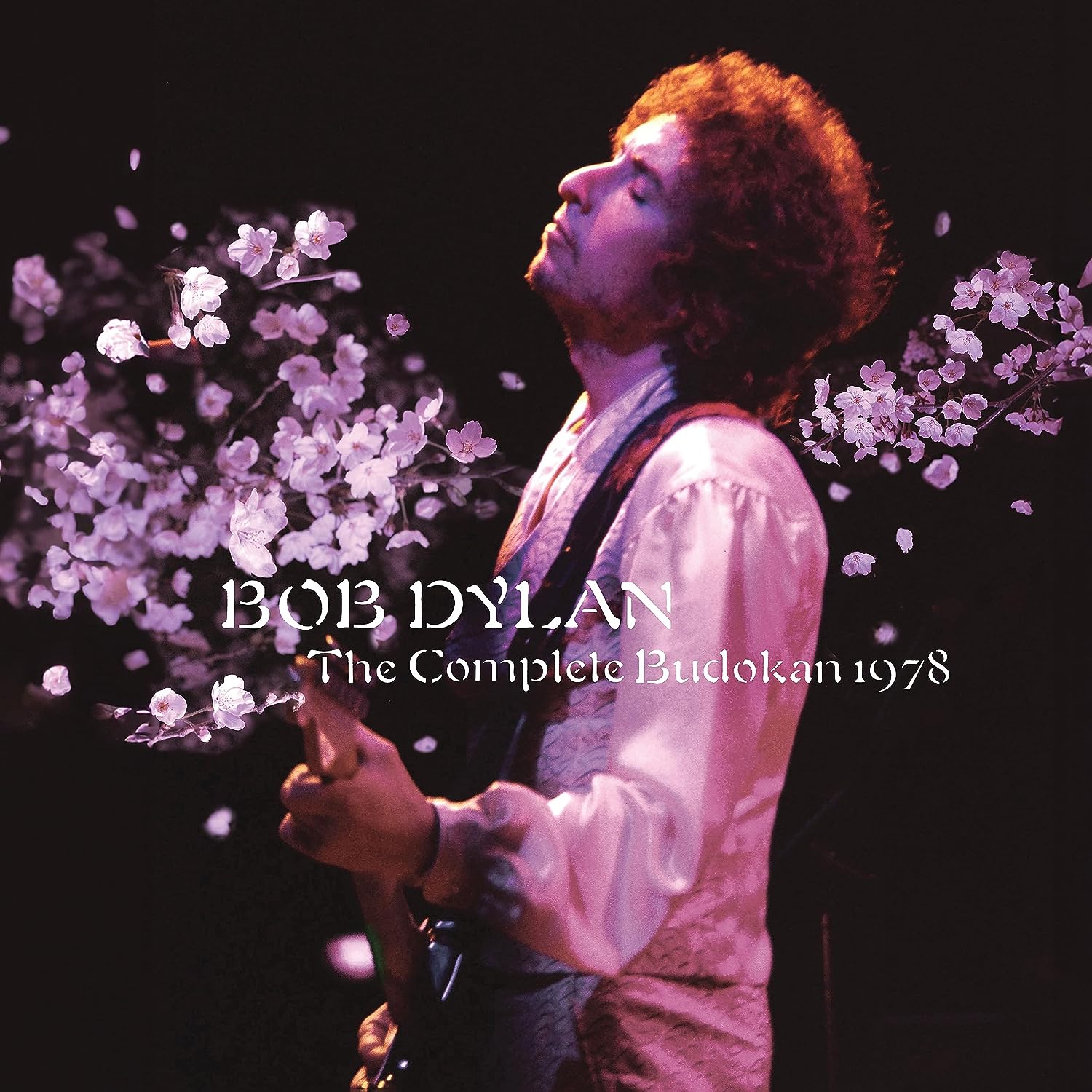 When Bob Dylan performed eight concerts at the famed Nippon Budokan in Tokyo, they represented his first concert appearances in Japan. A souvenir album, Bob Dylan at Budokan, was issued later that year in Japan followed by a worldwide release in 1979. Now, a deluxe box set celebrating Dylan's 1978 world concert tour and the 45th anniversary of those first Japanese concerts has been released, on November 17, 2023, via Legacy Recordings. The Complete Budokan 1978 includes two complete, joyous shows from Tokyo's Nippon Budokan Hall (February 28 and March 1, 1978) featuring 58 tracks, 36 of which are previously unreleased. A 2-LP set was released on the same day. Listen to many of the performances below.
The audio is newly remixed from the original 24-channel analog tapes. The luxurious 12 x 12" box is imported from Japan and includes 4 CDs, a 60-page full-color photo book of liner notes and previously unpublished photos of Dylan on-stage and behind-the-scenes at the airport, press conferences and more, and facsimile memorabilia such as concert tickets, pamphlets, posters, and flyers.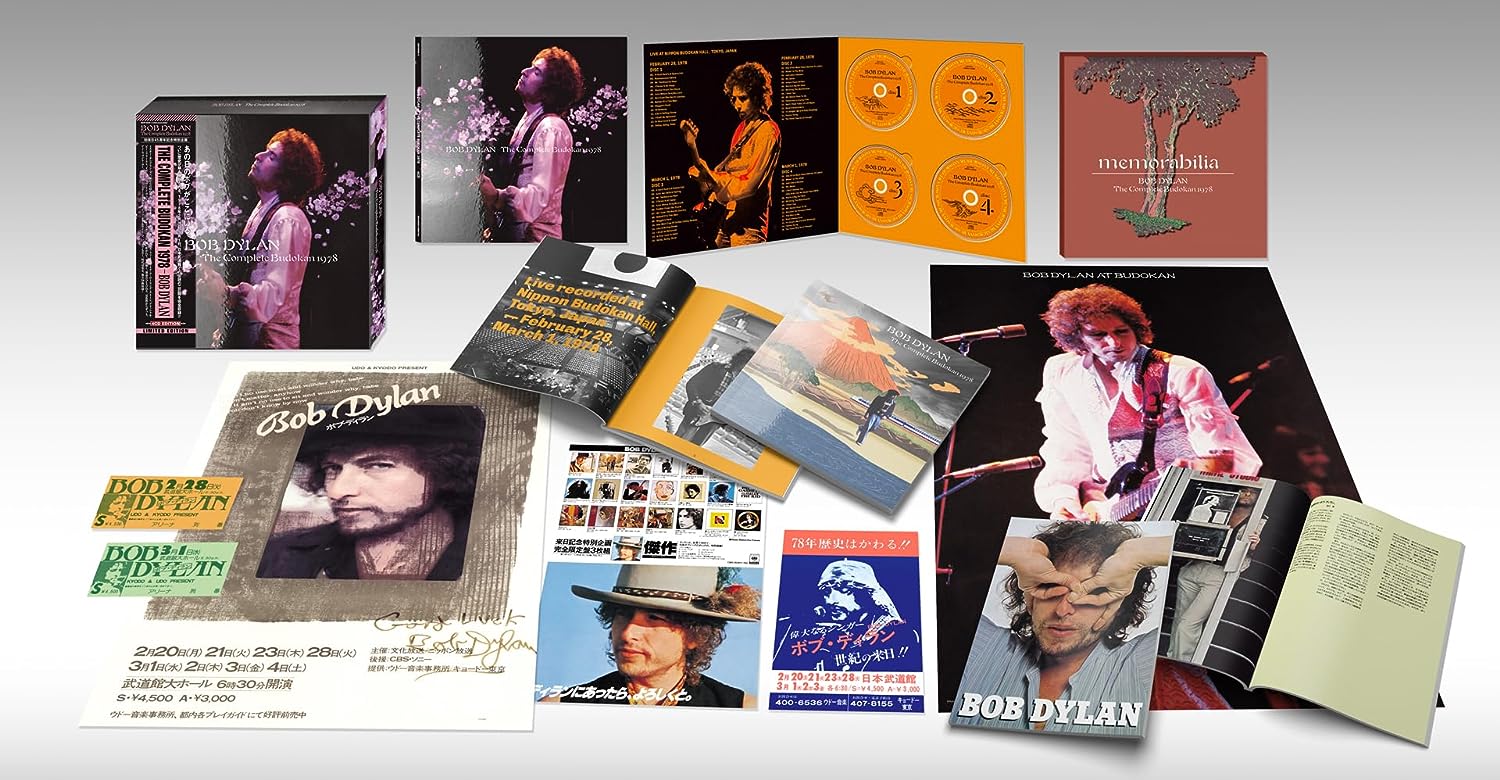 Dylan's 1978 world tour marked the artist's first international concert dates since 1966 and his first live shows since the Rolling Thunder Revue blasted through North America in 1975-76. A major international musical event, the year-long tour found Dylan performing 114 shows in Asia, Oceania, North America and Europe, to a combined audience of two million fans.
The tour launched in February with eleven historic performances: Dylan' first-ever concerts in Japan which included eight shows at the revered Nippon Budokan Hall in Tokyo. Two of the Budokan shows—February 28 and March 1—were recorded on 24-channel multi-track analog tape with 22 performances excerpted from those shows appearing on Bob Dylan at Budokan. The Complete Budokan 1978 marks the first time any of Dylan's complete performances from his 1978 world tour have been officially available.
Listen to "The Man in Me"
Many individuals involved in the original Budokan album reunited for the new release. Under the supervision of Heckel Sugano, the CBS Sony product manager for Dylan in Japan at the time, the engineer responsible for the 1978 recording has worked on the new 2023 remix using the original 24-channel multi-tapes, while the album cover showcases artwork by the same photographers as the original.
On the original album's liner notes, Dylan wrote, "The more I think about it, the more I realize what I left behind in Japan — my soul, my music and that sweet girl in the geisha house — I wonder does she remember me? If the people of Japan wish to know about me, they can hear this record — also they can hear my heart still beating in Kyoto at the Zen Rock Garden — Someday I will be back to reclaim it."
Listen to "Don't Think Twice, It's All Right" with a reggae beat
Dylan continues his "Rough and Rowdy Ways 2021-2024" tour with North American dates this fall. Tickets available here and here.
The complete track listing along with many other more audio clips appear below the Amazon links. When you buy something using a link on this page, we receive a commission. Thank you for supporting Best Classic Bands.
Bob Dylan The Complete Budokan 1978 Track Listing
Disc 1:
1 A Hard Rain's A-Gonna Fall (Live at Nippon Budokan Hall, Tokyo, Japan – February 28, 1978) 4:33
2 Repossession Blues (Live at Nippon Budokan Hall, Tokyo, Japan – February 28, 1978) 2:49
3 Mr. Tambourine Man (Live at Nippon Budokan Hall, Tokyo, Japan – February 28, 1978) 5:27
4 I Threw It All Away (Live at Nippon Budokan Hall, Tokyo, Japan – February 28, 1978) 5:25
5 Shelter from the Storm (Live at Nippon Budokan Hall, Tokyo, Japan – February 28, 1978) 4:44
6 Love Minus Zero / No Limit (Live at Nippon Budokan Hall, Tokyo, Japan – February 28, 1978) 4:16
7 Girl from the North Country (Live at Nippon Budokan Hall, Tokyo, Japan – February 28, 1978) 5:03
8 Ballad of a Thin Man (Live at Nippon Budokan Hall, Tokyo, Japan – February 28, 1978) 4:45
9 Maggie's Farm (Live at Nippon Budokan Hall, Tokyo, Japan – February 28, 1978) 5:05
10 To Ramona (Live at Nippon Budokan Hall, Tokyo, Japan – February 28, 1978) 4:40
11 Like a Rolling Stone (Live at Nippon Budokan Hall, Tokyo, Japan – February 28, 1978) 6:34
12 I Shall Be Released (Live at Nippon Budokan Hall, Tokyo, Japan – February 28, 1978) 4:29
13 Is Your Love in Vain? (Live at Nippon Budokan Hall, Tokyo, Japan – February 28, 1978) 5:01
14 Going, Going, Gone (Live at Nippon Budokan Hall, Tokyo, Japan – February 28, 1978) 4:04
Disc 2:
1 One of Us Must Know (Sooner or Later) [Live at Nippon Budokan Hall, Tokyo, Japan – February 28, 1978] 4:32
2 Blowin' in the Wind (Live at Nippon Budokan Hall, Tokyo, Japan – February 28, 1978) 4:32
3 Just Like a Woman (Live at Nippon Budokan Hall, Tokyo, Japan – February 28, 1978) 5:02
4 Oh, Sister (Live at Nippon Budokan Hall, Tokyo, Japan – February 28, 1978) 4:40
5 Simple Twist of Fate (Live at Nippon Budokan Hall, Tokyo, Japan – February 28, 1978) 4:16
6 You're a Big Girl Now (Live at Nippon Budokan Hall, Tokyo, Japan – February 28, 1978) 5:33
7 All Along the Watchtower (Live at Nippon Budokan Hall, Tokyo, Japan – February 28, 1978) 4:13
8 I Want You (Live at Nippon Budokan Hall, Tokyo, Japan – February 28, 1978) 2:32
9 All I Really Want to Do (Live at Nippon Budokan Hall, Tokyo, Japan – February 28, 1978) 3:57
10 Tomorrow Is a Long Time (Live at Nippon Budokan Hall, Tokyo, Japan – February 28, 1978) 4:24
11 Don't Think Twice, It's All Right (Live at Nippon Budokan Hall, Tokyo, Japan – February 28, 1978) 5:08
12 Band Introductions (Live at Nippon Budokan Hall, Tokyo, Japan – February 28, 1978) 2:41
13 It's Alright, Ma (I'm Only Bleeding) [Live at Nippon Budokan Hall, Tokyo, Japan – February 28, 1978] 6:34
14 Forever Young (Live at Nippon Budokan Hall, Tokyo, Japan – February 28, 1978) 7:18
15 The Times They Are A-Changin' (Live at Nippon Budokan Hall, Tokyo, Japan – February 28, 1978) 5:02
Disc 3:
1 A Hard Rain's A-Gonna Fall (Live at Nippon Budokan Hall, Tokyo, Japan – March 1, 1978) 4:05
2 Love Her With A Feeling (Live at Nippon Budokan Hall, Tokyo, Japan – March 1, 1978) 2:53
3 Mr. Tambourine Man (Live at Nippon Budokan Hall, Tokyo, Japan – March 1, 1978) 5:04
4 I Threw It All Away (Live at Nippon Budokan Hall, Tokyo, Japan – March 1, 1978) 5:17
5 Love Minus Zero / No Limit (Live at Nippon Budokan Hall, Tokyo, Japan – March 1, 1978) 4:05
6 Shelter from the Storm (Live at Nippon Budokan Hall, Tokyo, Japan – March 1, 1978) 4:52
7 Girl from the North Country (Live at Nippon Budokan Hall, Tokyo, Japan – March 1, 1978) 4:18
8 Ballad of a Thin Man (Live at Nippon Budokan Hall, Tokyo, Japan – March 1, 1978) 4:49
9 Maggie's Farm (Live at Nippon Budokan Hall, Tokyo, Japan – March 1, 1978) 5:31
10 One More Cup Of Coffee (Valley Below) [Live at Nippon Budokan Hall, Tokyo, Japan – March 1, 1978] 3:29
11 Like a Rolling Stone (Live at Nippon Budokan Hall, Tokyo, Japan – March 1, 1978) 6:51
12 I Shall Be Released (Live at Nippon Budokan Hall, Tokyo, Japan – March 1, 1978) 4:23
13 Is Your Love in Vain? (Live at Nippon Budokan Hall, Tokyo, Japan – March 1, 1978) 4:15
14 Going, Going, Gone (Live at Nippon Budokan Hall, Tokyo, Japan – March 1, 1978) 4:04
Disc 4:
1 One of Us Must Know (Sooner or Later) [Live at Nippon Budokan Hall, Tokyo, Japan – March 1, 1978] 4:44
2 Blowin' in the Wind (Live at Nippon Budokan Hall, Tokyo, Japan – March 1, 1978) 4:36
3 Just Like a Woman (Live at Nippon Budokan Hall, Tokyo, Japan – March 1, 1978) 5:07
4 Oh, Sister (Live at Nippon Budokan Hall, Tokyo, Japan – March 1, 1978) 4:57
5 I Don't Believe You (She Acts Like We Never Have Met) [Live at Nippon Budokan Hall, Tokyo, Japan – March 1, 1978] 4:23
6 You're a Big Girl Now (Live at Nippon Budokan Hall, Tokyo, Japan – March 1, 1978) 4:59
7 All Along the Watchtower (Live at Nippon Budokan Hall, Tokyo, Japan – March 1, 1978) 3:27
8 I Want You (Live at Nippon Budokan Hall, Tokyo, Japan – March 1, 1978) 2:43
9 All I Really Want to Do (Live at Nippon Budokan Hall, Tokyo, Japan – March 1, 1978) 3:50
10 Knockin' On Heaven's Door (Live at Nippon Budokan Hall, Tokyo, Japan – March 1, 1978) 4:10
11 The Man in Me (Live at Nippon Budokan Hall, Tokyo, Japan – March 1, 1978) 3:52
12 Band Introductions (Live at Nippon Budokan Hall, Tokyo, Japan – March 1, 1978) 1:56
13 It's Alright, Ma (I'm Only Bleeding) [Live at Nippon Budokan Hall, Tokyo, Japan – March 1, 1978] 6:39
14 Forever Young (Live at Nippon Budokan Hall, Tokyo, Japan – March 1, 1978) 7:50
15 The Times They Are A-Changin' (Live at Nippon Budokan Hall, Tokyo, Japan – March 1, 1978) 5:12
Bob Dylan — Rhythm Guitar, Harmonica, Vocals
Billy Cross — Lead Guitar
Ian Wallace — Drums
Alan Pasqua — Keyboards
Rob Stoner — Bass, Vocals
Steven Soles — Acoustic Rhythm Guitar, Vocals
David Mansfield — Pedal Steel, Violin, Mandolin, Guitar, Dobro
Steve Douglas — Saxophone, Flute, Recorder
Bobbye Hall — Percussion
Helena Springs — Vocals
Jo Ann Harris — Vocals
Debi Dye — Vocals
Related: A new book is coming, with a deep dive into Dylan's archives

Latest posts by Best Classic Bands Staff
(see all)