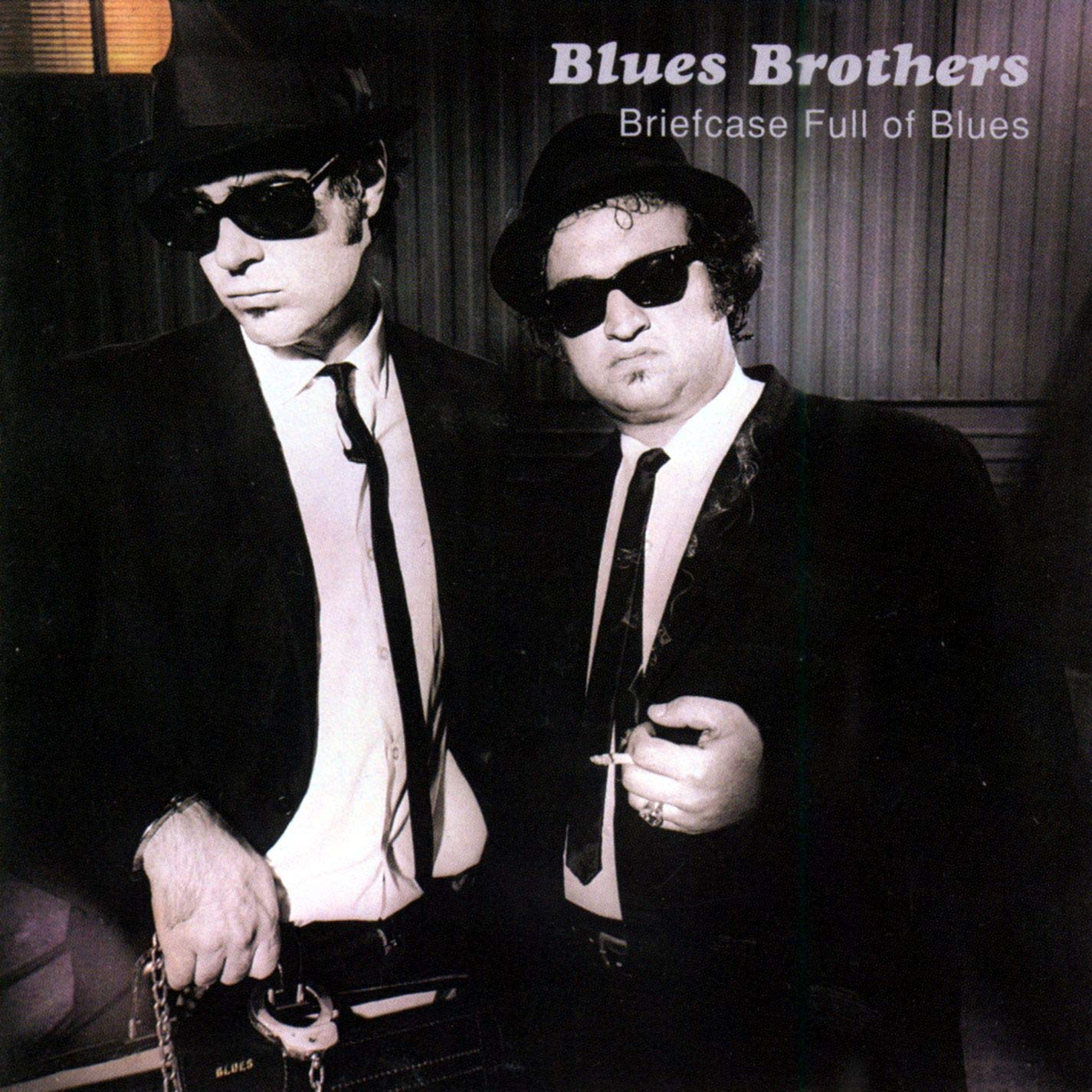 [Editor's Note: When the Blues Brothers made their Saturday Night Live debut on April 22, 1978, it was clear immediately that the alter ego characters portrayed by John Belushi and Dan Aykroyd on the sketch comedy series were destined for greatness. Several months later, the duo recorded an album with first-rate musicians like Steve Cropper and Donald "Duck" Dunn of Booker T. & the MG's fame, along with Paul Shaffer, Tom Scott and others.
The album, Briefcase Full of Blues on Atlantic Records, was released on November 28 of that year and was a huge success, reaching #1 on the Billboard sales chart, thanks to two hit singles and their continued exposure on SNL.
Watch the Blues Brothers on SNL in 1978
A movie was inevitable and on June 20, 1980, The Blues Brothers arrived, directed by John Landis of National Lampoon's Animal House fame, with guest appearances from such legends as Ray Charles, Aretha Franklin, James Brown, Cab Calloway and John Lee Hooker. It, too, was a smash. A soundtrack was released simultaneously by Atlantic.]
As a regional radio promotion person for the label, it was my job to pick up the Bluesmobile—we had obtained several used to make the film—from New York City, where Belushi and Aykroyd had performed the night before, and drive it to Columbia, Md., where they would be performing at the Merriweather Post Pavilion.
This particular Bluesmobile was a bit of a wreck. And a few minutes after I picked it up, black smoke billowed out from under the hood. When I brought it to a repair shop, the owner's first reaction was, "Get that hunk of junk out of here." After a tense half hour or so, wondering if I'd be able to make my appointed trip at all, suddenly the station's partner walked in, turned, looked at us and loudly proclaimed, "It's my man Belushi's car!" That softened the other guy and they got to work. Turned out there wasn't enough water in the radiator. Soon, we were on our way!
A word on why I said "we." Hesitant to drive 226 miles by myself, I had asked a lifelong friend to come along for the ride. The repairman had been right: it was a hunk of junk. To begin with, the speedometer didn't work. In fact, the only thing on the dashboard that did work was a tape player connected to a huge bell speaker on the roof. Through that speaker we'd endlessly play the theme from Peter Gunn, which was featured in the movie.
There was no backseat. The passenger side door was held on by a wire. There was no gas cap. A piece of cloth was used to stop up the gas tank. In other words, a Molotov cocktail stuck out of the rear. The license plates had been stolen the night before when the car was parked outside New York's Palladium Theater. To top it all off, two giant cardboard stand-ups of Belushi and Aykroyd peered out the back window. In this, we headed off onto the New Jersey Turnpike.
Watch the legendary chase scene from The Blues Brothers
Riding shotgun, my friend was wearing a "Blues Brothers" fedora, sunglasses and skinny black tie. As we drove down the highway, a car pulled alongside. Its driver motioned to us and, as we traveled at some insane speed, reached across and handed my friend a note through the window that read, "Are you guys on a mission from God?"
As we reached the Maryland part of I-95, I was fully in character. I was blasting the Peter Gunn theme from the roof speaker and, utilizing the only other thing that worked in the car, a giant police spotlight. As late afternoon approached, the sun beginning to go down, I was shining the light on the forest we passed. I had no idea how fast I was going because, you'll recall, the speedometer didn't work. And, in that moment, I sped by a police car.
A Maryland state trooper pulled me over. As he sat in his Highway Patrol car behind me, Belushi and Aykroyd stared back at him from a Molotov cocktail without a license plate. He must have been a bit stunned, as he didn't get out of his cruiser for quite a while, apparently calling for backup. My friend offered to get out and talk to them but I suggested that getting up and watching the passenger side door fall off might not help the situation.
The officer approached, and asked me for my license and registration. He then began to ask me, in his Southern drawl, a series of questions: "You playing music on the Federal Hahway, Mister Ten-en-baummm?" I stammered that this was the car from the Blues Brothers' movie and we were driving it to promote the movie and soundtrack. He continued, "You making a movieeee on the Federal Hahway, Mister Ten-en-baummm?" "Um, no, not making a movie. Promoting the movie," I corrected him.
"You flashing your spotlight on the Federal Hahwayyy, Mister Ten-en-baummm?"
"Um, uh, no, I turned that on by accident."
And on and on it went. I must have said "movie" a dozen times. If he really wanted to rack up the violations, I was never getting out of jail. Another patrol car pulled up. This one was unmarked. As the trooper barked on, a plainclothes cop approached us. It became evident to me that he was a senior officer.
And then, as I envisioned Atlantic disavowing any knowledge of my identity and my days ending up in a Maryland prison, the plainclothes officer smiled broadly and said loudly, "IT'S THE BLUESSSSSMOBILE!"
I sensed a break coming my way.
The trooper turned to the senior officer and said, "What would you do with this mess?" The officer replied, "I'm just going to forget I ever saw it and go on my way." And, with that, he returned to his vehicle and drove off. The trooper handed me back my license and registration and said, "Mister Ten-en-baummm, you just get this vehicle off the Federal Hahway." And thanks to a highly placed Blues Brothers fan in the Maryland police force, my life as prisoner 012030056 never came to be.
Related: Our story on SNL's classic 1978 'Cheeseburger Cheeseburger' sketch

Latest posts by Bruce Tenenbaum
(see all)