Blood, Sweat & Tears' Groundbreaking Debut: Rewind
by Jeff Tamarkin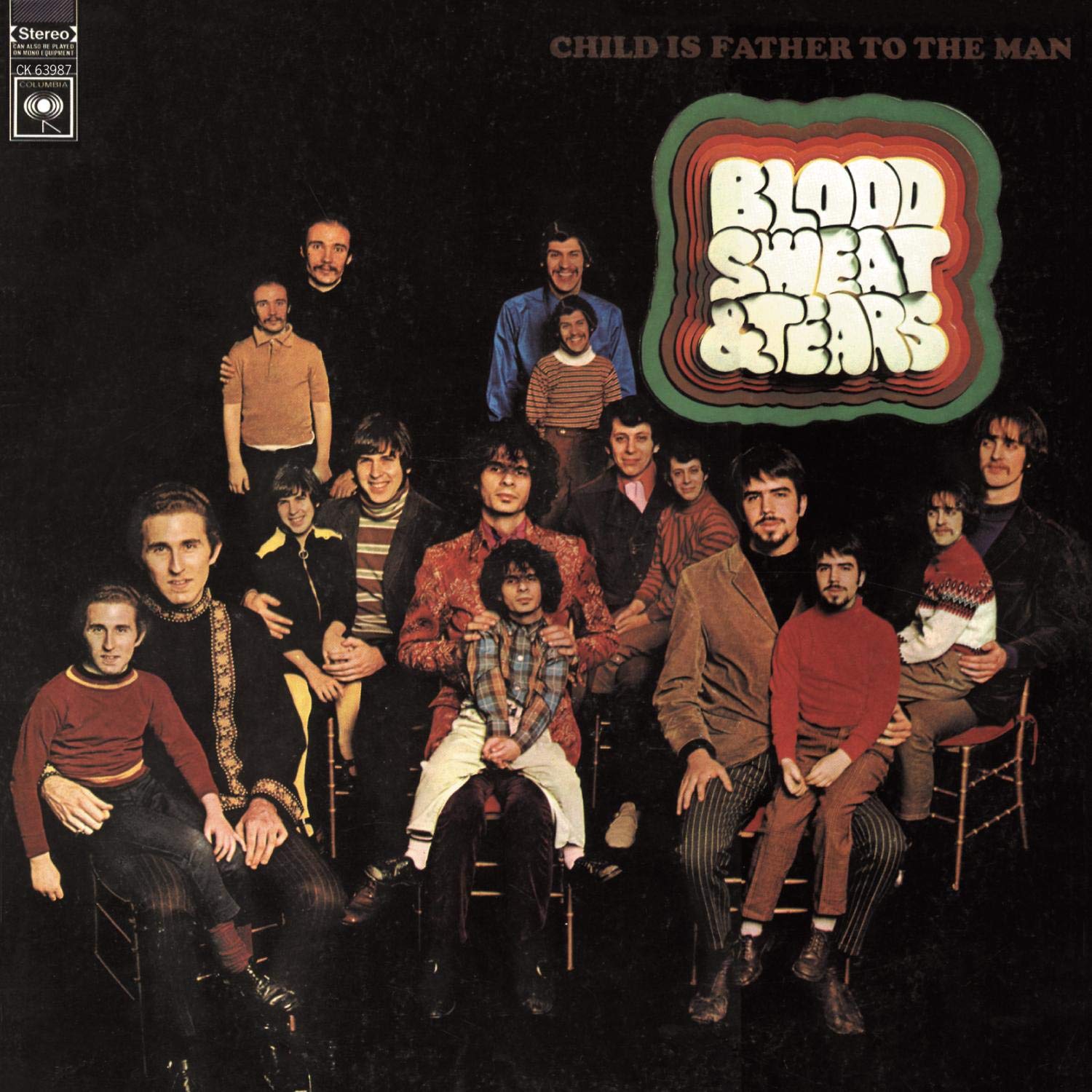 If you were paying close attention to the then-burgeoning underground rock scene in the late '60s, sooner or later you came across the name Al Kooper. He'd spent a few years as the keyboardist and one of the prime vocalists of the New York-based Blues Project, a virtuosic band whose name didn't truly do justice to the wide scope of its music. By the time you heard them you might already have known that Kooper had written "This Diamond Ring," a #1 hit by Gary Lewis and the Playboys, prior to joining the Blues Project. And maybe you knew that even before that he'd been with the Royal Teens, who'd had a big novelty hit called "Short Shorts" earlier in the decade. You certainly were aware that it was Kooper's organ that helped define Bob Dylan's "Like a Rolling Stone" in 1965.
By 1967 though, Kooper was searching for something new. He'd left the Blues Project and although he performed a brief solo set and helped keep things running smoothly at the Monterey Pop Festival that June, he had bigger things in mind. The 23-year-old singer-songwriter and multi-instrumentalist wanted to assemble a new group that incorporated a horn section like the one he'd heard with jazz trumpeter Maynard Ferguson several years earlier, only with more of a rock sensibility.
"Just the buzz that I would get from that band," Kooper responded to this writer some time ago when asked what impressed him about Ferguson. "You could sit in the fourth row and have dents in your shirt from the horn section. That [Ferguson's group] was a very exciting band for me. There had been horns [in rock bands] before but they'd been primarily James Brown-type horns. I'd heard great horns so I wanted intelligent horn parts in it. What I was really trying to do was what Chicago did on their first two albums, [although] I wasn't as capable of doing it as they were."
Kooper started making phone calls. First on the list was bassist Jim Fielder, formerly of the Mothers of Invention and Buffalo Springfield. Guitarist and singer Steve Katz, who'd been in the Blues Project with Kooper, was invited. "I was also frustrated with the band and wanted to have a better outlet for my own creativity," Katz told Best Classic Bands. "It was an enticing thought to have a whole new set of songs to play and so I began writing and looking for something else."
Drummer Bobby Colomby was added to the fledgling lineup and the quartet played a few gigs together. When they were certain they had something going, they brought in alto saxophonist Fred Lipsius, recommended by Colomby. That rudimentary lineup cut a few demo songs, enough to convince Columbia Records chief Clive Davis to sign them, and they filled out the horn section with Jerry Weiss and a young Randy Brecker, both of whom played trumpet and flugelhorn, and trombonist Dick Halligan.
Listen to "I Love You More Than You'll Ever Know" from Child Is Father to the Man
In addition to the Ferguson influence, Kooper and Katz were both listening to the Buckinghams' Time and Charges album and "loved how Jim Guercio used horns from the Chicago Symphony," says Katz. "The charts were not at all R&B-oriented—it was a direction that was totally new for us, and we wanted to be able to take that kind of horn section on the road."
Kooper named the new group Blood, Sweat and Tears, and they debuted at New York's Cafe Au Go Go—where the Blues Project had recorded their live, debut album—in November 1967, opening for Moby Grape. The buzz was immediate.
With John Simon (who'd recently helmed Simon and Garfunkel's Bookends) producing, recording sessions with the newly assembled octet commenced in November 1967 and wrapped in December. Child Is Father to the Man—as the album was dubbed—begins with the Kooper-penned, minute-and-a-half-long "Overture," which symphonically previews several of the melodic themes that lie ahead.
It segues directly into one of the album's unquestionable highlights, Kooper's dramatic, soul-infused ballad "I Love You More Than You'll Ever Know" (written as a tribute to the recently departed Otis Redding and later covered by Donny Hathaway), and then the album's first cover, Tim Buckley's poetic "Morning Glory," sung by Katz. Kooper's "My Days Are Numbered" is followed by back-to-back covers of Harry Nilsson's "Without Her" and Randy Newman's "Just One Smile," wrapping up the original vinyl LP's A-side.
Listen to the cover of Tim Buckley's "Morning Glory," as sung by Steve Katz
Another R&B-inspired Kooper original for the ages, the stomping "I Can't Quit Her," led off the original album's second half, followed by Katz's "Meagan's Gypsy Eyes" ("my own angry little unrequited love song," he calls it now) and three more consecutive Kooper compositions: "Somethin' Goin' On," the semi-psychedelic "House in the Country" (injected with a kids' chorus and "animal" sounds that were actually the band members) and "The Modern Adventures of Plato, Diogenes and Freud," inspired by a psychiatrist Kooper knew. The LP closes down with Gerry Goffin and Carole King's celebratory "So Much Love" and, bookending it all, "Underture," an under-one-minute recap of what we've just heard.
Listen to "I Can't Quit Her" from the debut album
To give the sound a boost, Simon brought in a string ensemble and female chorus (including Melba Moore and Valerie Simpson), and an array of sound effects provided by Fred Catero was layered here and there.
"We did the album in two weeks," Katz remembers. "We had a great time doing it. You can hear the fun we had making it. There was no pressure—nobody ever even considered the thought of hit records. We were just enjoying the 'anything goes' freedom that the environment of the '60s had afforded us. Randy Brecker, Fred Lipsius and Dick Halligan (who passed away in early 2022)added much more than just playing the [horn] charts," he adds. "They wrote the charts and added their own incredible creativity. As much credit as Al has been given, and he deserves a lot of it, it was those three that really completed the idea of what we wanted to bring about."
Released on Feb. 21, 1968, Child Is Father to the Man was more of an underground/critical success than a commercial one at first. The album—whose front cover pictured the band members holding mini-me versions of themselves to illustrate the album title—peaked at #47 on the Billboard LP chart and there were no hit singles from it, yet the new FM rock radio stations spun it often and the nascent rock press praised the band. Jann Wenner, editor of the months-old Rolling Stone, in an April 27 feature story on the group, commented, "The horns are one of the several reasons that Blood, Sweat and Tears is such a fine, exemplary group. The other two reasons are Kooper himself. He has the gift of an editor in that he can listen for, pick up and use to his own purposes and in his own way any musical bit, any line or melody from any musical form and use it in such a way that it becomes original again."
Related: What were some of the other musical highlights of 1968?
Word of mouth was strong enough that although the chart numbers were unimpressive, CIFttM remained on the Billboard list for more than a year and eventually went gold. It also, arguably, sparked a new craze of horn-accessorized rock bands. Kooper's friend Mike Bloomfield, the stunning guitarist who also performed on Dylan's "Like a Rolling Stone" and also played in a blues band (the Paul Butterfield Blues Band), left his gig around the same time Kooper did, and formed a horn band as well, the Electric Flag, which debuted at Monterey.
Kooper wasn't impressed with some of the other bands that came along capitalizing on the idea, however. "It was in the air. [The Electric Flag] certainly were doing what they were doing without having heard us," he said when interviewed in the 1990s. And of course, there was Chicago (originally Chicago Transit Authority). "But bands like the Ides of March, Chase and Ten Wheel Drive, I didn't care for."
Kooper's tenure in his own creation wasn't destined to last long. Following the release of the debut album, the other members of the band began wondering what a Kooper-less Blood, Sweat and Tears might be able to accomplish. Particularly, they wanted a stronger vocalist. BS&T played very few live gigs together in its original incarnation.
"I was forced out of the band," Kooper said. "I had plenty more to do."
In his autobiography, Clive: Inside The Record Business, Davis wrote, about Kooper's departure from BS&T, "I was dumbfounded. 'How in the world can you be splitting up now?' I asked unhappily. 'You just formed! The company is behind you; a tour is about to begin; why so soon?'"
"We have a difference of musical opinion," Kooper told the label head. "We've more or less hidden it from you, but it looks like something permanent."
Related: Kooper brought the Zombies' now-classic Odessey and Oracle album to the attention of Clive Davis
Kooper had already begun mapping out the group's followup album—songs like "More and More" (a Little Milton single), "You've Made Me So Very Happy" (Brenda Holloway) and "Smiling Phases" (Traffic)—but he never got to sing them on a recording. Kooper was ousted and replaced with Canadian singer David Clayton-Thomas. Some other members (including Brecker) bolted as well, but BS&T was only just getting started.
Released in early 1969, the group's self-titled sophomore LP went to #1, where it stayed for seven weeks, eventually achieving quadruple-platinum sales. Three singles—"You've Made Me So Very Happy," Clayton-Thomas' "Spinning Wheel" and Laura Nyro's "And When I Die"—each reached #2. Blood, Sweat and Tears played Woodstock that year and enjoyed a long, successful career subsequently—they're still around in some form today, although no original members remain.
Al Kooper also enjoyed a phenomenal career post-BS&T, releasing a slew of fine solo recordings, cutting a classic collaboration with Bloomfield and Stephen Stills (Super Session) and discovering and producing Lynyrd Skynyrd, among many other accomplishments.
In 1994, in celebration of his 50th birthday, Kooper reassembled most of the original members of the original Blood, Sweat and Tears lineup for a trio of dates at New York's Bottom Line club, to perform the album that they never got to play live the first time around. The gigs were recorded and several tracks appeared on the two-CD release, Soul of a Man.
"That reunion was one of the highlights of my life," Kooper said after the live album's release. "It was just transcendent. Everybody was wonderful; it was the antithesis of what it used to be like. That was a great period of work for me as a writer; it was a great bunch of songs to have written at one time. I didn't really appreciate it until we got back together and played it again. And I really appreciated them coming back to play it again and that it meant something to them. Because of that it meant something to me again."
Listen to BS&T cover Randy Newman's "Just One Smile" from Al Kooper's 1994 Soul of a Man album

Latest posts by Jeff Tamarkin
(see all)