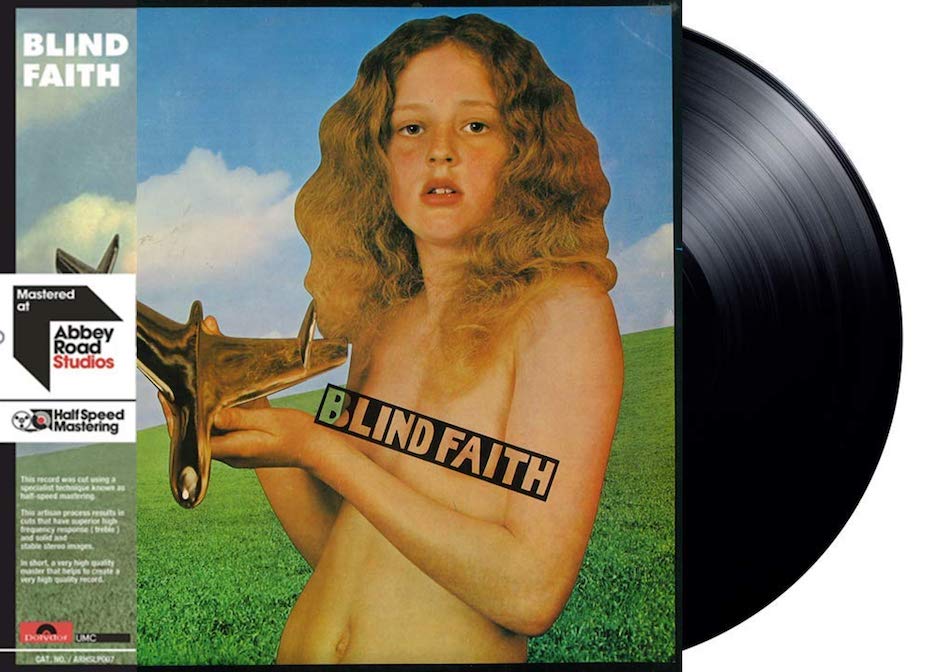 Blind Faith's self-titled and only album is being reissued via a vinyl, half speed master on April 19 for its 50th anniversary.
The English blues rock group were comprised of Eric Clapton, Ginger Baker, Steve Winwood and Ric Grech. The band, which was one of the first supergroups, released their only album, Blind Faith, in August 1969 on Atlantic's Atco label.
It includes such classic rock tracks as "Can't Find My Way Home," "Presence of the Lord" and "Sea of Joy."
As the album was being sold-in to retail chains that summer, it was the subject of much controversy. Its cover depicted an underage, topless girl. When numerous dealers balked at carrying the album in their stores, Atlantic Records was forced to create an alternative cover featuring a more traditional band photo.
The platinum seller, produced by Jimmy Miller, topped the charts in the U.S., U.S., Canada, Denmark, and several other countries.
Cut at half-speed by Miles Showell at Abbey Road Studios, the new release, says the announcement, "will be presented on heavyweight vinyl with high spec packaging, to create a thoroughly bespoke vinyl experience that, most importantly, will provide a sound quality superior to anything else currently available."
Blind Faith made their live debut on June 7, 1969, several months before the album was released, at an outdoor concert in London's Hyde Park before a crowd estimated at 100,000.
Watch them perform "Sea of Joy"
Related: Winwood opened for Clapton in Hyde Park in 2018
Blind Faith disbanded after just the one album. In its aftermath, Clapton toured with Delaney and Bonnie, John Lennon, and others. Baker formed another supergroup, Ginger Baker's Air Force, with Grech, Winwood, Denny Laine, Chris Wood and Alan White, among others. Shortly thereafter, Grech and Wood joined Winwood in the re-formed Traffic.
Side A
Had To Cry Today
Can't Find My Way Home
Well All Right
Presence of the Lord
Side B
Sea Of Joy
Do What You Like

Latest posts by Best Classic Bands Staff
(see all)