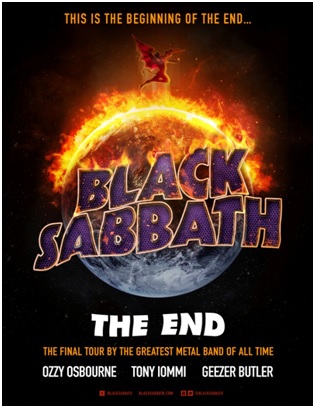 Update (1/22): Black Sabbath kicked off their "The End" tour in Omaha, NE on Wednesday night (January 20th). See below for a variety of videos including their press conference. A sample… Reporter: "Did you have to relearn anything or was it…?" Ozzy: "Everything!"
We're just days away from the beginning of "The End." Black Sabbath's much-anticipated massive final tour commences January 20th and runs through September 21st. We've just gotten wind of even more exciting news – a special limited edition CD to be sold exclusively at shows on the tour.
The record features eight previously unreleased tacks: four outtakes from the band's 2013 Grammy-winning album 13 and four live songs from their world tour promoting 13. Beyond the CD's original artwork, which was created by Shepard Fairey (aka Obey Giant), Black Sabbath is commissioning exclusive posters for each market on the tour.
The self-proclaimed "greatest metal band of all time" will end the journey they began nearly five decades ago this year, but the group promises to surpass all previous tours with their "most mesmerizing production ever." Ozzy Osbourne, Tony Iommi and Geezer Butler will traverse North America before heading to Australia, New Zealand and Europe for a mix of summer headlining and festival performances. They then return to North America once more in August. California rock band Rival Sons will be supporting them for the entire tour.
On January 22nd, the band will release deluxe editions of their first three studio albums – Black Sabbath, Paranoid and Master of Reality – on CD and vinyl, along with a re-release of their long out-of-print live collection, Past Lives, featuring performances from 1970 through 1975. The reissues are remastered and packed with bonuses, like outtakes from early recording sessions as well as alternate versions of tunes like "N.I.B." and "Evil Woman (Don't Play Games With Me)." Check out Best Classic Bands' previous coverage here for more details about what will be included.
Tickets for the tour can be purchased here.
Here's the goofy press conference they did in the media hotbed city of Omaha just before the start of the tour:
And here's "War Pigs" from opening night in Omaha on January 20th:
(If you're a new Best Classic Bands reader, we'd be grateful if you would Like our Facebook page and/or bookmark our Home page.)
The End Track Listing:
1. Season of the Dead
2. Cry All Night
3. Take Me Home
4. Isolated Man
5. God is Dead? (Live Sydney, Australia 4/27/13)
6. Under the Sun (Live Auckland, New Zealand 4/20/13)
7. End of the Beginning (Live Hamilton, ON Canada 4/11/14)
8. Age of Reason (Live Hamilton, ON Canada 4/11/14)
Here's the original tour announcement video…

Latest posts by Best Classic Bands Staff
(see all)