In 1987, the Cold War was still raging. Tension between the Soviet Union and the United States was still high and Communism was still considered a threat. In two years the Berlin Wall would come down, and the Soviet Union itself would dissolve in 1991, but for now the world's largest country was still a mysterious, impenetrable place to Westerners.
Music didn't know anything about that. It had its ways of sneaking in, and Russian youth loved rock music. The Beatles—despite recording a song called "Back in the U.S.S.R."—never got to perform in the country but their records made it through the border, as did those of other top rockers of the day, smuggled in illegally through the black market or recorded by local youth off of radio broadcasts originating in the West.
Eastern European Communist regimes naturally frowned upon rock—it represented to them a dangerous freedom that they could not allow their citizens to desire. Bands were formed but forced to play gigs in secret; musicians were often persecuted. But then slowly, by the '70s and into the '80s, the music started to win. Bands were allowed to perform more openly, state-run record companies licensed rock albums from the West for release in their countries and, eventually, with Soviet leader Mikhail Gorbachev's implementation of glasnost—a new openness to outside culture—it was determined that world-famous rock stars would finally be allowed to play to music-starved fans within the U.S.S.R.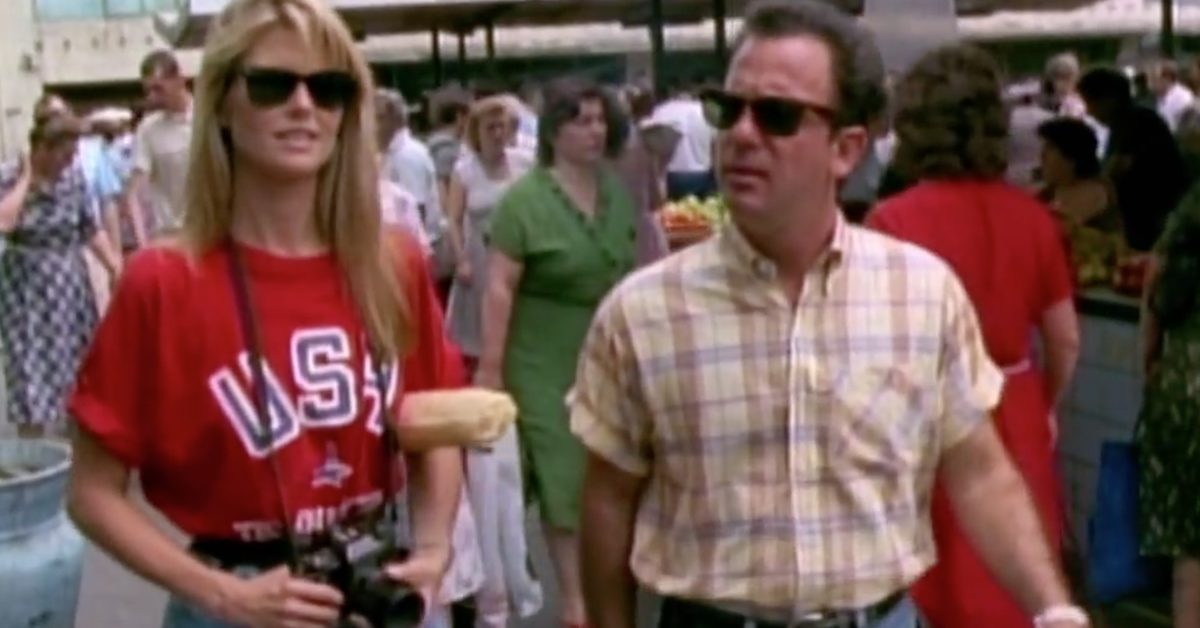 Billy Joel was the first major American rocker to bring a large-scale rock concert to the country. He'd released his album The Bridge in 1986 and accepted an invitation from the Kremlin to play, as part of his tour in support of the album, several concerts on Russian soil: three in Moscow and three in what was then known as Leningrad (today St. Petersburg), with his then-wife Christie Brinkley and daughter in tow. The tour was unprecedented, history-making, and Joel aimed to give his Russian fans an experience unlike any they'd ever had. "It was the great unknown. We were terrified," Joel told Newsday in 2014, recalling the tour. "It was still the Cold War. But we were literally offering a musical bridge to our cultures, and we knew that was important."
It didn't go well at first. Opening in Moscow's Olympic Sports Complex on July 26, 1987, Joel found that the audience didn't quite know how to enjoy live rock music—he instructed them to come closer to the stage and dance, to be more enthusiastic. The next night he became angered when a crew filming the concert refused to turn off the house lights: In the midst of his show he overturned an electric piano and broke a microphone.
Related: 10 surprise guests that have joined Joel during his historic MSG residency
When Joel opened at Leningrad's Sports & Concert Complex on August 2 though, things were different. By that time the Russians had gotten the message that rock concerts were an occasion to let loose and have fun, to behave in a way you wouldn't at school or work. So exuberant were the fans that, as the concert ended, audience members carried the star out of the theater on their shoulders! Billy Joel had taught the Russians how to rock.
Following his mini-tour of the two largest Soviet cities, Joel memorialized the event with a song called "Leningrad," inspired by a clown he and his daughter Alexa had met in the city. And in October 1987, he released the live album Kohuept (a.k.a. Kontsert). His second live album, it included the first cover songs ever to appear on a Billy Joel album, Bob Dylan's "The Times They Are A-Changin'" and, of course, "Back in the U.S.S.R." A documentary of the historic trip Billy Joel, A Matter of Trust: The Bridge to Russia, was also released. A year later, Paul McCartney himself would release Снова в СССР, an album of early rock 'n' roll covers, exclusively in the U.S.S.R.
Billy Joel continues to play his monthly residency at New York's Madison Square Garden, and elsewhere. Tickets are available here and here.

Latest posts by Best Classic Bands Staff
(see all)