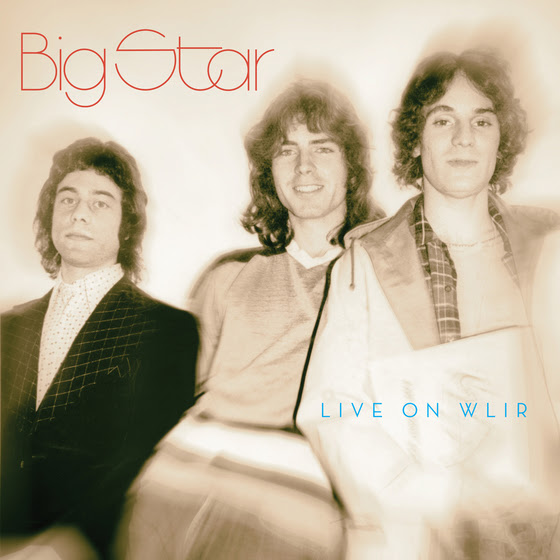 In 1973 Big Star recorded its second album, Radio City, as a trio, after the departure of founding member Chris Bell. When the time came to tour, original bassist Andy Hummel decided to return to school to pursue his engineering education. With this departure, Alex Chilton and Jody Stephens recruited fellow Memphis native John Lightman to take over on bass, and the band readied its live set.
That set was preserved, as Big Star recorded a radio session in 1974 at Ultrasonic Studios in New York for broadcast on the modern rock station WLIR-FM. Nearly two decades later, those recordings were issued as Live in 1992. Omnivore Recordings will reintroduce them, restored and remastered from the original tapes, as Live on WLIR, on CD and in its first official release on double LP. The release date is January 25.
The 15-track set features material from the band's first two albums, as well as a cover of "Motel Blues" by Loudon Wainwright III (which originally appeared on his 1971 sophomore release, Album II).
The package includes new, updated liner notes from Memphis writer/filmmaker Robert Gordon (who won a Grammy for his essay in 2010's Big Star boxed set Keep an Eye on the Sky) and an interview with John Lightman by Chris Bell biographer Rich Tupica (There Was a Light: The Cosmic History of Big Star Founder Chris Bell).
Related: Before he was in Big Star, Alex Chilton led the Box Tops
As Gordon observes in his liners: "Alex is, in this trio, playing all the guitar and singing lead, and he's giving it about all he's got. The road and the march of time eventually wore down that Alex, as time wears on all of us. But this recording is a clear window into the impenetrable past, making it a thrill today to hear Alex so young and enthusiastic."
Track list
1. September Gurls
2. Way Out West
3. Mod Lang
4. Don't Lie To Me
5. O My Soul
6. Interview
7. The Ballad Of El Goodo
8. Thirteen
9. I'm In Love With A Girl
10. Motel Blues
11. In The Street
12. You Get What You Deserve
13. Daisy Glaze
14. Back Of A Car
15. She's A Mover
Watch the trailer for Live on WLIR

Latest posts by Best Classic Bands Staff
(see all)