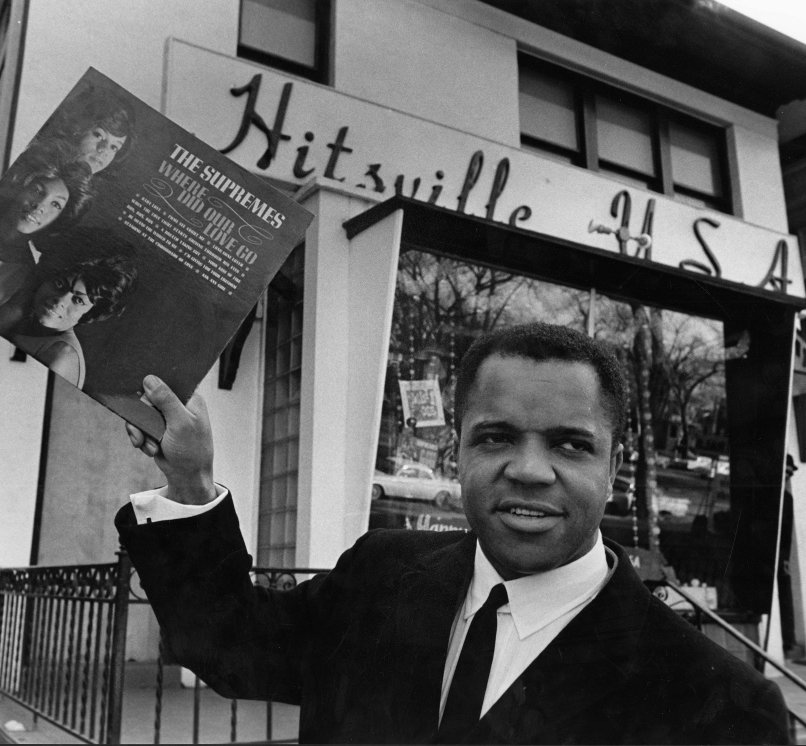 He created a full-service music industry powerhouse whose slogan was "The Sound of Young America" – Motown – that was a primary force for integrating R&B and soul music into the pop music mainstream and the classic rock idiom in the 1960s.
Born in Detroit on November 28, 1929, Berry was the seventh child of Berry Gordy, Sr. and his wife Bertha, who had moved to Michigan from Georgia in 1922 to become successful entrepreneurs in Detroit's black community. A somewhat indifferent student with an interest in music from an early age, he dropped out of school in the 11th grade to become a professional boxer. During his brief career as a welterweight Gordy he won 13 out of 19 fights.
After being drafted into the Army in 1951 and serving for two years, Gordy returned home to Detroit, opened and briefly ran a record store, and then went to work on an assembly line for Lincoln Mercury. A longtime amateur songwriter, he co-wrote the hit song "Reet Petite" for Jackie Wilson as well the even bigger #7 pop hit "Lonely Teardrops."
The royalties helped fund the launch of the Tamla and Motown labels in 1960, which quickly had hits with Barrett Strong's "Money (That's What I Want)," and then "Shop Around" by The Miracles (and written by the group's singer Smokey Robinson), which was a #1 R&B hit and #2 pop hit in January 1961.
The first Motown hit that Gordy co-wrote was covered by The Beatles.
"Gordy learned to be color blind from his earliest days in the industry, even as he understood how comprehensively white-controlled it was by major record companies such as Columbia, RCA, Capitol and MGM, and by old-school music publishers," wrote Adam White in the book, Motown: The Sound of Young America. "Two other significant labels, Decca and Mercury, took more interest in rhythm and blues, and both played a role in Gordy's professional coming of age."
Related: Interview with the authors of Motown: The Sound of Young America
Motown went on the launch such star acts as Diana Ross and the Supremes, the Temptations, Jackson 5, Stevie Wonder and many other acts and become the most successful black-owned music company in the record business. Gordy was inducted into the Rock and Roll Hall of Fame in 1988.
Related: Motown artists covering Motown
Gordy announced his retirement at a 60th anniversary event for the company on Sept. 22, 2019, at Detroit's Orchestra Hall.
"I have come full circle," he told the audience there, according to a report in the Detroit Free Press. "It is only appropriate [to announce this] while here in Detroit, the city where my fairy tale happened with all of you. For years, I dreamed about it, talked about it, threatened it."
Gordy and Robinson are being honored by the Recording Academy as MusiCares' 2023 Persons of the Year.
Related: A chat with the man who made Motown

Latest posts by Best Classic Bands Staff
(see all)