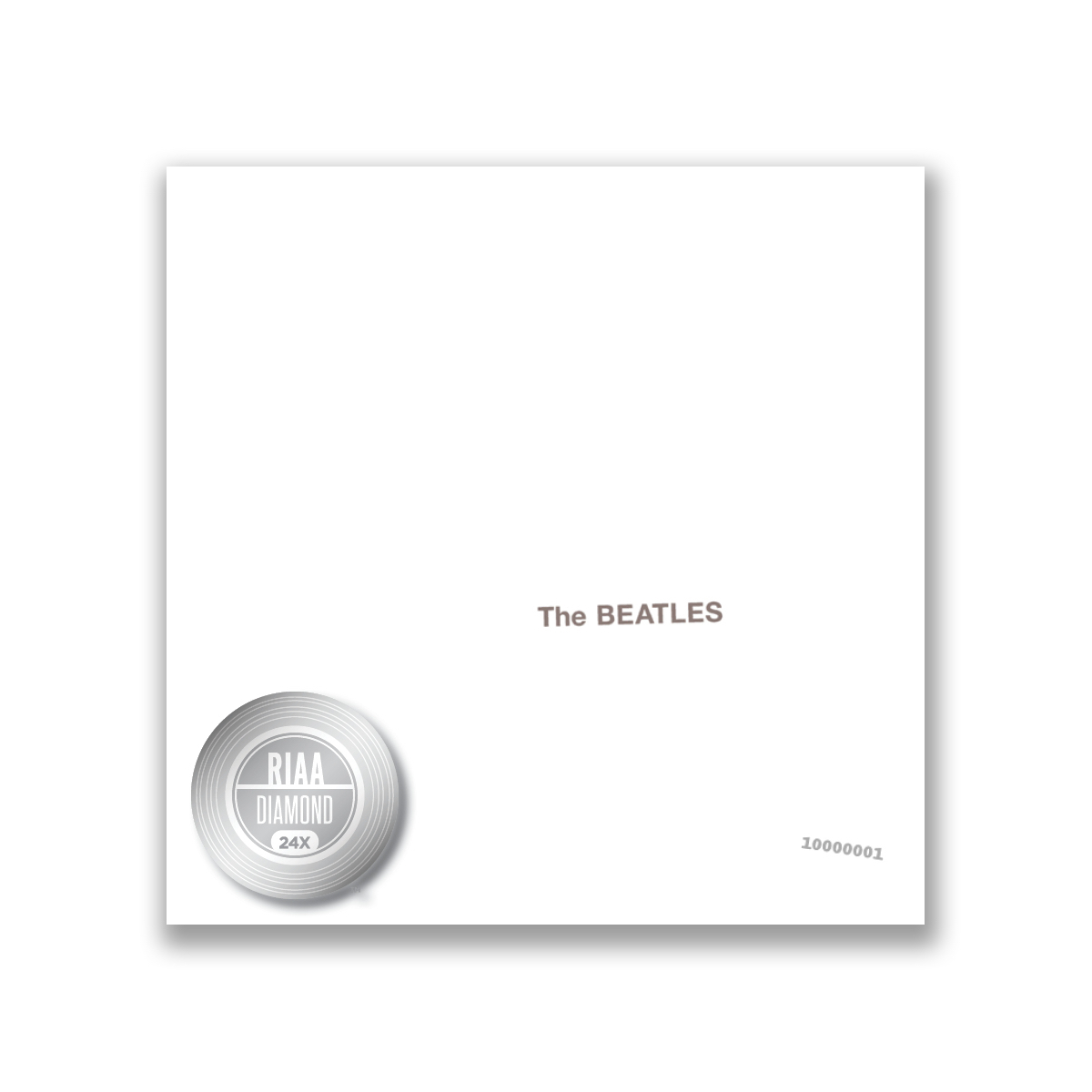 In November 1968, millions of double LPs were shipped to record stores worldwide ahead of that year's most anticipated music event: the release of The BEATLES (soon to be better known as The White Album). On November 9, 2018, The Beatles released a suite of lavishly presented White Album packages, via Apple Corps Ltd./Capitol/UMe.
More than 50 years after its 1968 release, the Recording Industry Association of America (RIAA) has announced that The BEATLES has now been certified 24x Platinum, earning the spot as the fourth top-certified album of all time.
From the February 21, 2019 announcement: The Beatles already hold top honors as the highest certified band in Gold and Platinum Award history, with 178 million certifications across a wide range of titles. Other albums by The Beatles that have surpassed Diamond certification include The Beatles 1967-1970 at 17x Platinum, The Beatles 1962-1966 at 15x Platinum, Abbey Road at 12x Platinum, 1 at 11x Platinum, and Sgt. Pepper's Lonely Hearts Club Band at 11x Platinum.
Related: The White Album – Facts and Trivia
"Diamond status is already a rare feat," said Mitch Glazier, Chairman and CEO, RIAA. "For an album to go 24x Platinum it has truly become part of America's cultural fabric."
The White Album now trails only Eagles – Their Greatest Hits 1971-1975 (38 million), Michael Jackson's Thriller (33 million) and Eagles Hotel California (26 million). It's just ahead of other classic rock albums: Billy Joel's Greatest Hits Volume I and Volume II (23 million), Led Zeppelin IV (23 million), Pink Floyd's The Wall (23 million) and AC/DC's Back in Black (22 million).
The RIAA's iconic Gold & Platinum brand is the industry's premier award for recognizing artistic achievement in the music marketplace. Officially launched in 1958, the program expanded in 1999 to include a Diamond Award honoring 10 million or more sales of an album or record. The RIAA added on-demand music streams to its Digital Single Award in 2013 and its Album Award in 2016 to better reflect artists' commercial success in an ever-evolving music marketplace.
Complete lists of all album, single, and video awards, as well as top tallies for artists and albums can be accessed here.

Latest posts by Best Classic Bands Staff
(see all)