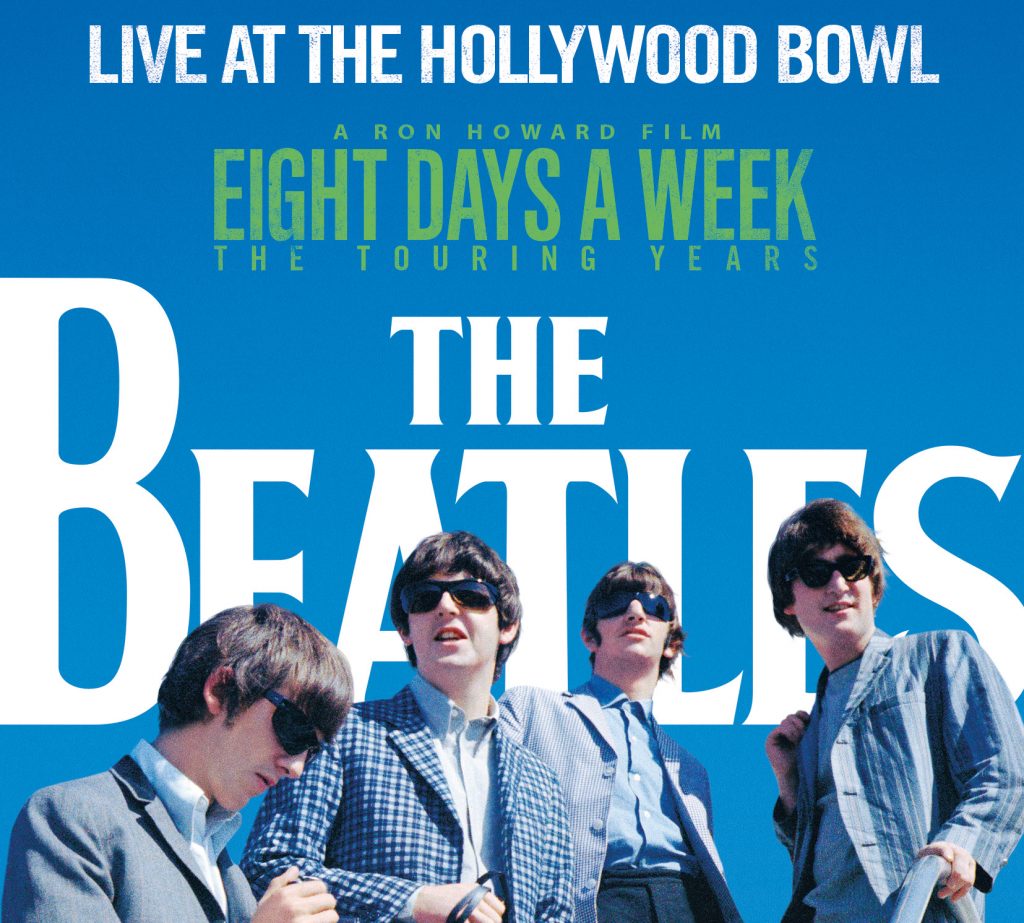 17-track set serves as a companion to Ron Howard's upcoming Fabs doc
Apple Corps Ltd. and Universal Music Group will release The Beatles: Live at the Hollywood Bowl on September 9, the 17-track set serving as a companion piece to The Beatles: Eight Days A Week—The Touring Years, director Ron Howard's forthcoming feature documentary. The new package, culled from The Beatles' 1964 and '65 shows at the Bowl, upgrades the original 1977 The Beatles at the Hollywood Bowl LP, adding four songs—"You Can't Do That," "I Want to Hold Your Hand," "Everybody's Trying to Be My Baby" and "Baby's in Black"—to the original 13-track album. (See the complete track listing below.)
The new Live at the Hollywood Bowl will initially be released on CD and digitally (download and streaming), with a 180-gram gatefold vinyl LP following on November 18. Both are available for pre-order here.
According to an announcement from Apple/Universal, the package includes a 24-page booklet with an essay by music journalist David Fricke, and a cover photo taken on August 22, 1964, by the band's U.S. tour manager, Bob Bonis, as the Beatles boarded a chartered flight from Seattle Tacoma Airport to Vancouver, B.C., for their first concert in Canada.
The Beatles first played the iconic Los Angeles venue on August 23, 1964, then returned for two sold-out dates on August 29-30 the following year. Says the Apple/Universal press release, "Documenting the Beatles' Hollywood Bowl concerts on tape was no easy feat, as producer Sir George Martin explained in his album notes for 1977's The Beatles At The Hollywood Bowl: 'The chaos, I might almost say panic, that reigned at these concerts was unbelievable unless you were there. Only three-track recording was possible; The Beatles had no 'fold back' speakers, so they could not hear what they were singing, and the eternal shriek from 17,000 healthy, young lungs made even a jet plane inaudible.'"
Related: Insiders discuss The Beatles' 1965 performances at the Hollywood Bowl
The new release, the label adds, "references the long-out-of-print 1977 album," but is, in essence, an "entirely new release, directly sourced from the original three-track tapes of the concert." For the new set, producer Giles Martin (the son of George Martin) and engineer Sam Okell remixed and mastered the recordings at London's Abbey Road Studios.
Howard's documentary will premiere in London on September 15, with a same-day theatrical release in the U.K., France and Germany. Showings in the U.S., Australia and New Zealand will follow on the 16th, with Japan getting the film on September 22. In the U.S., Hulu subscribers can stream the film beginning September 17.
Here's the teaser trailer for the documentary film…
The Beatles: Live At The Hollywood Bowl Track List
(Original performance dates are shown in brackets)
1. Twist and Shout [August 30, 1965]
2. She's A Woman [August 30, 1965]
3. Dizzy Miss Lizzy [August 30, 1965/August 29, 1965—one edit]
4. Ticket To Ride [August 29, 1965]
5. Can't Buy Me Love [August 30, 1965]
6. Things We Said Today [August 23, 1964]
7. Roll Over Beethoven [August 23, 1964]
8. Boys [August 23, 1964]
9. A Hard Day's Night [August 30, 1965]
10. Help! [August 29, 1965]
11. All My Loving [August 23, 1964]
12. She Loves You [August 23, 1964]
13. Long Tall Sally [August 23, 1964]
14. You Can't Do That [August 23, 1964—previously unreleased]
15. I Want To Hold Your Hand [August 23, 1964—previously unreleased]
16. Everybody's Trying To Be My Baby [August 30, 1965—previously unreleased]
17. Baby's In Black [August 30, 1965—previously unreleased]

Latest posts by Best Classic Bands Staff
(see all)