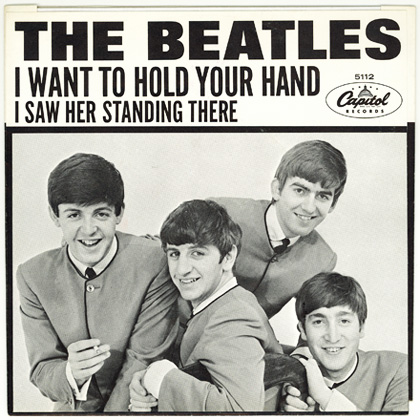 A few weeks' ago, Best Classic Bands commemorated the U.S. release of The Beatles' "I Want to Hold Your Hand," which occurred on December 26, 1963. This day, January 18, 1964, is notable for The Beatles first U.S. chart appearance.
It's hard to imagine – impossible really – but Capitol Records, which is essentially synonymous with the rise of The Beatles in America, had turned down their sister U.K. label Parlophone's efforts to release the group's singles stateside.
That all changed with "I Want To Hold Your Hand." The single was released in the U.K. on November 29, 1963, though it took two weeks to hit #1 there where the group's "She Loves You" was ensconced.
Capitol had scheduled it for a mid-January 1964 release but clever U.S. radio DJs who were privy to the song's overseas success arranged to get copies shipped to them and began playing the import early. This forced Capitol's hand – they actually contemplated seeking a court order to halt airplay. They wisely recognized that they could use the radio activity to their advantage and the single's release date was moved up to December 26th to "Capitol"-ize on the demand. (OK, we made that word up.) With the floodgates opened, the 45 is reported to have sold 250,000 copies within days.
How amazing is that picture sleeve above? Look closely and you'll see Paul McCartney holding a cigarette.
On January 18, 1964, "I Want To Hold Your Hand" debuted on the Hot 100 Singles Chart at #45. The Beatles' impact in America cannot be overstated: When the song hit #1 two weeks' later on February 1, 1964, it became the first of seven #1 singles they achieved in a one-year period, launching both Beatlemania and the British Invasion.
Watch their performance on The Ed Sullivan Show eight days later on February 9, 1964

Latest posts by Best Classic Bands Staff
(see all)