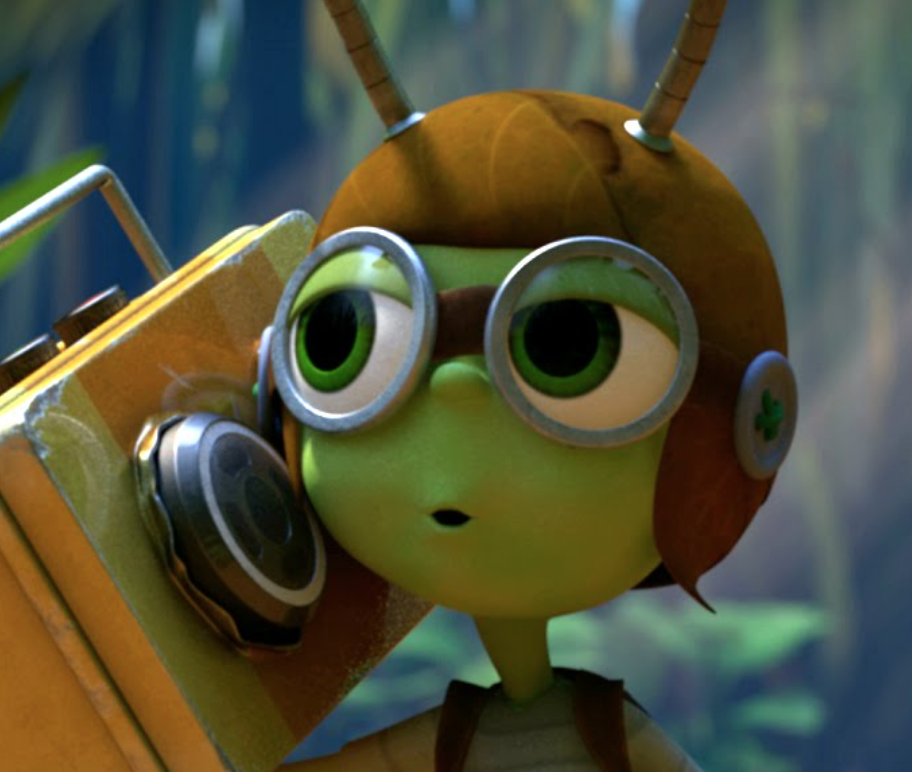 Update (October 12): The soundtrack to the animated Netflix original series Beat Bugs will be released on November 4. The album, Beat Bugs: Best Of Seasons 1 & 2, features cover versions of Beatles songs by Rod Stewart, Eddie Vedder and more. Pre-order is available here. The second season of the hit series premieres around the world on Netflix November 18.
Original story (July 31, 2016):
Beat Bugs, a Netflix original series for kids that uses as its soundtrack Beatles music interpreted by contemporary and classic artists, has been renewed for a second season before the premiere of the first season has even aired. The animated series features, during season one, renditions of the Fab Four's songs by artists including Eddie Vedder, Pink, Sia, James Bay, the Shins, Of Monsters and Men, Chris Cornell, Regina Spektor, James Corden, with Rod Stewart, Jennifer Hudson, Aloe Blacc, Robbie Williams, Frances, the Lumineers and Tori Kelly among those tapped for the second season.
Beat Bugs, written and directed by Josh Wakely, will premiere this Wednesday, August 3, with the second season arriving worldwide on November 18. According to Variety, the series "revolves around five friends—Jay, Kumi, Crick, Buzz and Walter—who band together to explore and learn in an overgrown suburban backyard, which to them is their entire universe."
An article in the Wall Street Journal noted that, "Acquiring the rights to the Beatles catalog to use the songs in the series and related ventures was a years-long, uphill battle that few expected the 35-year-old Mr. Wakely—a little-known name in Hollywood with scant music-industry experience—to win. He and his backers are so far paying nearly $10 million for the catalog's rights," the article stated.
"Personally I'm very grateful to be part of Josh's vision," said Vedder. "A tremendous show for kids that combines beautiful animation with great stories and obviously some of the best songs ever written."
Republic Records will release the official soundtrack for season one of Beat Bugs exclusively with Apple Music. Split into two volumes, it will include a total of 27 tracks. On November 4, the season one soundtrack will be made available to all retailers, as will a compilation album with the "best of" seasons one and two. The season two soundtrack will be released in November, featuring 26 tracks from the show.
Here's the full list of artists and the songs they perform on the program (in order of show appearance):

Season 1
● Pink: "Lucy In The Sky With Diamonds"
● James Corden: "I'm A Loser"
● Aloe Blacc: "Rain"
● Robbie Williams: "Good Day Sunshine"
● Eddie Vedder: "Magical Mystery Tour"
● Frances: "In My Life"
● The Shins: "The Word"
● The Lumineers: "Honey Pie"
● Sia: "Blackbird"
Season 2
● Rod Stewart: "Sgt. Pepper's Lonely Hearts Club Band"
● Chris Cornell: "Drive My Car"
● Regina Spektor: "And Your Bird Can Sing"
● Jennifer Hudson: "I'll Follow The Sun"
● Of Monsters and Men: "Eleanor Rigby"
● James Bay: "Hey Bulldog"
● Tori Kelly: "I'm Happy Just To Dance With You"
Other hit songs to be featured in the Netflix original series and the soundtracks will include Beat Bugs renditions of Beatles classics like "Help," "Come Together," "Penny Lane," "Yellow Submarine," "We Can Work It Out," "Strawberry Fields Forever," "Hello Goodbye" and "Across the Universe," among others.

Latest posts by Best Classic Bands Staff
(see all)