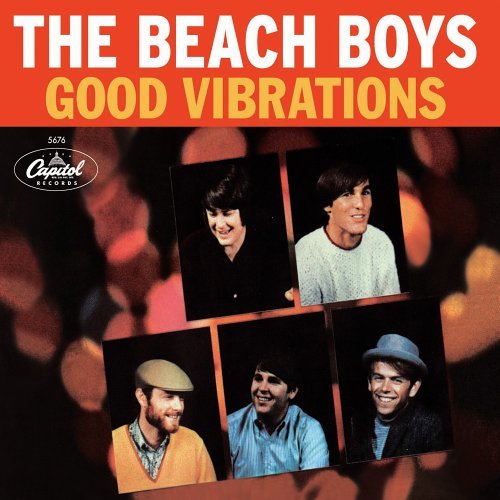 1966 was a watershed year for the Beach Boys with the release of the album – Pet Sounds – that's often referred to as Brian Wilson's masterpiece.
"Good Vibrations" was recorded with the Los Angeles-based musicians known as the Wrecking Crew across several sessions at four Hollywood studios between February and September 1966. The song was released on October 10, 1966.
The single debuted at a rather pedestrian #83 on Oct. 22. However, one week later, it jumped to #45. On Nov. 5, its third week on the chart, it was already at #9. Two months after its debut, it reached #1 on December 10, 1966.
The Beach Boys and Capitol/UMe celebrated the golden milestone with the worldwide release of "Good Vibrations" 50th Anniversary edition, a 12-inch sunburst vinyl EP, on October 7, 2016. (It's available here.)
Per the announcement: "'Good Vibrations' was a revelation upon its release, wowing musicians, critics and music fans and rocketing to the top of singles charts around the world. A crown jewel of popular music, 'Good Vibrations' has been called a 'pocket symphony', with its still-innovative production, lush, layered arrangements and range of instruments, including the world's most celebrated use of the theremin."
Watch members of the Wrecking Crew discuss their session work on the song
Related: The #1 singles of 1966
Carl Wilson, who died on February 6, 1998, from lung cancer, was the lead vocalist on the song. Mike Love is credited as co-lead vocalist. Have a listen…
Brian Wilson talked to Best Classic Bands about 1966. For him, Pet Sounds represents part of a continuum, the latest development in his evolution as an artist. By the time the album was released he was deeply involved in perfecting his next masterpiece, "Good Vibrations," which he'd hoped to include on the album but continued to fine-tune for months. "I decided to experiment with a new kind of music," Wilson says today about Pet Sounds. "I was young and creative and we really did good. I'm glad that people still like the album. It makes me proud."
Related: Our interview with Brian Wilson, Mike Love and Al Jardine
When Brian Wilson tours, tickets are available here. Beach Boys tickets are available here and here.
The Beach Boys hold Billboard's record as the top-selling American band for albums and singles, and they are also the American group with the most Billboard Top 40 chart hits (36). "Good Vibrations" was inducted into the Grammy Hall of Fame® in 1994.
The group were inducted into the Rock and Roll Hall of Fame in 1988 and are recipients of The Recording Academy's Lifetime Achievement Grammy Award.
Related: Meet the Wrecking Crew

Latest posts by Best Classic Bands Staff
(see all)