Beach Boys Live Package Delivers Fun, Fun, Fun
by Jeff Burger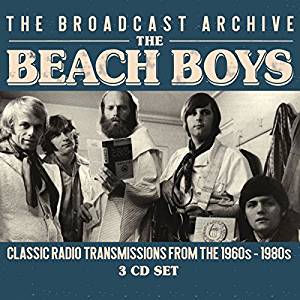 From the same distributor that issued recent sets of concert material from Lou Reed, John Prine, Leonard Cohen and Bruce Springsteen comes The Beach Boys' The Broadcast Archive: Classic Radio Transmissions from the 1960s-1980s. Like the aforementioned other collections, this anthology packages three albums that originated as live FM radio broadcasts. Like those prior sets, also, it contains skimpy liner notes and recording credits but also lots of music for not a lot of money (about 20 bucks in this case). There was no shortage of live Beach Boys material before this collection arrived, but there's no such thing as too much Beach Boys.
The oldest recordings here, on a 20-track disc called The Beach Boys' Lonely Return, are all culled from four November 1967 concerts, in Detroit; Boston; White Plains, New York; and Pittsburgh, Pennsylvania. The group—which at the time still featured Brian Wilson on stage—had plenty of strong material to showcase, not only from their already extensive catalog and the then-new Smiley Smile but also from Wild Honey, which would come out a few weeks after these gigs. The set includes the title track and "Darlin'" from that latter album, plus Smiley Smile's chart-topping "Good Vibrations" and such earlier classics as Pet Sounds' "Wouldn't It Be Nice," "God Only Knows," and "Sloop John B." Also here: a nearly a cappella "Graduation Day," one of Brian Wilson's nods to his beloved Four Freshmen.
Disc two of this set captures the band almost four years later, on June 27, 1971, at New York's Fillmore East, on the night when that iconic venue closed for good. After an introduction from promoter Bill Graham, the Beach Boys run through 11 numbers, with Carl Wilson singing lead on most of them. Highlights include "Do It Again," "Help Me Rhonda," "Good Vibrations," "California Girls," "I Get Around," a heavily sax-spiced "Heroes and Villains," and a surprising and well-done cover of Elton John's "Your Song."
Related: Our review of the Beach Boys' Party reissue
The final disc preserves the Beach Boys' performance at a massive, free July 4, 1985, Philadelphia concert that also featured several other acts. The group's 19-song set here incorporates many of their surf/car hits ("Little Deuce Coupe," "I Get Around," "Surfer Girl," "Surfin' Safari," "Surfin' USA," "Fun Fun Fun"), some Pet Sounds highlights ("Sloop John B," "Wouldn't It Be Nice," "God Only Knows"), and assorted other radio staples ("California Girls," "Good Vibrations," "Help Me Rhonda"). This has to be the only album ever to include guest spots by the Oak Ridge Boys (on a cover of the Del Vikings' "Come Go with Me"), Christopher Cross (on "Good Vibrations") and Joan Jett (on the Beach Boys hit "Barbara Ann," which originally scored for the Regents). Also here are readings of John Fogerty's "Rockin' All Over the World" and Little Richard's "Lucille," plus "Surf City," the Jan and Dean number that Brian Wilson cowrote.
The sound quality on these discs is at times a bit less than pristine, and casual fans might also gripe about duplication: not only are live readings of most of these songs available elsewhere, but many of them appear here in multiple versions. On the 1967 set alone, in fact, seven numbers appear in two versions each. And while the liner notes are correct in noting that none of that disc's tracks replicate those on the recently issued Sunshine Tomorrow, the two albums do contain 1967 live version of some of the same tunes.
Given the per-song price of this package, however, it's hard to grumble much. Moreover, some of the recordings here differ significantly from ones we've heard elsewhere. Besides, as noted earlier, there's no such thing as too much of the Beach Boys, one of the best rock bands that America has ever produced.
Watch a segment of the July 4, 1985, concert
Latest posts by Jeff Burger
(see all)