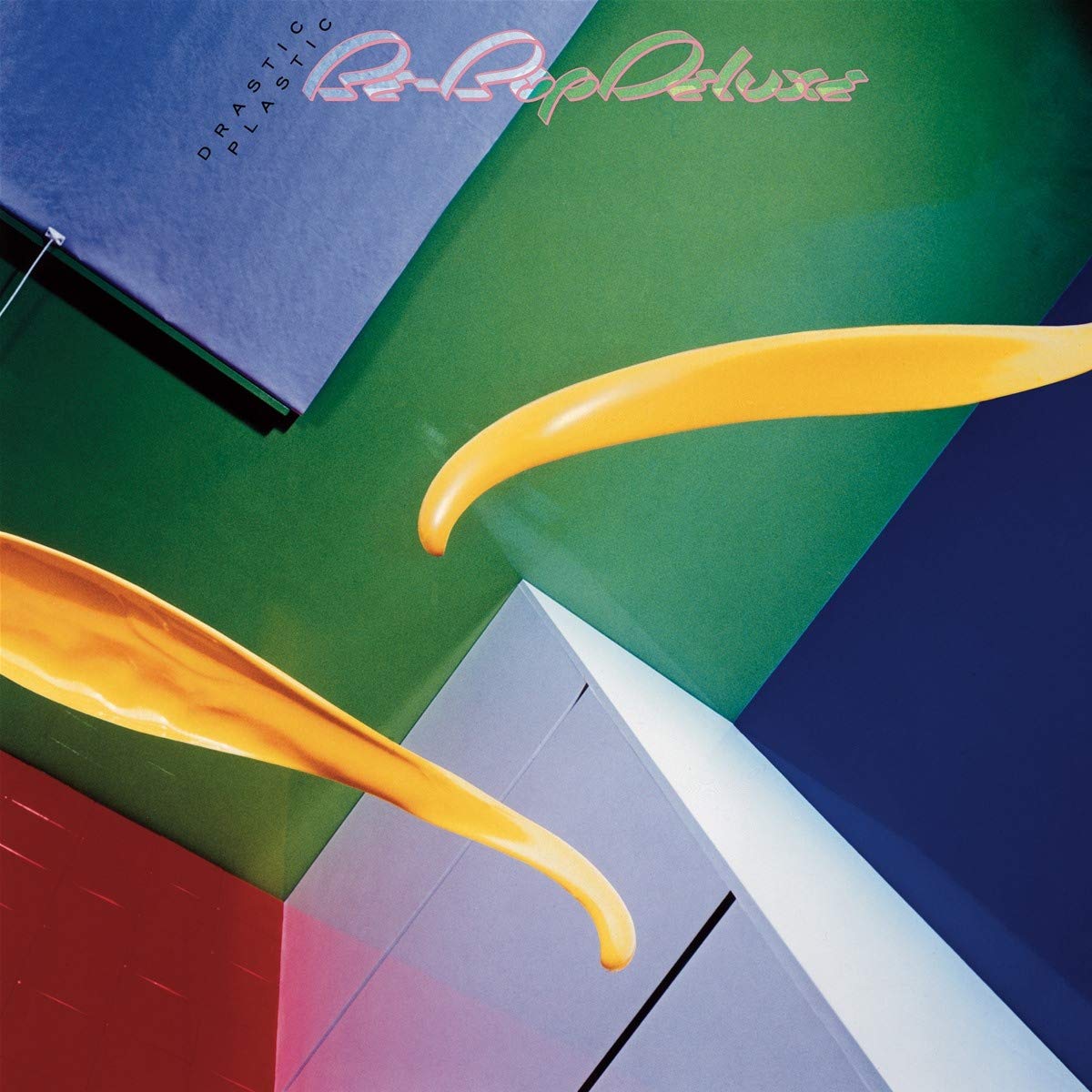 The final album from Be-Bop Deluxe, Drastic Plastic, is getting an expanded release. The 1978 recording is receiving a newly re-mastered, limited edition, 6-disc deluxe (naturally) boxed set (comprising four CDs and two NTSC – Region Free DVDs), including 43 previously unreleased tracks. The set arrives March 5, 2021, via Cherry Red Records.
Drastic Plastic was recorded in the summer of 1978 in the south of France utilizing the Rolling Stones' mobile studio, with final sessions taking place at The Manor Studio and Abbey Road Studios. The record saw Bill Nelson (vocals, guitars, keyboards), Charles Tumahai (bass, vocals), Andy Clark (keyboards) and Simon Fox (drums) venture into new musical styles, with the album being ground-breaking in its move to more art rock and new wave influences.
Co-produced by Nelson and John Leckie, the English progressive rock band's Drastic Plastic featured such songs as "Electrical Language," "Panic in the World," "New Mysteries," "Islands of the Dead" and "Surreal Estate." The recording sessions produced many more tracks which would appear as singles and others that were originally planned for release as an EP set, all of which eventually appeared on the retrospective compilation The Best of & the Rest of, later that year.
Listen to an earlier remastered version of the single edit for "Panic in the World"
This expanded deluxe reissue has been newly re-mastered from the original master tapes and features an additional 88 tracks, drawn from new 5.1 surround sound and stereo mixes from the original multi-track tapes by award winning engineer Stephen W. Tayler, previously unreleased out-takes from the album sessions, a BBC Radio John Peel Show session from January 1978, along with a CD of Nelson's previously unreleased demos for the album, A Feeling of Playing.
Also included is an additional DVD featuring Be-Bop Deluxe in the south of France, (a collection of Bill Nelson's 8mm home movies shot while recording Drastic Plastic) and the band's "Sight & Sound in Concert" performance for BBC TV from 1978.
The boxed set includes a lavishly illustrated 68-page book with many previously unseen photographs and an essay of recollections by Nelson. The set includes postcards and a replica poster.
See the complete track listing below.
Drastic Plastic Deluxe Edition Track List
DISC ONE:
Drastic Plastic (Orig. Stereo Mix Remastered)
1. ELECTRICAL LANGUAGE
2. NEW PRECISION
3. NEW MYSTERIES
4. SURREAL ESTATE
5. LOVE IN FLAMES
6. PANIC IN THE WORLD
7. DANGEROUS STRANGER
8. SUPERENIGMATIX (LETHAL APPLIANCES FOR THE HOME WITH EVERYTHING)
9. VISIONS OF ENDLESS HOPES
10. POSSESSION
11. ISLANDS OF THE DEAD
BONUS TRACKS
12. JAPAN
13. FUTURIST MANIFESTO
14. PANIC IN THE WORLD (SINGLE EDIT)
15. BLUE AS A JEWEL
16. ELECTRICAL LANGUAGE (SINGLE VERSION)
17. LOVE IN FLAMES (SINGLE VERSION)
18. FACE IN THE RAIN (PREVIOUSLY UNRELEASED ON CD)
19. ISLANDS OF THE DEAD (TAKE FOUR) (PREVIOUSLY UNRELEASED)
20. THE SAXOPHONIST (JUAN LES PINS VERSION) (PREVIOUSLY UNRELEASED)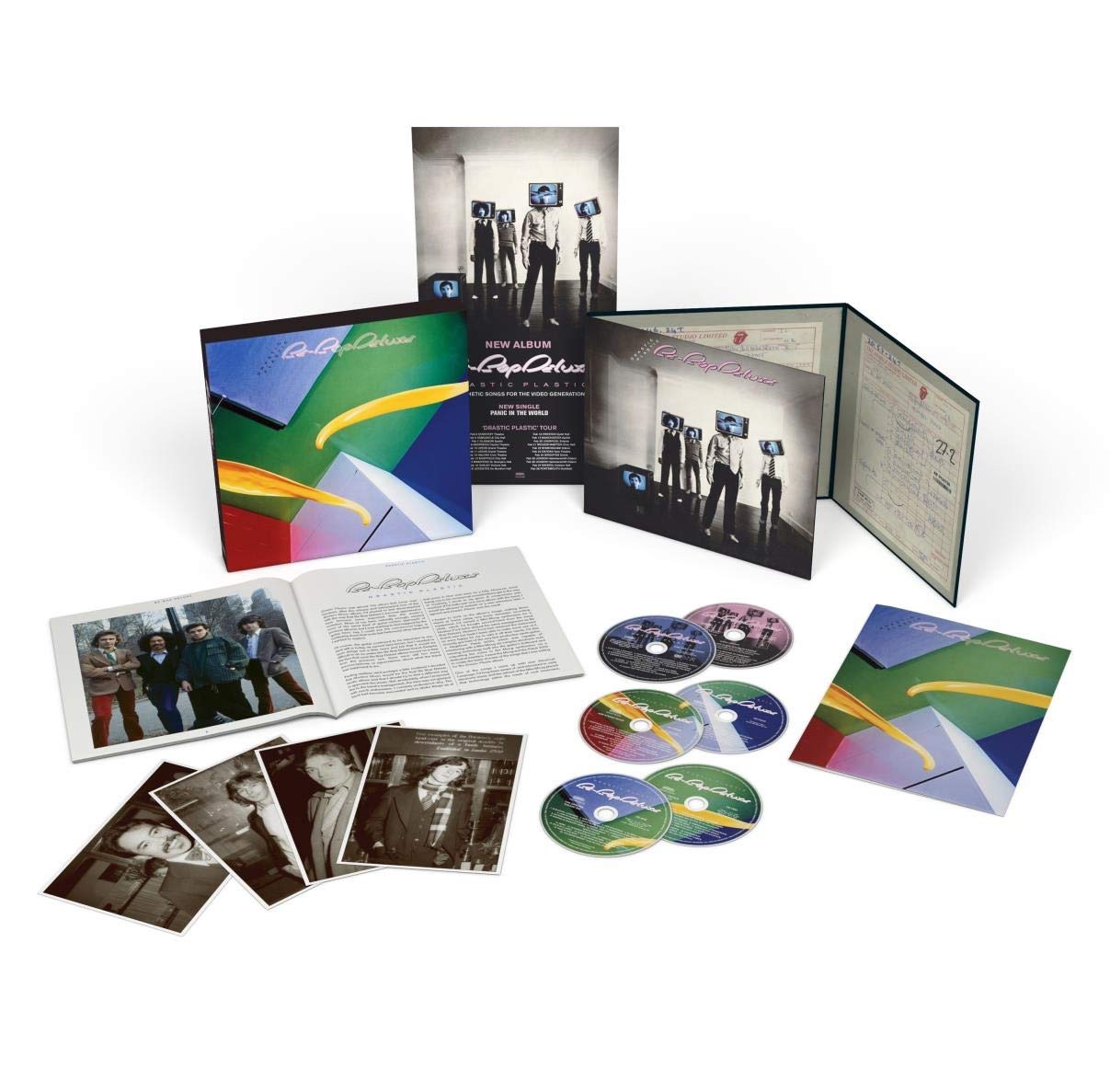 DISC TWO:
Additional Tracks and Sessions
1. AUTOSEXUAL
2. LOVERS ARE MORTAL
3. BLIMPS
4. SPEED OF THE WIND
5. QUEST OF HARVEST FOR THE STARS
Recorded at the Manor Studio, August 1977, For an Intended EP
6. NEW PRECISION (BBC IN CONCERT 1978)
7. SUPERENIGMATIX (BBC IN CONCERT 1978)
8. POSSESSION (BBC IN CONCERT 1978)
9. DANGEROUS STRANGER (BBC IN CONCERT 1978)
10. ISLANDS OF THE DEAD (BBC IN CONCERT 1978)
11. PANIC IN THE WORLD (BBC IN CONCERT 1978)
12. LOVERS ARE MORTAL (BBC IN CONCERT 1978)
13. LOVE IN FLAMES (BBC IN CONCERT 1978)
14. BLAZING APOSTLES (BBC IN CONCERT 1978)
BBC Radio One "Sight & Sound in Concert" – 19 January 1978
15. SUPERENIGMATIX (JOHN PEEL SESSION 1978)
16. POSSESSION (JOHN PEEL SESSION 1978)
17. PANIC IN THE WORLD (JOHN PEEL SESSION 1978)
18. LOVE IN FLAMES (JOHN PEEL SESSION 1978)
BBC Radio One John Peel Session – 30 January 1978
DISC THREE:
Drastic Plastic (The New Stereo Mixes)
1. ELECTRICAL LANGUAGE (NEW STEREO MIX)
2. NEW PRECISION (NEW STEREO MIX)
3. NEW MYSTERIES (NEW STEREO MIX)
4. SURREAL ESTATE (NEW STEREO MIX)
5. LOVE IN FLAMES (NEW STEREO MIX)
6. PANIC IN THE WORLD (NEW STEREO MIX)
7. DANGEROUS STRANGER (NEW STEREO MIX)
8. SUPERENIGMATIX (LETHAL APPLIANCES FOR THE HOME WITH EVERYTHING) (NEW STEREO MIX)
9. VISIONS OF ENDLESS HOPES (NEW STEREO MIX)
10. POSSESSION (NEW STEREO MIX)
11. ISLANDS OF THE DEAD (NEW STEREO MIX)
Singles and EP Tracks
12. JAPAN (NEW STEREO MIX)
13. FUTURIST MANIFESTO (NEW STEREO MIX)
14. BLUE AS A JEWEL (NEW STEREO MIX)
15. AUTOSEXUAL (NEW STEREO MIX)
16. FACE IN THE RAIN (NEW STEREO MIX)
17. LOVERS ARE MORTAL (NEW STEREO MIX)
18. SPEED OF THE WIND (NEW STEREO MIX)
19. QUEST FOR THE HARVEST OF THE STARS (NEW STEREO MIX)
Related: Only 6 albums reached #1 in the U.S. in 1978… Here's why

Latest posts by Best Classic Bands Staff
(see all)