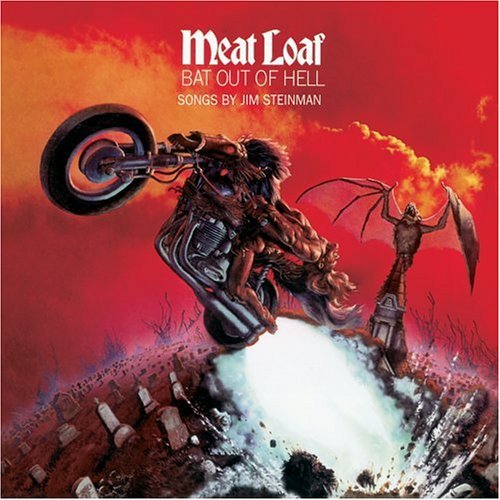 Thought by many to be the first album by Meat Loaf – real name: Marvin Lee Aday – it was actually his second. After the former high school football player (whose coach gave him his nickname and later stage name) and actor left his hometown of Dallas, Tex., to seek fame and fortune in Los Angeles, he was cast in the Los Angeles production of Hair. That led Motown Records to offer him and fellow Hair cast member Shaun "Stoney" Murphy a record deal, and they made an album called Stoney & Meatloaf. It failed to connect on radio and with audiences.
Aday returned to Hair on Broadway. At a later audition for the Public Theater's production of Shakespeare's As You Like It, Meat Loaf met songwriter/composer/playwright Jim Steinman.
In 1974, Meat Loaf and Steinman began working together to transform songs Jim had composed for a play he wrote, Neverland, into a rock music album project. Their demos and auditions racked up rejections from virtually every record label in New York City. Eventually they were able to persuade Todd Rundgren to produce the album they wanted to make. He ended up financing most of the project, which was recorded at Bearsville Studios in Woodstock, NY with such players as Roy Bittan and Max Weinberg of the E Street Band and Rundgren's Utopia bandmates Kasim Sultan, Roger Powell and John "Willie" Wilcox.
Related: Steinman died in 2021
The album eventually won a deal with the Epic Records associated label Cleveland International Records. On its release, it was not considered a priority by Epic. But when a video for the title track was played on England's Old Grey Whistle Test and did so well that the show broadcast it again the next week, Bat Out Of Hell started to build momentum.
Cleveland International head Steve Popovich, a former vice president of promotion at Epic, was finally able to get the label's staff behind the album and radio stations to start playing it. An appearance by Meat Loaf on NBC TV's Saturday Night Live in March 1978 stoked the buzz.
When the album finally started to get attention, it took off like, well, a bat out of hell. It went on to sell 14 million albums in the U.S. and some 43 million copies worldwide. Wild fact: despite its remarkable cumulative sales, the album never rose above #14 on the sales charts in any given week! (Following his passing, the album re-entered the Billboard 200 chart at #13 in the issue dated Feb. 5, 2022.)
Related: Our inside story on the album's success

Latest posts by Best Classic Bands Staff
(see all)