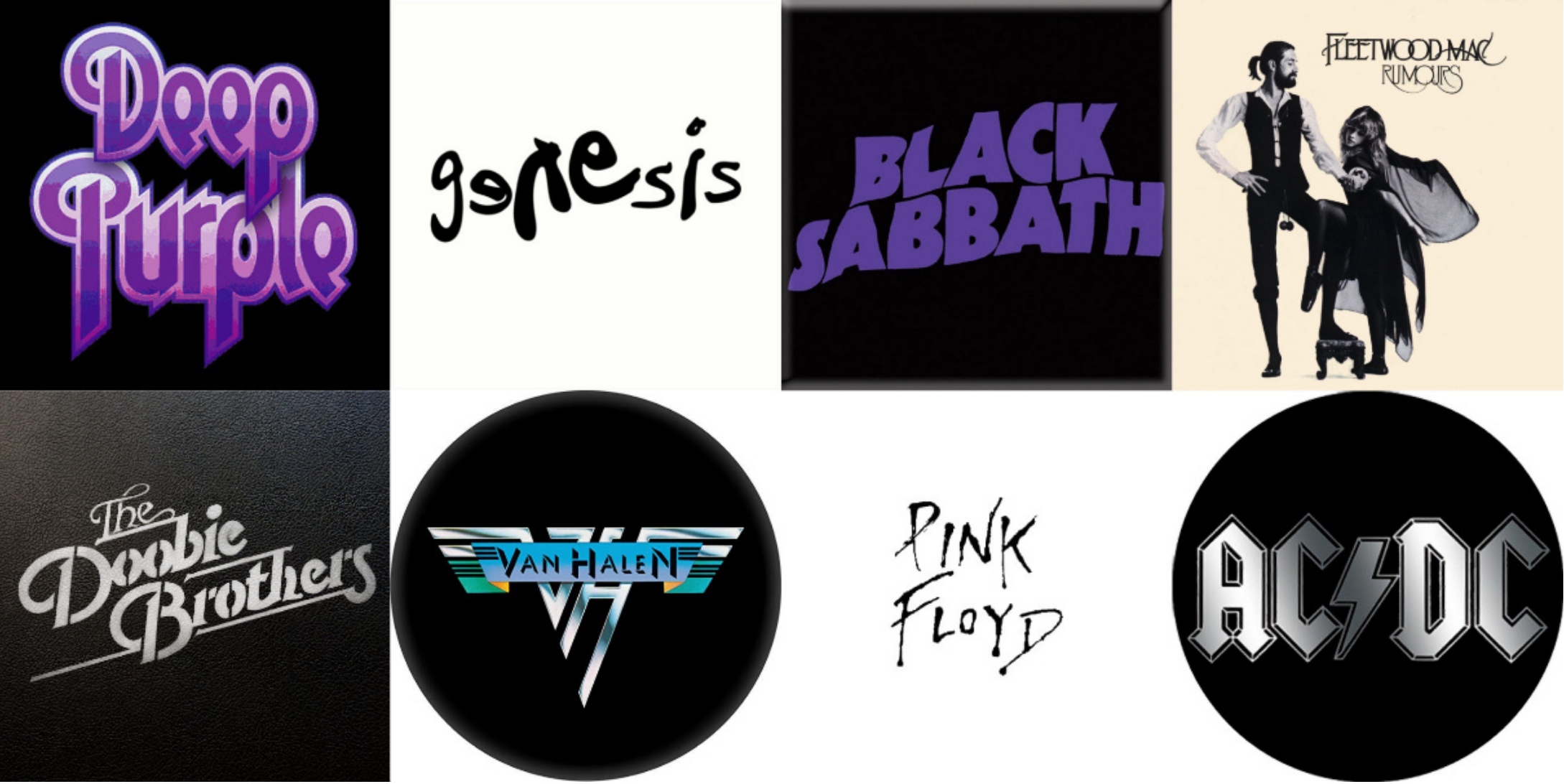 Imagine Led Zeppelin with anyone other than Robert Plant singing lead. Or the Stones without Mick Jagger. Or the Who without Roger Daltrey. Unfathomable, right? Some classic rock bands are so intrinsically linked with their primary vocalist that there simply could be no substitute.
But other bands have, throughout rock history, decided for one reason or another to switch things up at the front of the stage—even at the peak of their popularity. Perhaps there was an incompatibility issue, or just a desire to try something different. It's a risk, of course—will their audience accept the new singer?
There is no way to predict. In some cases they not only survived after the change but thrived, often eclipsing their earlier success by far. In others, fans were not so ready to accept the new face and voice.
We've chosen to focus on 13 bands (listed alphabetically) that took the risk and made that trade—sometimes more than once. There were many others, of course (Santana, for example, has welcomed numerous lead singers, and some R&B groups like the Temptations went through regular lineup shifts), but these stories stand out.
AC/DC—One obvious reason a band might introduce a new singer is because their old one died! Australia's AC/DC was massively successful when, on Feb. 19, 1980, singer Bon Scott passed away, reportedly from alcohol poisoning. After a bit of a search, they settled on ex-Geordie singer Brian Johnson. Their first album with the new lineup, Back in Black, was by far their biggest seller. In fact, it is now confirmed as the biggest selling rock album of all time!
Watch AC/DC (with Bon Scott) performing "Highway to Hell"
Black Sabbath—When you think Black Sabbath, you think Ozzy Osbourne. From the band's 1968 formation until 1979, he was synonymous with the English rockers. But by that point, the others had had enough of his intoxicant-fueled antics and kicked him out. Ozzy was replaced by Ronnie James Dio, who recorded two reasonably successful albums with the band. Then he left in 1982, replaced by Deep Purple's Ian Gillan, who was then replaced by a succession of others until Ozzy finally returned to the fold in 1997, where he remained until the band's (for now) final concert in 2017.
Watch Ozzy fronting the band in 1974
Here's Dio singing "Heaven and Hell"
Blood, Sweat and Tears—BS&T was formed in 1967 by keyboardist and vocalist Al Kooper, a former member of the Blues Project, Bob Dylan sideman and writer of the hit song "This Diamond Ring." Kooper sang most of the songs on the band's spectacular debut album, Child Is Father to the Man, and then the others booted him from his own creation. Kooper was replaced by Canadian David Clayton-Thomas, who immediately took the group to the top of the charts with their self-titled second album and the hit singles "You've Made Me So Very Happy," "Spinning Wheel" and "And When I Die," each of which peaked at #2.
Watch Blood, Sweat and Tears live with David Clayton-Thomas
Related: Our Album Rewind of BS&T's debut
Deep Purple—When we first heard them on their 1968 debut, Shades of Deep Purple (and the #4 single "Hush"), they were fronted by a bloke named Rod Evans, who stuck around for a short while before Ian Gillan took his place. From 1969-73, Gillan led the band through its greatest period of artistic and commercial growth ("Smoke on the Water," anyone?) and then Gillan bailed, ceding his post to future Whitesnake leader David Coverdale. (Gillan returned to the fold in 1984 and has spent much of the time since where he's most wanted.)
Watch Ian Gillan lead Deep Purple in 1970
The Doobie Brothers—From their formation in California in 1970 and for the next five years, the Doobies were doing just fine with Tom Johnston (and sometimes Patrick Simmons) singing lead. Their string of hits included "Listen to the Music," "Long Train Runnin'" and the #1 "Black Water" and they probably could have continued along that path without a problem. But when Johnston began suffering health issues the band, in 1975, decided to go for a more soulful sound and replaced him with Michael McDonald. Soon, they were bigger than ever, and by 1979 they returned to the top of the charts with "What a Fool Believes." (Johnston is now back in the band, with Michael McDonald enjoying a long and lucrative solo career.)
Watch Patrick Simmons leading the Doobies in the early '70s
Fleetwood Mac—The band was, of course, named after its founders, Mick Fleetwood and John McVie, but neither musician was a singer; their job was strictly to provide the rhythm. So since 1967, Fleetwood Mac has relied on various members, beginning with co-founding guitarist Peter Green and progressing to others (memorably Bob Welch and, of course, Christine McVie) as band members came and went. Finally, in 1975, with the departure of Welch, Fleetwood and the McVies hired a couple who'd been working as a duo, Stevie Nicks and Lindsey Buckingham. As just about everyone knows, that worked out pretty well for a while, save for a bunch of gaps when the three singers took turns leaving and returning, until 2018, when Buckingham was dismissed, seemingly for good.
Watch: Before there were Buckingham or Nicks, there was Green and then Welch
Genesis—Keeping track of the volatile membership of the British art-rockers-turned-commercial-juggernaut would keep almost anyone employed full time. But to simplify things, let's just say that the first several years belonged to the eccentric and exceedingly creative frontman Peter Gabriel, who provided the lead vocals on Genesis' first group of albums, including the brilliant The Lamb Lies Down on Broadway. Inevitably, Gabriel departed to see how he might fare on his own, leaving the band scrambling to replace him. Taking a chance, they gave drummer Phil Collins double duty, finding more commercial acceptance with each new release. As the '80s dawned, it all paid off as Genesis became one of rock's biggest bands, scoring four consecutive top 10 albums and even (as a trio) a #1 single with "Invisible Touch" in 1986. Meanwhile, the ridiculously busy Collins launched himself as a solo artist simultaneously and didn't do badly at all, notching a remarkable seven chart-topping singles between 1984-89.
Watch Genesis, with Peter Gabriel up front, performing "Supper's Ready"
Jefferson Starship—When they first emerged from the ashes of Jefferson Airplane, that band's Paul Kantner, Grace Slick and David Freiberg shared the lead vocal duties in their new spinoff band. But It was the 1975 return to the fold of Marty Balin, who'd co-founded the Airplane with Kantner, that made them superstars again. That year's Red Octopus album rocketed to #1, and Balin's lovely ballad "Miracles" to #3 on the singles chart. He stuck around until 1978 but then, fed up, he left for good, and at the same time Slick took a much-needed sabbatical. The band chose to replace both of them with former Elvin Bishop Group singer Mickey Thomas. Taking a more mainstream rock approach, the new lineup retained its popularity. When they finally changed their name one last time in 1985, simply to Starship (with Slick having returned to sing along with Thomas), they became absolutely huge, landing three #1 singles: "We Built This City," "Sara" and "Nothing's Gonna Stop Us Now."
Watch Marty Balin and Jefferson Starship perform "Count on Me"
Related: Our tribute to Marty Balin who died in 2018
The Moody Blues—When we in America first heard them in 1965, singing a cover of the Bessie Banks R&B hit "Go Now," their lead singer was a fellow named Denny Laine. That was it for the Moody Blues; as far as we knew, they would go down in history as a one-hit wonder. But like a caterpillar, they were waiting to re-emerge as something more colorful and beautiful, which they did in late 1967 with Days of Future Passed, an album of symphonic rock that recast the Moody Blues as an entirely different kind of band. A look at the credits revealed that Denny Laine was no longer in the band. (No worries: He went to work with Paul McCartney in Wings for a bit.) In his place was a new member, playing guitar and singing the lead, named Justin Hayward. The other members also contributed vocals, but for the last half-century-plus, it's been Mr. Hayward who most consider the voice of these (finally!) Rock and Roll Hall of Famers.
Watch the Moody Blues, with Justin Hayward, performing "Tuesday Afternoon"
Related: The inside story of Days of Future Passed
Pink Floyd—They were, at first, one of England's most psychedelic bands, and that was largely due to Syd Barrett, who wrote and sang their earliest music. On their debut album, 1967's The Piper at the Gates of Dawn, the band was molded in Barrett's image. Alas, as has been well-documented, Barrett's mental illness forced him from the band, leaving Pink Floyd with the dilemma of who would write and sing their songs. Although the roles were not strictly defined henceforth, most of the composition and vocal chores fell to bassist Roger Waters and second guitarist David Gilmour, the latter added shortly before Barrett's departure. It was a dicey move, as Barrett had been so closely identified with the emerging band's sound and image, but they did OK for themselves without him.
Watch Pink Floyd, with Syd Barrett, perform their early track "See Emily Play"
Related: Pink Floyd's early years
Quicksilver Messenger Service—The '60s-era San Francisco band was supposed to be fronted by Dino Valenti, a singer-songwriter who'd written the soon-to-be-a-hit hippie anthem "Get Together" under his given name of Chet Powers. But just as the band was getting off the ground, Valenti landed himself a jail sentence for marijuana possession, so instead Quicksilver was fronted alternately by bassist David Freiberg and guitarist Gary Duncan. They were a huge hit on the Bay Area ballroom scene along with bands like Jefferson Airplane and the Grateful Dead, but when Valenti was released from the pokey he reclaimed his place in QMS and completely altered their sound. Some fans weren't happy with the change, but with Valenti up front the band scored its biggest hit, "Fresh Air."
Watch Dino Valenti lead Quicksilver Messenger Service in 1975
Small Faces/Faces—This one might not be entirely fair because they really were two (very) different bands. Still, they're linked because one led to the other so we'll just note that Small Faces, formed in 1965 and fronted by the terrific blues-influenced growler Steve Marriott, fell apart a few years later, at which point three members—Ronnie Lane, Ian McLagan and Kenney Jones—joined up with two former members of the Jeff Beck Group, guitarist Ronnie Wood and singer Rod Stewart. Dropping the word Small from their name, they went on to do great things as, simply, Faces, before that too fell apart. Both Marriott and Stewart had little trouble finding success after their respective tenures, the former as the frontman for Humble Pie and Rod Stewart as, well, Rod Stewart.
Watch Small Faces, with Steve Marriott up front, singing "Sha La La La Lee"
Van Halen—There are some fans who only like one version of Van Halen and not the other(s). And there are some who think they were equally phenomenal, just, um, different. The first incarnation (circa 1972-85), consisting of brothers Eddie and Alex Van Halen, Michael Anthony and lead singer David Lee Roth, had a spectacularly successful run, reinventing hard rock/metal along the way. When Roth was replaced with former Montrose singer Sammy Hagar (1986-96), the band took on a much different flavor, but remained one of the biggest in rock. Following Hagar's departure, a third frontman, Gary Cherone, took over for awhile, but we'll just skip that part of the story, as well as the many subsequent reunions and breakups, and remember VH as one band that, for better or worse or neither, managed to weather a very big personnel shift without self-destructing.
Watch David Lee Roth leading Van Halen in their mega-hit "Jump"
Watch "Van Hagar" perform their first hit with Sammy

Latest posts by Jeff Tamarkin
(see all)