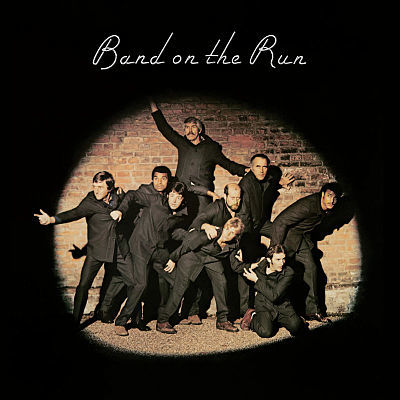 A few years after they split, being an ex-Beatle didn't seem to be hurting any of them. George Harrison went straight to #1 in 1970 on the U.S. Billboard Top Pop Albums chart with a triple LP, All Things Must Pass, and would repeat that feat in mid-'73 with his Living in the Material World. John, in 1971, had done quite well with John Lennon/Plastic Ono Band (#6) before hitting the top that same year with Imagine. Although his first couple of solo albums had sputtered, by the end of 1973 Ringo Starr would begin his climb to #2 with Ringo, a gem of an album that had a little help from all three of his friends.
Paul McCartney, too, was on a roll. His 1970 debut, McCartney, was a chart topper, as was 1973's Red Rose Speedway. In between his 1971 set Ram, a collaboration with his wife Linda, had come close (#2) and Wild Life, released at the end of '71, landed at #10.
That album had been the first credited to Wings, a new band that McCartney had formed for the purpose of touring, something he had not had a chance to do since the Beatles quit the road in 1966. Wings first hit stages for a brief U.K. university run in February 1972, with a lineup consisting of Paul and Linda, plus guitarists Denny Laine (ex-Moody Blues) and Henry McCullough, and drummer Denny Seiwell.
Neither of those last two fellows lasted long, and when the McCartneys and Laine set about making their next recording they knew they would need to try something different if they wanted to keep up the momentum. They chose to record in Lagos, Nigeria, where they pieced together the new tracks with Paul and Laine divvying up the electric and acoustic guitar, keyboard and bass parts (Denny also handling some of the drums) and Linda also contributing keyboards. (Former Cream member Ginger Baker, who lived in Nigeria at the time, also helped out on drums.)
It wasn't always a fun time. Not only was the studio subpar compared to what they were accustomed to, but Paul and Linda were robbed at knifepoint, the thieves taking a bag containing demo tapes and song lyrics as well as other valuables. The album was finished up in London and released in December 1973, entering the U.S. chart during Christmas week.
By any standard it was a fine effort, especially considering the hurdles the trio had to overcome in making it. Three singles—"Helen Wheels" (#10), "Jet" (#7) and the sublime, multi-movement title track, which reached #1—gave the album a boost and, although it took 17 weeks, Band on the Run finally claimed the top spot on this date in 1974.
Watch a rehearsal of "Jet"
Related: The #1 albums of 1974
It remains a fan favorite. McCartney still includes "Band on the Run," "Jet" and "Let Me Roll it" regularly in his concerts, and has, at various times, also performed the songs "Bluebird," "Nineteen-Hundred and Eighty-Five" and "Mrs. Vanderbilt." A 25th anniversary edition was released in 1999, with a second disc of rehearsals, dialogue, live material and more.
Even one of McCartney's former critics agreed it was a great album. "It doesn't matter who's playing," John Lennon was quoted as saying. "You can call them Wings but it's Paul McCartney music. And it's good stuff."
Watch them rehearse "Band on the Run"
Related: Our Album Rewind of Band on the Run

Latest posts by Best Classic Bands Staff
(see all)