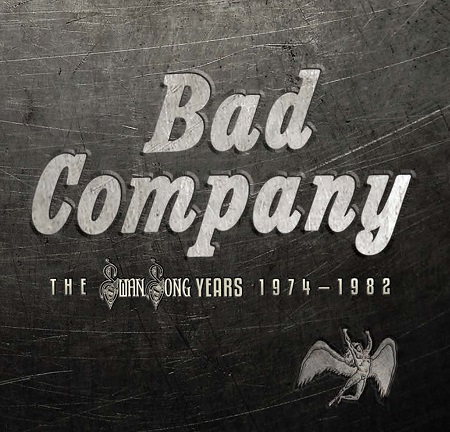 Bad Company's 45th anniversary is being celebrated with a new boxed set, The Swan Song Years 1974-1982. The new collection, available on 6-CDs, arrives August 2 via Rhino.
The group's multi-platinum musical legacy with a new clamshell boxed set that includes every studio album the group released on the Swan Song record label between 1974 and 1982.
From the label's June 10 announcement: "Bad Company's real-life 'Rock 'n' Roll Fantasy' began 45 years ago when the British quartet topped the album charts in America with their self-titled debut, setting the group on a trajectory to become one of the most-popular bands of the classic-rock era.
Each album has been remastered from the original analogue multi-track tapes, including newly remastered versions of Desolation Angels and Rough Diamonds that are making their debut as part of this set. The other albums included in the collection are: Bad Company (1974), Straight Shooter (1975), Run with the Pack (1976), and Burnin' Sky (1977).
In 1973, members of three popular bands came together to form Bad Company: singer Paul Rodgers and drummer Simon Kirke of Free; Mick Ralphs of Mott the Hoople, and King Crimson bassist Boz Burrell. That same year, Bad Company was the first band signed to Led Zeppelin's new record label, Swan Song.
The band's 1974 debut, Bad Company, went to #1 in the U.S. and was certified 5x platinum on the strength of future-radio staples like "Can't Get Enough," "Rock Steady," and "Movin' On."
The multi-platinum streak continued a year later with Straight Shooter. Certified 3x platinum, the album delivered standouts like "Good Lovin' Gone Bad," "Shooting Star" and the Grammy-nominated smash, "Feel Like Makin' Love."
The band notched another platinum record in 1976 with Run with the Pack, which includes "Silver, Blue & Gold," a song that has become a fan-favorite even though it was never released as a single. Burnin' Sky went gold in 1977 and was followed two years later by the double-platinum Desolation Angels. The end of an era came in 1982 with the release of Rough Diamonds. Certified gold, it was the last album the band recorded for Swan Song and the final studio album the original quartet ever released.
Ralphs suffered a stroke shortly after BadCo's brief 2016 "Swan Song" U.K. tour ended. Rodgers offered a brief health update earlier this year.
Bad Company are touring this summer throughout North America. Tickets are available here and here.

Latest posts by Best Classic Bands Staff
(see all)