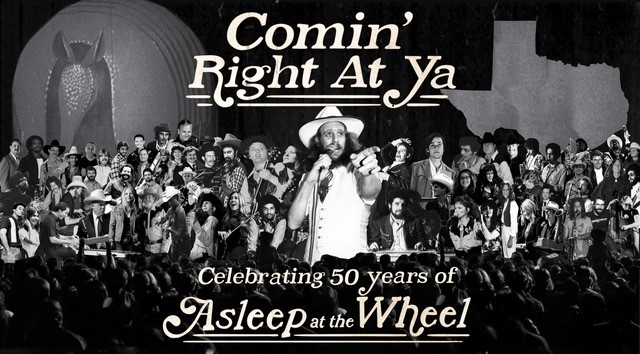 Next year will mark the 50th anniversary of Asleep at the Wheel's founding in a cabin on an apple orchard in Paw Paw, W.V. Long a fixture on the Austin music scene, the band, still led by singer Ray Benson, is planning a series of events and releases over the course of the coming year to commemorate the milestone. Members of the band's original line up—Lucky Oceans, Leroy Preston, Chris O'Connell, Floyd Domino and Benson—will soon announce a series of fall 2020 reunion shows in Austin, Nashville and San Francisco and more. Says a press release, "It was Oceans who, after a trip to the outhouse in Paw Paw, came up with the band's name that would stand them in good stead and become a household name in Americana/Roots circles for the next five decades. That was, of course, many years before the term 'Americana' had even been used to describe the musical movement that AATW spearheaded."
Related: Our review of the Byrds' Sweetheart of the Rodeo
Benson commented in the announcement, "It's been an amazing journey and I'm extremely proud to be celebrating 50 years of Asleep at the Wheel! Through all the highs and lows, to still be standing and doing better than ever gives me a great sense of pride. To all the folks who have played with and or worked for the band, and given their time and talents, I can't thank y'all enough. And to the fans who keep us going, THANK YOU. We wouldn't have made it 50 years without ya! We've got a bunch of cool stuff in the works for 2020 and we're hoping to see everyone who has made 50 years of AATW possible during our golden anniversary year."
Tickets for AATW gigs are available here.
The band's first gig as Asleep at the Wheel was as an opener on an improbable concert bill in Washington, D.C., with Alice Cooper and Hot Tuna. George Frayne, a/k/a Commander Cody of Commander Cody and his Lost Planet Airmen, suggested AATW relocate to the San Francisco Bay area and so they did. Van Morrison caught them there and mentioned them in a Rolling Stone interview, which opened the door to a record contract. They were signed to United Artists and released Comin' Right At Ya, their album debut, in 1973. Their next move was to Austin, Tex., at the suggestion of Willie Nelson and Doug Sahm, where the band would help start the Cosmic Cowboy scene and tape the first episode of Austin City Limits.
Next year AATW will have come full circle with the fall release of an AATW reunion album, produced by Buddy Miller, to be titled Still Comin' Right At Ya, their 32nd career album. Asleep at the Wheel has earned 10 Grammy Awards, ACM Touring Band of the Year and received the Americana Music Association's Lifetime Achievement Award.
A revolving cast of topflight musicians has powered AATW over the past half century with the band's alumni now numbering over 100. These include players who have gone on to work with such notables as Bob Dylan, George Strait, Van Morrison, Lyle Lovett and Merle Haggard. From its inception, the band has been modeled and inspired by the eclectic Western swing format pioneered by Bob Wills and His Texas Playboys. They have released three Bob Wills tribute albums, A Tribute to the Music of Bob Wills, Ride with Bob and Still the King and Benson's authoritative commentary on Wills and Western swing was a key component of the Ken Burns PBS Country Music series. Says the press release, "It's noteworthy that, as of now, Asleep At The Wheel has actually been active 11 years longer than Wills and His Texas Playboys. The AATW 50th celebration will be filmed and documented to be released at a later date. A trailer for the film, including commentary from Willie Nelson, Wynonna Judd, Vince Gill, George Strait and Commander Cody, has just been released.  Watch it here:
Looking back over the past 50 years, Benson remarked, "I've been told that I'm relentless, so I guess I am…. I'm just doing what I believe I'm meant to do. My role and concept of leading a band has never changed; it's gathering the best musicians I can find or convince to play to the best of their ability. I just try and make the best decisions possible and kick some ass every night onstage. I've made it this far and don't feel like I or the band will be slowing down anytime soon."

Latest posts by Best Classic Bands Staff
(see all)