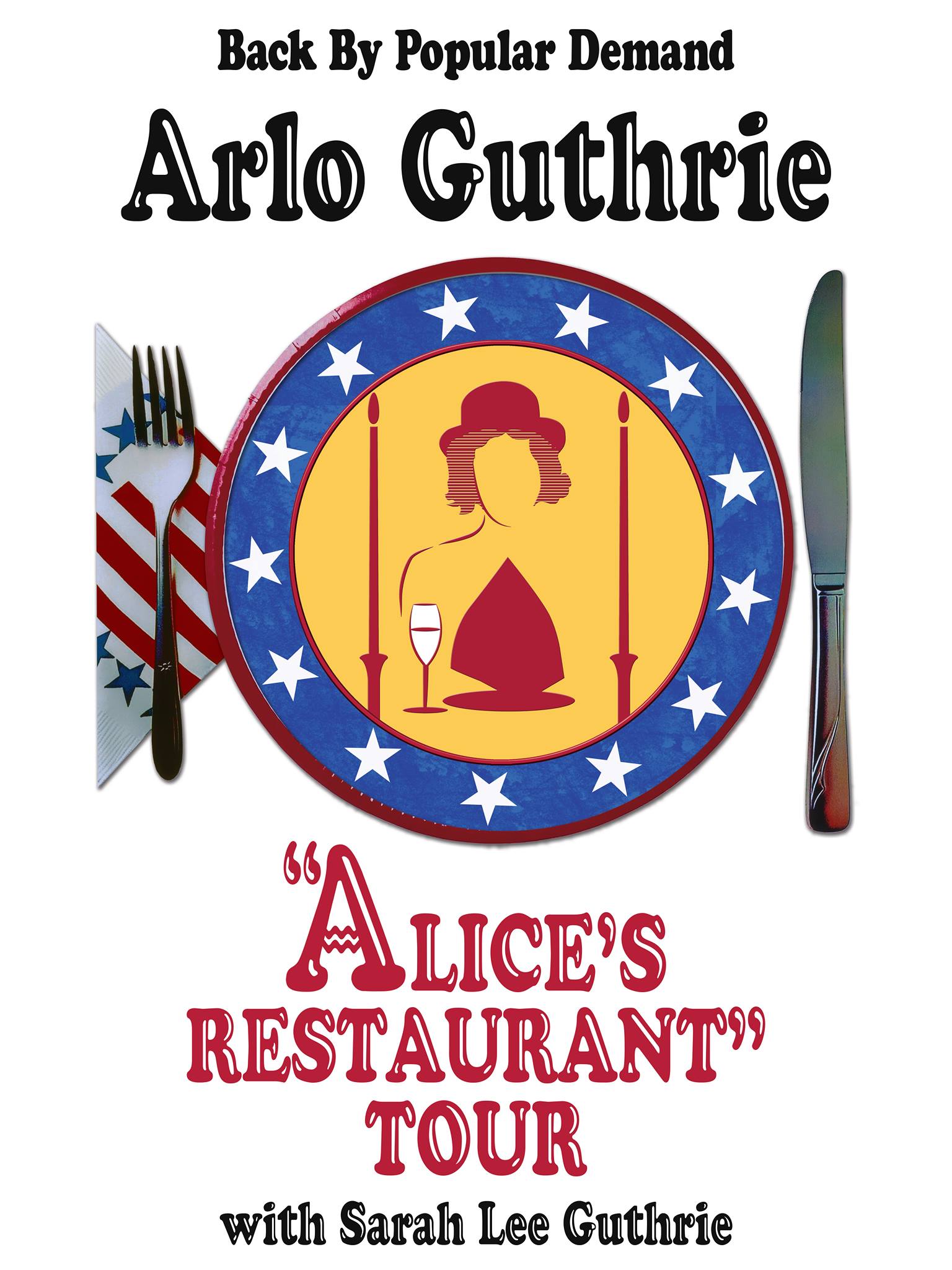 Singer-songwriter Arlo Guthrie will launch the Alice's Restaurant—Back by Popular Demand Tour in October, to coincide with the 50th Anniversary of the feature film Alice's Restaurant. The film, originally released in 1969, starred Guthrie as himself, and was directed by famed director Arthur Penn. Filmed in the Berkshires, it recreated some of the events that launched the so-called Alice's Restaurant Massacree depicted in Guthrie's signature composition, while adding a good dose of fiction. Ultimately, the movie garnered a Best Director Oscar Award nomination for Penn. Alice's Restaurant was Guthrie's first foray into acting, and he would later take roles in several television series.
"I didn't think I was gonna live long enough to have to learn 'Alice's Restaurant' again," Guthrie said in a press release. "It was a quirky kinda thing to begin with. Nobody writes an 18-minute monologue expecting fame and fortune. The initial success of the song really took me by surprise more than anyone else. The fact that I have contended with it for five decades either by having to learn it again or by not doing it, has been an interesting balancing act. I'm surely looking forward to it again being a centerpiece of my live repertoire."
Currently on the road for the last year presenting the Re:Generation Tour, Guthrie, along with his son Abe, will be joined onstage on the forthcoming tour by longtime collaborators Terry "A La Berry" Hall (drums), Steve Ide (guitar, vocals) and Carol Ide (vocals, percussion) of his former band Shenandoah. Arlo's daughter Sarah Lee Guthrie, a singer-songwriter in her own right, will open the shows.
Related: A conversation with Arlo
In July 2017, Rhino Records re-released the full mono version of Guthrie's debut album Alice's Restaurant on 180-gram vinyl. In March 2018, the National Recording Registry at the Library of Congress inducted "Alice's Restaurant Massacree" into the registry honoring the recording for its cultural, historic and aesthetic importance to the American soundscape.
Arlo Guthrie Tour Dates (Tickets are available here and here)
10/04/18 – Count Basie Theatre – Red Bank, NJ
10/06/18 – Gordon Center for the Performing Arts – Owings Mills, MD
10/07/18 – Keswick Theatre – Glenside, PA
10/10/18 – Spruce Peak Performing Arts Center – Stowe, VT
10/12/18 – Palace Theatre – Manchester, NH
10/13/18 – Durgin Hall – Lowell, MA
10/14/18 – Memorial Hall – Plymouth, MA
10/19/18 – NYCB Theatre – Westbury, NY
10/20/18 – College Street Music Hall – New Haven, CT
10/21/18 – Paramount Center – Peekskill, NY
10/24/18 – The Greenwich Odeum – East Greenwich, RI
10/26/18 – The EGG – Albany, NY
10/27/18 – State Theatre – Ithaca, NY
10/28/18 – The State Theatre – State College, PA
11/01/18 – EJ Thomas Hall – Akron, OH
11/02/18 – State Theatre – Kalamazoo, MI
11/03/18 – Michigan Theater – Ann Arbor, MI
11/07/18 – Ron Robinson Theater – Little Rock, AR
11/09/18 – Wildey Theatre – Edwardsville, IL
11/10/18 – Wildey Theatre – Edwardsville, IL
11/11/18 – Buskirk-Chumley Theater – Bloomington, IN
11/16/18 – Infinity Hall – Hartford, CT
11/17/18 – Mahaiwe Performing Arts Center – Gt. Barrington, MA
11/24/18 – Carnegie Hall – New York, NY
Watch Arlo Guthrie perform the Elvis Presley hit "Can't Help Falling in Love With You"

Latest posts by Best Classic Bands Staff
(see all)