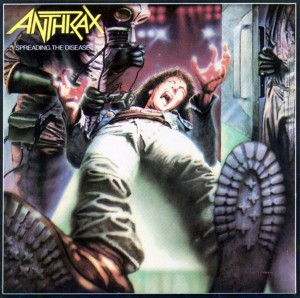 Update (11/17): Anthrax have announced a February 26, 2016 release date for their next studio album, For All Kings. Check out the video below.
To celebrate the 30th anniversary of the thrash metal classic Spreading the Disease, Anthrax will release a special deluxe edition of the record on November 20th via Universal. This breakthrough second album set new and impressive standards for shredding, further developing the band's signature breakneck-speed guitar riffs and crashing drums during a transitional time for rock and hardcore music. It was their Island/Megaforce Records major label debut and the first LP to feature vocalist Joey Belladonna and bassist Frank Bello.
The two-disc edition features the full original album as well as a plethora of previously unreleased bonus material that allows fans to get an inside peek at the group's creative process during their prime. Included are eight live songs from Anthrax's first concert in Japan in 1987, Belladonna's 1984 demo recording of the song "Medusa," and nine rhythm tracks that show off the band's songs in their most basic form, sans vocals, overdubs or "sweetening" of any kind.
They've been working on the new album since the beginning of the year and released a song – and lyric video – last month called "Evil Twin." Looks like 2016 will be a big year for the band. The metal icons are currently on tour in Europe.
Spreading the Disease 30th Anniversary Edition Track List:
Disc One:
1. A.I.R.
2. Lone Justice
3. Madhouse
4. S.S.D./Stand or Fall
5. The Enemy
6. Aftershock
7. Armed and Dangerous
8. Medusa
9. Gung-Ho
10. Medusa (Joey Belladonna demo)
Disc Two:
1. A.I.R. *
2. Metal Thrashing Mad *
3. The Enemy *
4. Madhouse *
5. Howling Furries *
6. Armed And Dangerous *
7. Gung-Ho *
8. Soldiers of Metal *
9. Lone Justice $
10. Gung-Ho $
11. Metal Thrashing Mad $
12. Raise Hell $
13. Stand Or Fall $
14. Aftershock $
15. Armed And Dangerous $
16. Madhouse $
17. The Enemy $
* Live at Sun Plaza (Tokyo) 1987
$ Rhythm track tape, 1984

Latest posts by Best Classic Bands Staff
(see all)