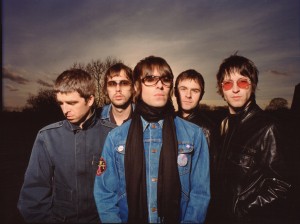 Expect the official announcement sometime this week, but here's what we know so far. The filmmakers behind the poignant Amy Winehouse doc Amy have been given "unprecedented" access to the Oasis archives to make a documentary about the famously turbulent brothers Noel and Liam Gallagher and the internationally popular band they led.
The film, which is currently untitled, will chart the rapid rise and eventual breaking point of the iconic English group – from the moment Noel joined (and revolutionized) Liam's band in 1991 to the day he quit in 2009.
According to Britain's The Guardian the brothers have "agreed to share their favourite memories and offer their insight in interviews."
The film will be directed by Mat Whitecross (The Road to Guantanamo) and produced by Amy director Asif Kapadia and Amy producer James Gay Rees.
"Oasis are without doubt one of the classic British rock bands, selling 70 million albums worldwide and defining the sound of the whole era," Independent Films Managing Director Andrew Orr told Screen Daily in a recent interview. "At its heart are Liam and Noel Gallagher, two of the finest rock'n'roll stars this country has ever produced. Mat's sensibility and style are going to provide the perfect complement to this tale of the rise of one of the great rock'n'roll bands."
Little else is known about the project, but it should officially be announced sometime between today and November 11th as part of the American Film Market industry event.

Latest posts by Best Classic Bands Staff
(see all)