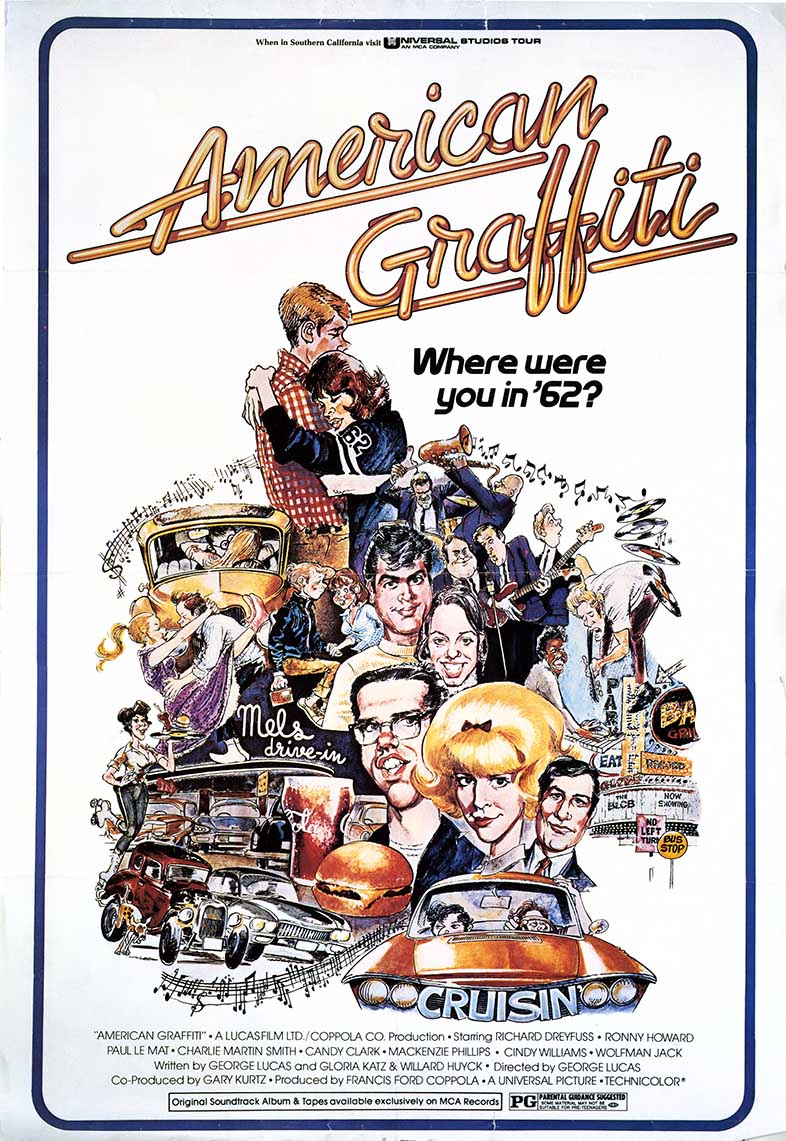 American Graffiti, George Lucas' seminal 1973 coming-of-age movie, is cruising back into theaters in summer 2023 for its 50th anniversary. The recently remastered film, with a brand-new sound mix, is being presented by Fathom Events and Universal Pictures with a trio of special screenings on Sunday, August 27 and Wednesday, August 30. The film's great cast is led by Richard Dreyfuss and Ron Howard as recent high school graduates and best friends in Modesto, Calif., on their last evening of summer vacation before heading "back east" to begin college life. The impressive ensemble also features Harrison Ford, Cindy Williams, Suzanne Somers, Mackenzie Phillips, Paul Le Mat, and Wolfman Jack. Its soundtrack includes such classics from the late Fifties and early Sixties as "Rock Around the Clock" (Bill Haley & the Comets), "That'll Be the Day" (Buddy Holly & the Crickets), "Why Do Fools Fall in Love" (Frankie Lymon & the Teenagers) and "Do You Want to Dance" (Bobby Freeman).
The title was just the second feature film for up-and-coming filmmaker Lucas. His sophomore effort would go on to become one of the most-profitable films of all time, while earning five Oscar® nominations including Best Picture and Best Director. American Graffiti opened in the U.S. on August 11, 1973, for a reported budget of $777,000. It ultimately earned $140 million. [It would be another four years before Lucas' third film opened. That title was 1977's Star Wars where the filmmaker teamed once again with Harrison Ford.]
In a feature story that ran in the Los Angeles Times in conjunction with the film's 50th anniversary, Howard said, "When I went in for the first of six auditions, I was told it was a musical. At that point I wasn't allowed to see the script, so it didn't make much sense to me. Although I had played the role of Winthrop in The Music Man I told George, 'If you need me to sing, I'm not your guy because I can't carry a tune.' And he said, 'This is a musical, but nobody has to sing.'
"We never expected the movie to be commercial or even high-profile," he added. "We thought, 'This will play on the summer drive-in movie circuit and disappear.'"
Others in the cast of the group of small-town teens contemplating their futures while cruising through Modesto on the final night of summer, include Kathleen Quinlan, Charles Martin Smith, and Candy Clark.
Smith told the LA Times, "It was a super-low-budget movie, like being in a student film. Gary Kurtz, the producer, would pick us up and drive us to [the set] in his car. We didn't have a transportation department with set drivers, or any of the other creature comforts, like chairs [to sit on during breaks between takes]."
The film featured breakout film roles for many future stars including Ford.
Phillips, just 12 when she made the film, told the Times, "The music is a character in the film that drives the story arcs for each vignette of character and scene. It's an honor and a privilege to have been a part of it. And I'm so grateful to George because the movie was the springboard for my career. I wasn't thinking, 'I want to be an actress, I want to be in movies' — I wanted to be a rock star — but I rode the train in that direction for a very long time. And I don't know that it would have happened had I not been in American Graffiti.
Over the course of a summer evening, four teenage friends ponder their futures, navigating relationships centered around the cruising culture of their sleepy town in California's San Joaquin valley. After a madcap series of hilarious encounters, they each make decisions that will forever change their lives.
Tickets for the 50th Anniversary of American Graffiti can be purchased at Fathom Events or at participating theater box offices.
Related: Cindy Williams died in 2023 at age 75

Latest posts by Best Classic Bands Staff
(see all)