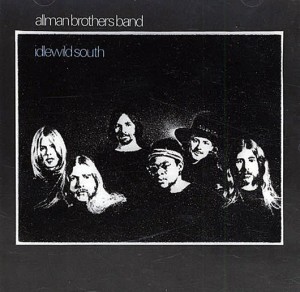 It's been 45 years now since the Allman Brothers released Idlewild South, their second studio album featuring the classic "Midnight Rider" – one of the songs Gregg Allman has said he's most proud of in his career. The reissue will be available December 4th as a single CD, a two-CD Deluxe Edition, and for completists, the Super Deluxe Edition, with three CDs and a Blu-ray audio disc.
The album was recorded in Miami, New York, and the band's adopted home of Macon, Georgia, where the Allman Brothers spent time renting an isolated farmhouse on a lake for $165 a month. Although it didn't sell well initially, the record eventually peaked at #38 on the Billboard charts after it was released on September 23, 1970, and has since become one of the band's most iconic releases – a game-changer for the entire genre of Southern rock.
The double-disc Deluxe Edition adds 12 tracks of outtakes, live and studio cuts, while the Super Deluxe version offers up 14 added tracks in Blu-ray Pure Audio in 96kHz 24-bit 5.1 Surround & Stereo. And for just a taste of the special added offerings, fans can enjoy session outtakes of "Statesboro Blues" and "One More Ride," an alternate mix of "Midnight Rider," an alternate take of "In Memory of Elizabeth Reed," and nine tracks from 1970's Live at Ludlow Garage, remastered for the first time since 1990.
All three versions of the reissue are available for pre-order on Amazon.
Idlewild South Track List for All Three Editions:
Remastered CD:
1.  Revival
2.  Don't Keep Me Wonderin'
3.  Midnight Rider
4.  In Memory of Elizabeth Reed
5.  Hoochie Coochie Man
6.  Please Call Home
7.  Leave My Blues at Home
Deluxe Edition:
Disc One:
1.  Revival
2.  Don't Keep Me Wonderin'
3.  Midnight Rider
4.  In Memory of Elizabeth Reed
5.  Hoochie Coochie Man
6.  Please Call Home
7.  Leave My Blues at Home
Additional Material:
8.  Statesboro Blues (Session Outtake) – Previously Unreleased New Mix
9.  One More Ride (Session Outtake) – Previously Unreleased New Mix
10. Midnight Rider (Alternate Mix) – Previously Unreleased
11. Dreams (Live at Ludlow Garage 1970)
12. Statesboro Blues (Live at Ludlow Garage 1970)
13. Trouble No More (Live at Ludlow Garage 1970)
14. Dimples (Live at Ludlow Garage 1970)
15. Every Hungry Woman (Live at Ludlow Garage 1970)
Disc Two:
1.  I'm Gonna Move To The Outskirts Of Town (Live at Ludlow Garage 1970)
2.  Hoochie Coochie Man (Live at Ludlow Garage 1970)
3.  In Memory Of Elizabeth Reed (Live at Ludlow Garage 1970) – Previously Unreleased
4.  Mountain Jam (Live at Ludlow Garage 1970)
Super Deluxe Edition:
Disc One:
1.  Revival
2.  Don't Keep Me Wonderin'
3.  Midnight Rider
4.  In Memory of Elizabeth Reed
5.  Hoochie Coochie Man
6.  Please Call Home
7.  Leave My Blues at Home
Additional Material:
8.  Statesboro Blues (Session Outtake) – Previously Unreleased New Mix
9.  In Memory Of Elizabeth Reed (Alternate Take) – Previously Unreleased
10. One More Ride (Session Outtake) – Previously Unreleased New Mix
11. Midnight Rider (Alternate Mix) – Previously Unreleased
12. Revival (Love Is Everywhere) (Mono Single Version)
Disc Two:
1.  Dreams (Live at Ludlow Garage 1970)
2.  Statesboro Blues (Live at Ludlow Garage 1970)
3.  Trouble No More (Live at Ludlow Garage 1970)
4.  Dimples (Live at Ludlow Garage 1970)
5.  Every Hungry Woman (Live at Ludlow Garage 1970)
6.  I'm Gonna Move To The Outskirts Of Town (Live at Ludlow Garage 1970)
7.  Hoochie Coochie Man (Live at Ludlow Garage 1970)
Disc Three:
1.  In Memory Of Elizabeth Reed (Live at Ludlow Garage 1970) – Previously Unreleased
2.  Mountain Jam (Live at Ludlow Garage 1970)
Blu-Ray Pure Audio, 5.1 (96kHz 24-bit Surround & Stereo)
1.  Revival
2.  Don't Keep Me Wonderin'
3.  Midnight Rider
4.  In Memory Of Elizabeth Reed
5.  Hoochie Coochie Man
6.  Please Call Home
7.  Leave My Blues At Home
8.  Statesboro Blues (Session Outtake)
9.  In Memory Of Elizabeth Reed (Alternate Take)
10. One More Ride (Session Outtake)
11. Midnight Rider (Alternate Mix)

Latest posts by Best Classic Bands Staff
(see all)