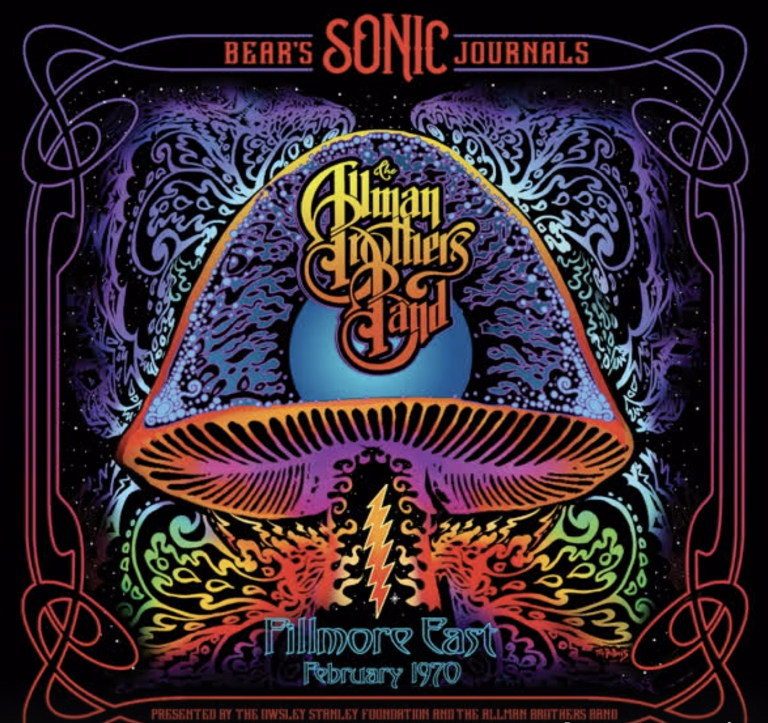 An official live recording of the Allman Brothers Band made at the Fillmore East in New York City in February 1970 was released July 24 via the Owsley Stanley Foundation and on August 10 in stores, the foundation (named after the Grateful Dead's sound engineer and renowned LSD chemist Owsley "Bear" Stanley) and the Allmans have announced. The title of the set is Bear's Sonic Journals: Allman Brothers Band, Fillmore East February 1970 and the original recording comes from the Feb. 11, 13 and 14, 1970, gigs at the venue, at which the relatively unknown Allmans opened for the Dead (with the band Love playing between the two).
Listen to a teaser for the release here.
The new release features one of the "earliest known live concert recordings of 'In Memory of Elizabeth Reed,'" with which the band opened on each of the three nights. These recordings have not previously been released to the public.
This recording showcases an early incarnation of the Allman Brothers Band with Duane Allman (lead and slide guitars), Gregg Allman (vocals, Hammond B-3 organ), Dickey Betts (lead guitar), Berry Oakley (bass, vocals), Jaimoe (drums, percussion) and Butch Trucks (drums, tympani).
Related: Gregg Allman talks about the Fillmore East
The CD release presents the same playlist as the long out-of-print limited release from 1996, Fillmore East, February 1970, with all new mastering from Stanley's original tapes. A press release states, "In fact, all of the source tapes for the CD have been mastered and will be released as high-resolution downloads (available on July 27 through our website). These downloads showcase never before released material from each performance, including the earliest known live concert recordings of 'In Memory of Elizabeth Reed,' which the band opened with on each of the three nights."
The February 1970 engagement came more than a year before the legendary concerts at the same venue that resulted in the band's classic album At Fillmore East.
Listen to "Hoochie Coochie Man" from a 2/70 Fillmore East Allmans recording

Latest posts by Best Classic Bands Staff
(see all)