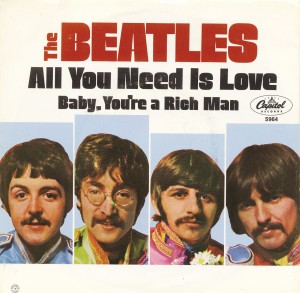 It was the first live worldwide satellite TV broadcast, so who better than The Beatles – riding high on the June 1, 1967 release of Sgt. Pepper's Lonely Hearts Club Band – to close the two-and-a-half hour BBC-produced Our World special on this day? And early in what became known as the Summer of Love, what better than their just-recorded song written for the occasion by John Lennon, "All You Need Is Love," performed from Abbey Road Studios?
Festively garbed in countercultural finery amidst flowers and balloons, the Fab Four were joined on the occasion by a number of famed friends who sang along on the chorus: Mick Jagger, Keith Richards, Eric Clapton, Keith Moon and Graham Nash. Accompanying the band was a 13-piece orchestral section.
The show reached 400 million people in 24 nations. With performances also by opera singer Maria Callas, cellist Pablo Casals and Leonard Bernstein and Van Cliburn on twin pianos, the broadcast signaled that The Beatles were a serious quantity on the same level as such famed classical music performers.
Released as a single soon after the occasion, "All You Need Is Love" quickly rose to #1 in the U.S. and U.K.
Related: In 2002, Paul McCartney led a group of British rock royalty in singing the song for the Queen's Golden Jubilee
Watch the full version
Tickets to see The Beatles Love by Cirque du Soleil in Las Vegas are available here.
On its anniversary in 2018, George Harrison's twitter account shared this remembrance
It was good, the orchestra was there and it was played live. We rehearsed for a while, and then it was: 'You're on at twelve o'clock, lads.' The man upstairs pointed his finger and that was that. We did it – one take.#georgequote #quote#allyouneedislove https://t.co/OO3p7mhgco

— George Harrison (@GeorgeHarrison) June 25, 2018
Related: Our review of Sgt. Pepper 50th anniversary edition

Latest posts by Best Classic Bands Staff
(see all)