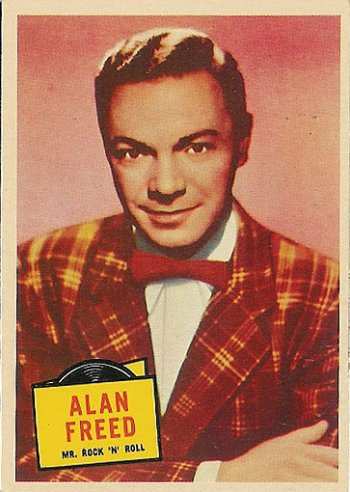 No one single man in the music business did more for rock 'n' roll music – including applying that term to it – than radio DJ Alan Freed. And when he moved from Cleveland's WJW, where he first started playing black R&B records for white audiences in 1951, to WINS in New York City, it was one of the pivotal events in 1954 – the other being Elvis Presley's first recordings – that helped to engrave the music into the national consciousness of teenaged audiences in the years to follow.
His 1952 Moondog Coronation Ball at the Cleveland Arena is considered the first rock 'n' roll concert, drawing an audience that was two-thirds white for a bill of black R&B acts. After moving his radio show to New York, where it soon became #1 in the market and was syndicated nationally, Freed became "the undisputed king of radio programming," according to the music trade magazine Billboard.
Freed continued promoting shows in New York at Brooklyn's Paramount Theater – racially mixed all-star revues. At the height of his popularity in the late 1950s, he appeared in such movies as Rock Around the Clock and Don't Knock the Rock and had an ABC-TV prime-time series, The Big Beat, which aired in the summer of 1957 until Southern stations objected to black singer Frankie Lymon dancing with a white female and it was canceled.
Here's an aircheck of Alan Freed on WINS; listen to his live read of an ad for models beginning at the 2:40 mark…
His prominence that led Life magazine to credit Freed as the originator of the rock 'n' roll craze took a hit when he was arrested at a 1958 Boston Garden show he promoted for inciting a riot when he told the audience, "The police don't want you to have fun." WINS declined to renew his contract, and Freed moved to WABC. Federal investigations into his role in the payola scandal led that station to fire him in 1959. Freed eventually pleaded guilty to two counts of commercial bribery in 1962, and was later indicted by the Internal Revenue Service for tax evasion. Blackballed by the radio industry, Freed died in 1965.
Related: First-Generation rockers: Who's still with us?

Latest posts by Best Classic Bands Staff
(see all)