Al Stewart's 1978 album, Time Passages, is getting a 4-disc limited edition deluxe boxed set. The collection on 3-CDs and one DVD was released on October 15, 2021 in the U.K. and arrives Oct. 22 in the U.S., via Esoteric Recordings.
The album, Stewart's eighth, was originally released in September 1978 as the follow-up to 1976's Year of the Cat. The LP was certified Platinum in the U.S. and Silver in the U.K. The title track reached #7 on the Hot 100.
From the label's announcement: This new deluxe edition has been newly remastered for the very first time from the original first-generation master tapes by Alan Parsons, who produced the original album, and also features his stunning new 5.1 Surround sound mix from the original multi-track tapes.
Watch the official trailer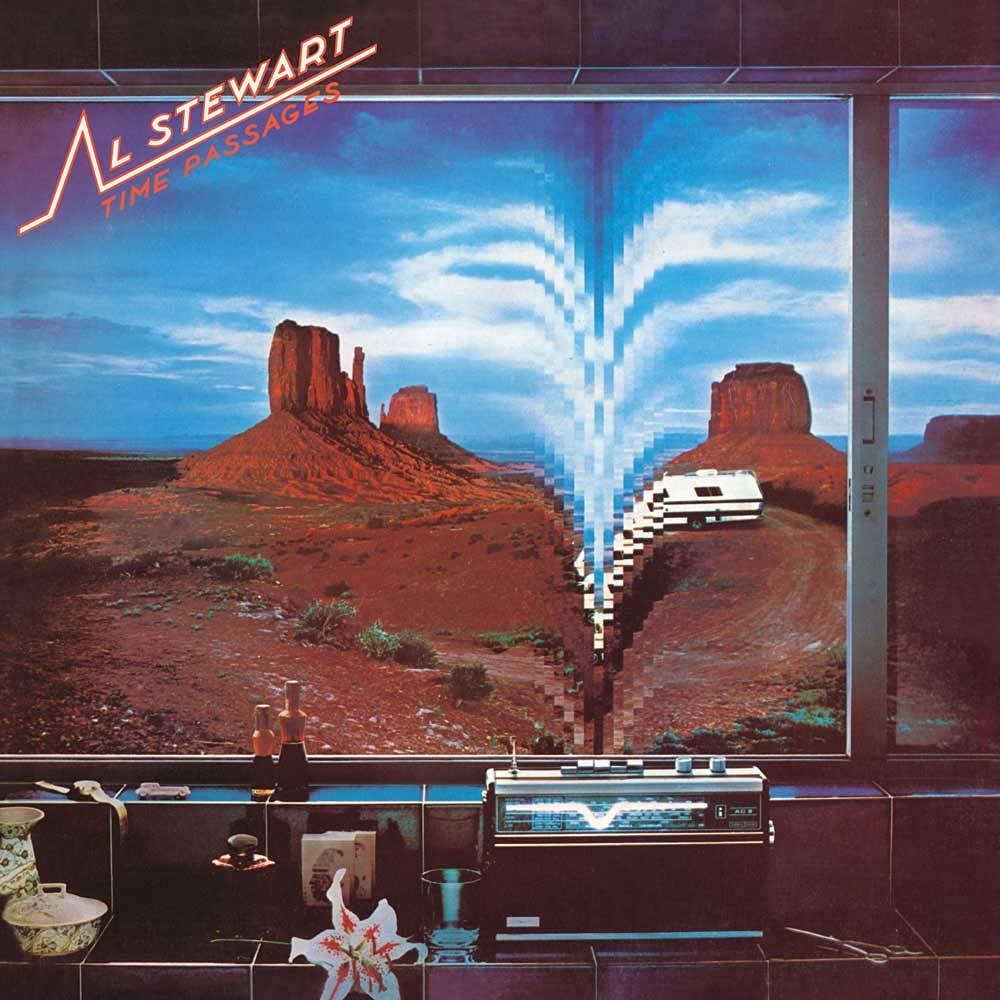 In addition, the set includes single edits, an album session out-take, four demo tracks recorded in Los Angeles in August 1977 and for the first time the complete concert recorded at the studios of WKQK-FM in Chicago in October 1978.
The includes an illustrated 68-page book with a new essay featuring an interview with Stewart, a facsimile promotional poster and a set of four postcards.
Stewart, born September 5, 1945, has 2022 tour dates. Tickets are available here and here.
Listen to the classic title track
The Deluxe Edition's track listing appears below the Amazon order links. Year of the Cat also received a deluxe edition in 2021.
Time Passages Deluxe Edition Track Listing
Disc 1
Time Passages
Remastered by Alan Parsons
1 Time Passages
2 Valentina Way
3 Life In Dark Water
4 A Man For All Seasons
5 Almost Lucy
6 The Palace of Versailles
7 Timeless Skies
8 Song On the radio
9 End Of the Day
Bonus track
10 Tonton Macoute
(Recorded at Davlen studios, Los Angeles in December 1977) (previously unreleased)
Disc 2
1 Time Passages (single version)
2 Song On The Radio (single version)
Demo recordings – August 1977
3 Tonton Macoute (demo) (recorded at Larrabee Sound Studios in August 1977)
4 Life In A Bottle (demo) (recorded at Larrabee Sound Studios in August 1977)
5 The Palace Of Versailles (demo) (recorded at Larrabee Sound Studios in August 1977) (previously unreleased)
6 The Hollywood Sign (on St. Stephen's Day) (Timeless Skies) (demo) (recorded at Larrabee Sound Studios in August 1977) (previously unreleased)
The Chicago Radio Concert – October 27, 1978
7 Time Passages (live radio concert Chicago 1978)
8 Life In Dark Water (live radio concert Chicago 1978)
9 The Palace Of Versailles (live radio concert Chicago 1978) (previously unreleased)
10 Valentina Way (live radio concert Chicago 1978)
11 The Pink Panther Theme (live radio concert Chicago 1978)
12 Song On The Radio (live radio concert Chicago 1978)
Disc 3
The Chicago Radio Concert – October 27, 1978
1 One Stage Before (live radio concert Chicago 1978) (previously unreleased)
2 Life In Dark Water (live radio concert Chicago 1978)
3 Roads To Moscow (live radio concert Chicago 1978)
4 Sirens Of Titan (live radio concert Chicago 1978) (previously unreleased)
5 The Palace Of Versailles (live radio concert Chicago 1978) (previously unreleased)
6 Valentina Way (live radio concert Chicago 1978)
7 Year Of The Cat (live radio concert Chicago 1978)
8 The Pink Panther Theme (live radio concert Chicago 1978)
9 Song on the Radio (live radio concert Chicago 1978)
10 Carol (live radio concert Chicago 1978) (previously unreleased)
Disc 4
Time Passages
High Resolution 96 kHz / 24-bit 5.1 Surround Sound mix & original re- mastered stereo mix by Alan Parsons
1 Time Passages
2 Valentina Way
3 Life in Dark Water
4 A Man for All Seasons
5 Almost Lucy
6 The Palace of Versailles
7 Timeless Skies
8 Song on the Radio
9 End of the Day
Related: Our Album Rewind of Stewart's Year of the Cat

Latest posts by Best Classic Bands Staff
(see all)