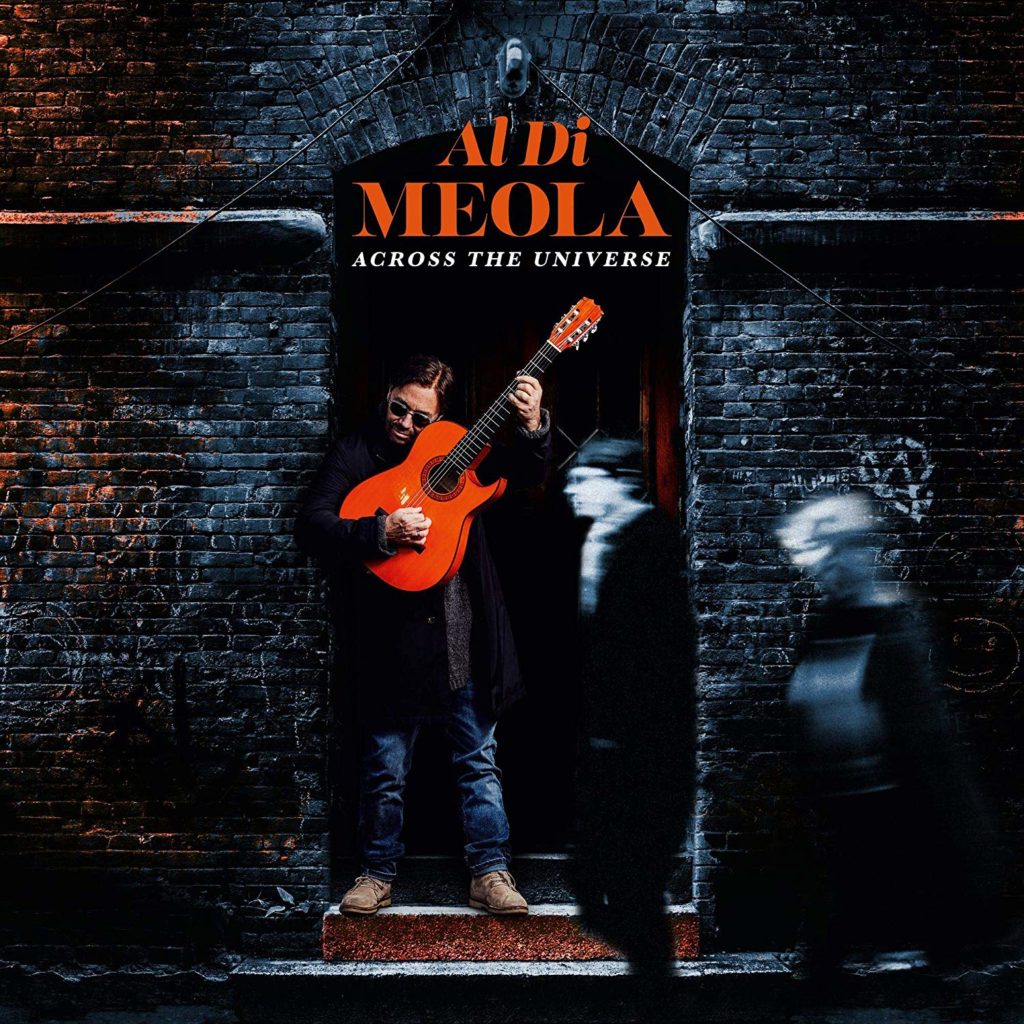 Guitarist Al Di Meola will follow up his 2013 studio recording All Your Life: A Tribute to the Beatles with a second homage to the Beatles, Across the Universe, due out on earMUSIC on March 13.
The new collection by the former member of Return to Forever features a wide range of songs from all eras of the Beatles' run, including "Here Comes the Sun," "Norwegian Wood," "Yesterday" and "Hey Jude."
Says a press release, "Al Di Meola's exquisite mastery of the fretboard is equal only to his appreciation of the Beatles' legacy that has inspired generations of both musicians and music fans with their famed recording catalog. A retrospective of Al Di Meola's nearly 50-year acclaimed career expressed through his virtuosic arrangements of 14 Beatles songs, Across the Universe journeys alongside one of America's foremost guitarists as he revisits classic hits and more obscure tunes written by the ingenious Fab Four who have helped define the man he is today. Across the Universe is yet another masterpiece showcasing Al Di Meola's fascination with complex rhythmic syncopation combined with provocative lyrical melodies and intricate harmonies. Beatles fans, guitar-heads, and music lovers alike can expect the unexpected upon venturing into the world put forth by Across the Universe."
To commemorate the life of John Lennon, Di Meola reenacts the famous cover for Lennon's 1975 solo album Rock 'n' Roll for the artwork for Across the Universe.
"I really credit the Beatles for the reason why I play guitar," says Di Meola in the announcement. "That was a major catalyst for me to want to learn music, so their impact was pretty strong."
Relating: Remember John Lennon
The debut single from the album, "Strawberry Fields Forever" (released Jan. 17) is described as "a fiery electric guitar fueled stunner backed by a red-hot rock band."
Across the Universe will be released as a CD digipak, 2-LP and digital.
Track Listing
1. Here Comes The Sun
2. Golden Slumbers Medley
3. Dear Prudence
4. Norwegian Wood
5. Mother Nature's Son
6. Strawberry Fields Forever
7. Yesterday
8. Your Mother Should Know
9. Hey Jude
10. I'll Follow The Sun
11. Julia
12. Till There Was You
13. Here, There And Everywhere
14. Octopus's Garden
Al Di Meola will tour in select North American cities as well as Japan and Germany from February 3-November 6.
AL DI MEOLA – SPRING 2020 TOUR DATES
February 3, 2020 — Billboard Live Tokyo — Minato City, Japan
February 4, 2020 — Billboard Live Tokyo — Minato City, Japan
February 6, 2020 — Billboard Live Osaka — Osaka, Japan
February 7, 2020 — Billboard Live Osaka — Osaka, Japan
February 9, 2020 — The Canyon Montclair — Montclair, CA
February 11, 2020 — Palace Of Fine Arts Theatre — San Francisco, CA
February 12, 2020 — Harris Center For The Arts — Folsom, CA
February 13, 2020 — Fremont Theater — San Luis Obispo, CA
February 15, 2020 — Talking Stick Resort — Scottsdale, AZ
March 21, 2020 — Newton Theatre — Newton, NJ
March 22, 2020 — The Warehouse at FTC — Fairfield, CT
March 24, 2020 — Rams Head On Stage — Annapolis, MD
March 25, 2020 — The Tin Pan — Richmond, VA
March 27, 2020 — Suffolk Theater — Riverhead, NY
March 28, 2020 — Center for the Arts of Homer — Homer, NY
March 29, 2020 — City Winery Philadelphia — Philadelphia, PA
April 1, 2020 — Infinity Hall Hartford — Hartford, CT
April 3, 2020 — Isaac Harris Cary Memorial Building — Lexington, MA
April 5, 2020 — Shalin Liu Performance Center — Rockport, MA
July 2, 2020 — Place des Arts — Montréal, Canada
April 24, 2020 — Die Fabrik in Altona — Hamburg, Germany
April 25, 2020 — Eventhalle FV Wendelstein — Wendelstein, Germany
April 26, 2020 — Theaterhaus (am Pragsattel) — Stuttgart, Germany
April 30, 2020 — Alfried Krupp Saal — Essen, Germany
July 2, 2020 — Place des Arts — Montréal, Canada
November 6, 2020 — OSTRA-DOME — Dresden, Germany
Watch the video for "Strawberry Fields Forever"

Latest posts by Best Classic Bands Staff
(see all)