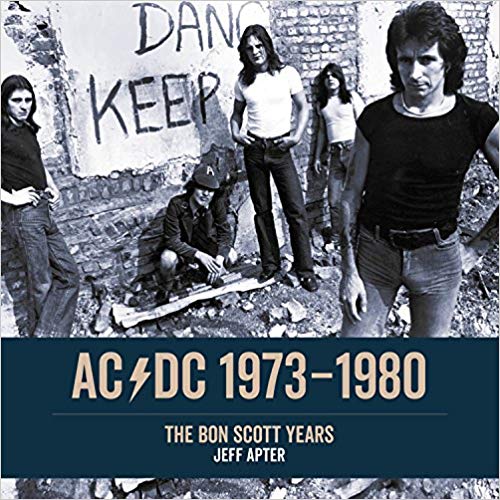 During the years 1973 to 1980— aka the Bon Scott era—AC/DC recorded six studio albums, established a diehard fan base that stretched from Australia to the U.K. and Europe and then to North America, toured relentlessly, and created no small amount of controversy and chaos.
At one low point in Australia, the band's records were banned, their shows were cancelled, and they were hounded by the police—thanks, in part, to Angus Young baring his backside at a press conference. In the midst of the mayhem, they were building a phenomenal body of work that ranks among the best in classic rock.
Many of AC/DC's classic songs were cut during this time—"Dirty Deeds Done Dirt Cheap," "Rock 'n' roll Damnation," "High Voltage," "If You Want Blood," "Whole Lotta Rosie," "It's A Long Way To The Top," "Let There Be Rock," and more.
And documenting it all, is a new book, AC/DC 1973-1980: The Bon Scott Years. The title, packed full of rare photographs and memorabilia, arrives November 14 from Jawbone Press.
The large-format, full-color book documents all the key events of this time, beginning with the band's very first shows in suburban Sydney—even before the name AC/DC had been dreamed up by Margaret Young, Malcolm and Angus's big sister—and culminating with 1979's Highway To Hell, the album that paved the way for the phenomenal success of Back In Black—the top-selling rock album of all-time—and the untimely death of Bon Scott on February 19, 1980, which prompted both an end and a new beginning for the band.
Pre-order it in the U.S. and the U.K.
Related: AC/DC's next album rumored to include the late Malcolm Young
Author Jeff Apter knows his subject well. He is the author of High Voltage: The Life Of Angus Young and AC/DC's Last Man Standing. He ghostwrote Dirty Deeds, former AC/DC bassist Mark Evans's bestselling memoir and also worked as ghostwriter with the band's former manager, Michael Browning, on his book Dog Eat Dog.

Latest posts by Best Classic Bands Staff
(see all)