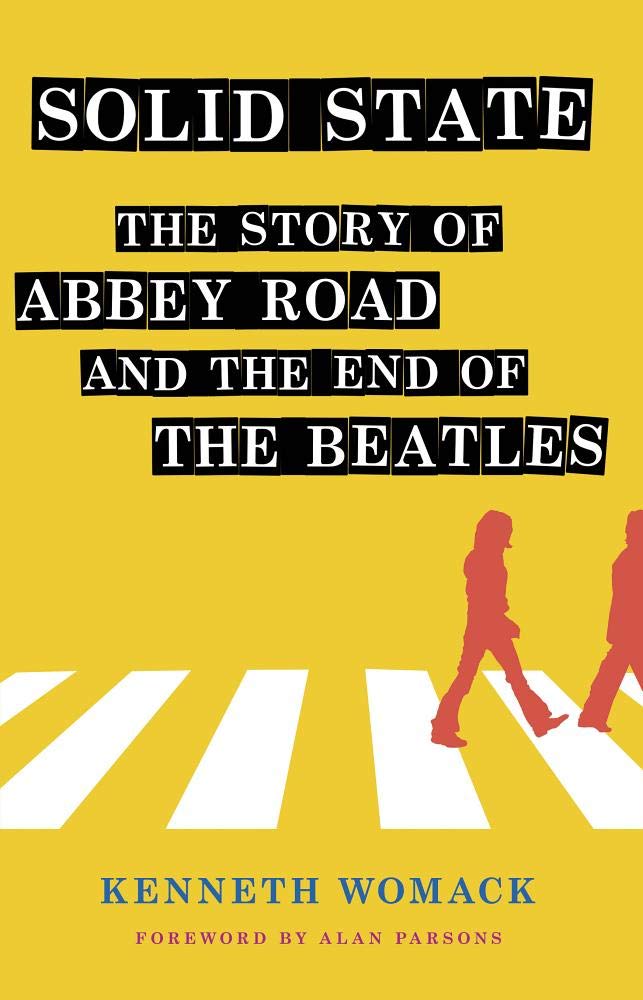 A forthcoming book titled Solid State: The Story of Abbey Road and the End of the Beatles is due Oct. 15 from author Kenneth Womack, whose previous books include a two-part series on the life and work of Beatles producer George Martin. The 296-page, hardcover Solid State, with a foreword by Alan Parsons, is timed to coincide with the 50th anniversary of the Beatles' Abbey Road album. The book will be published by Cornell University Press and is available now for pre-order in the U.S. here and the U.K. here.
Solid State is described on Womack's website as "the most definitive account yet of the writing, recording, mixing, and reception of Abbey Road." The 1969 album, the author writes, "introduced a number of new techniques and technologies to the group's sound, and included such classics as 'Come Together,' 'Something' and 'Here Comes the Sun.'"
The promotional copy further states, "Womack's colorful retelling of how this landmark album was written and recorded is a treat for fans of the Beatles. Introduced with a foreword by renowned engineer, producer, and musician Alan Parsons, Solid State takes readers back to 1969 and into EMI's Abbey Road Studios, which featured an advanced solid-state transistor mixing desk. Womack focuses on the dynamics between John, Paul, George, Ringo and producer George Martin and his team of engineers, who set aside (for the most part) the tensions and conflicts that had arisen on previous albums to create a work that boasted an innovative (and, among some fans and critics, controversial) studio-bound sound that prominently included the new Moog synthesizer, among other novelties.
"As Womack shows," the description continues, "Abbey Road was the culmination of the instrumental skills, recording equipment and artistic vision that the band and George Martin had developed since their early days in the very same studio seven years earlier. A testament to the group's unparalleled creativity and their producer's ingenuity, Solid State is required reading for all fans of the Beatles and the history of rock 'n' roll."
The album was released on September 26, 1969, and Beatles fans are expecting an elaborate 50th anniversary release from Apple Records, as was done for 1967's Sgt. Pepper's and 1968's The Beatles (aka The White Album).
The first half of Womack's bio of Martin, titled Maximum Volume, was published in 2017 and focuses on the producer's life and work into 1966. The second part, Sound Pictures, was published last September and picks up with Revolver, following through to Martin's post-Beatles work and onward until his 2016 death.
Listen to outtakes from the Beatles' Abbey Road sessions

Latest posts by Best Classic Bands Staff
(see all)