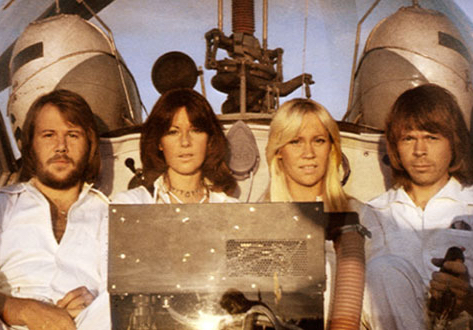 Nearly 35 years after their last public performance together, the members of Abba are preparing to give their millions of fans around the world what they have long dreamed of: a new entertainment experience, albeit via virtual reality.
Simon Fuller, a veteran artist manager (Annie Lennox, the Spice Girls, among many others) and TV producer (most notably, the Idol franchise), is partnering with the members of Abba, and Universal Music Group in a venture that will utilize the latest in digital and virtual reality technology. As the press announcement states, "the aim is to create an original entertainment experience with the Swedish pop superstars that will enable a new generation of fans to see, hear, and feel Abba in a way previously unimagined."
The announcement continues: "For the past several years, [Fuller has] been quietly investing in virtual reality technologies and developing hyper-realistic digital humans in the field of entertainment. The collaboration with the four members of Abba, who first formed in Stockholm in 1972 and who remain among the most iconic and enduring talents in the world, marks a key 'ahead of the curve' step towards fully realizing the possibilities of virtual reality—and in the process transforming the face of popular entertainment."
The members of Abba will be involved throughout the creative process, maintaining the authenticity and integrity of the band's original vision within this exciting new realm of entertainment possibilities.
The announcement comes several months after the group had a very brief impromptu performance. On June 5, at an event in Stockholm, Sweden marking the 50th anniversary of when Abba members Björn Ulvaeus and Benny Andersson met, the four members took the stage together for one song, "The Way Old Friends Do."
Related: Abba perform together in June 2016
Ulvaeus and Andersson started Abba with Agnetha Fältskog (who would marry Ulvaeas) and Anni-Frid Lyngstad (who married Andersson; both couples later divorced). The group sold hundreds of millions of records worldwide. While they only earned four Top 10 singles in the U.S., elsewhere is a completely different story. In the U.K. alone, the group scored nine #1 hits including "Waterloo," "Dancing Queen" and "Take a Chance on Me."
Regarding the new opportunity, Andersson says: "We're inspired by the limitless possibilities of what the future holds and are loving being a part of creating something new and dramatic here. A time machine that captures the essence of who we were. And are."
Adds Lyngstad: "Our fans around the world are always asking us to reform and so I hope this new Abba creation will excite them as much as it excites me!"
Fuller notes: "We are exploring a new technological world, with Virtual Reality and Artificial Intelligence at the forefront, that will allow us to create new forms of entertainment and content we couldn't have previously imagined."
Further details of the collaboration will be announced in 2017.

Latest posts by Best Classic Bands Staff
(see all)