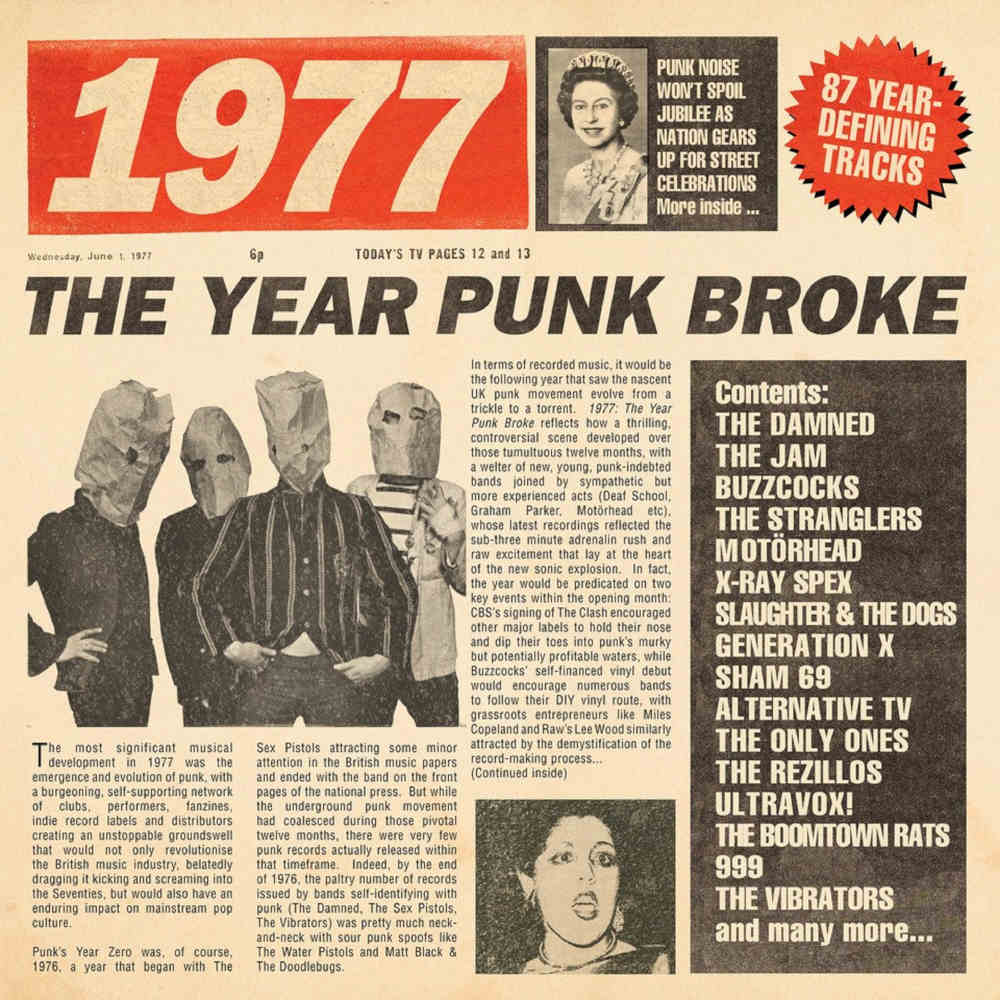 A three-CD, 87-track boxed set, 1977—The Year Punk Broke, is set for June 28 release from the U.K.'s Cherry Red label. The label says, in a press release, that it hopes the set "kickstarts what we hope will be a new year-based series of compilations, celebrating the explosion of a new British phenomenon in 1977." The triple-CD box set follows the four-CD compilation Action Time Vision (2016), documenting punk on indie labels, and 2017's power pop/new wave set Harmony In My Head.
As the announcement points out, punk actually took off in 1976 in Britain, but, "Very few punk records were actually released that year. The most significant musical developments happened in 1977, with a burgeoning, self-supporting network of clubs, performers, fanzines, indie labels and distributors creating an unstoppable groundswell that would revolutionize U.K. music and have an enduring impact on pop culture."
Related: 20 classic punk rock songs Part 1
Watch the Damned perform "Neat Neat Neat"
Many of the year's major British breakthrough acts and cult favorites are featured in the set, including the Jam "Away From the Numbers"), the Damned, the Boomtown Rats, Buzzcocks, the Stranglers, Generation X, Sham 69, the Only Ones, the Rezillos, Ultravox!, 999, X-Ray Spex, ATV, the Boys and the Vibrators.
Related: 20 classic punk rock songs Part 2
Also included are what's described as "the older guard"—variously labelled pub rock, new wave or art rock artists, represented by Doctors of Madness, Eddie and the Hot Rods, Deaf School, Tom Robinson Band ("2-4-6-8 Motorway"), the Tyla Gang, Graham Parker and the Rumour ("New York Shuffle"), the Gorillas, the Count Bishops, Radio Stars, Spider and Alberto Y Lost Trios Paranoias.
The deluxe clamshell package includes a booklet full of illustrations, with a 15,000-word sleeve-note and band-by-band biographies by compiler David Wells.
Related: The year 1977 in 50 classic albums
Other key names include Motorhead and the Heartbreakers.

Latest posts by Best Classic Bands Staff
(see all)