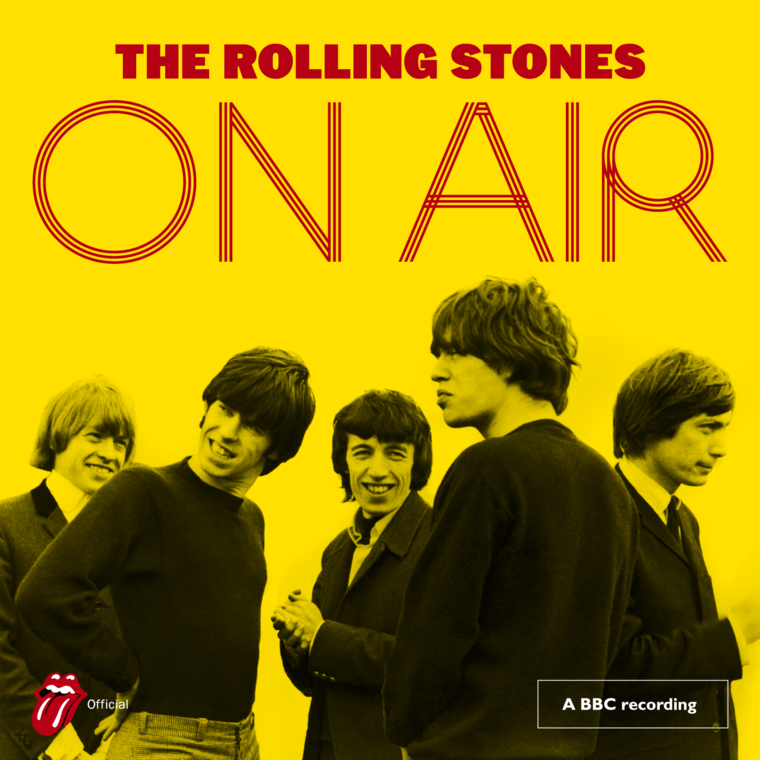 A collection of rarely heard radio recordings, The Rolling Stones On Air, featuring music from the band's formative years, will be released on Dec. 1 via Polydor Records/UMe. The songs, including eight the band has never recorded or released commercially, were originally broadcast on U.K. BBC shows such as Saturday Club, Top Gear, Rhythm and Blues and The Joe Loss Pop Show between 1963 and 1965.
The set will be released on CD, double-CD deluxe edition, heavyweight vinyl and special limited-edition colored vinyl. According to a press release, "These flashbacks offer an insight into the band as a vital and constantly surprising live unit. Such was the frequency with which they visited BBC studios in the '60s, the group constantly set out to offer listeners something different. As well as songs that never appeared on singles or albums, there are seven tracks that were debuted over the airwaves before featuring on albums or EPs."
Pre-order CD here
Pre-order deluxe here
Pre-order vinyl here
The Stones take on familiar R&B staples like "Roll Over Beethoven," "Memphis, Tennessee" and "Beautiful Delilah" (all originated by Chuck Berry). The BBC urged the band to perform their current singles, and, says the press release, "While happy to do so they also relished the opportunity to showcase a fuller picture of their prowess as Britain's foremost blues outfit, packing clubs and ballrooms night after night."
Listen to "Roll Over Beethoven," released on Nov. 23
Related: Are the Stones ready to announce their 2018 tour plans?
Among the 32 tracks is "Come On," the group's debut single and also the first number laid down for The Saturday Club, hosted by the late Brian Matthew. "Come On" is released as the first track from the album and is available now on digital and streaming services.
Listen to "Come On" from The Saturday Club
Other highlights include "Fannie Mae" (originally recorded by bluesman Buster Brown in 1959), Tommy Tucker's "Hi Heel Sneakers" and Bo Diddley's "Cops And Robbers."
Also included are live-in-the-studio versions of renditions of Stones originals, such as "(I Can't Get No) Satisfaction," "The Last Time" and "The Spider And The Fly."
To help recapture the spirit of the songs when they were first performed, according to the press release, "The tapes have gone through a process called 'audio source separation,' which involved de-mixing the transcripts and allowing engineers at Abbey Road access to the original instrumentation and voices within each track, so that they could be rebuilt, rebalanced and remixed to achieve a fuller, more substantial sound."
This album follows the recent release of The Rolling Stones On Air coffeetable book, by Richard Havers and published by Virgin Books.
Read about the book here.
The Rolling Stones On Air Track Listing
1. Come On Saturday Club, 1963
2. (I Can't Get No) Satisfaction Saturday Club, 1965
3. Roll Over Beethoven Saturday Club, 1963
4. The Spider And The Fly Yeah Yeah, 1965
5. Cops And Robbers Blues in Rhythm, 1964
6. It's All Over Now The Joe Loss Pop Show, 1964
7. Route 66 Blues in Rhythm, 1964
8. Memphis, Tennessee Saturday Club, 1963
9. Down The Road Apiece Top Gear, 1965
10. The Last Time Top Gear, 1965
11. Cry To Me Saturday Club, 1965
12. Mercy, Mercy Yeah Yeah, 1965
13. Oh! Baby (We Got A Good Thing Goin') Saturday Club, 1965
14. Around And Around Top Gear, 1964
15. Hi Heel Sneakers Saturday Club, 1964
16. Fannie Mae Saturday Club, 1965
17. You Better Move On Blues in Rhythm, 1964
18. Mona Blues In Rhythm, 1964
Bonus Tracks (Deluxe)
19. I Wanna Be Your Man Saturday Club, 1964
20. Carol Saturday Club, 1964
21. I'm moving On The Joe Loss Pop Show, 1964
22. If You Need Me The Joe Loss Pop Show, 1964
23. Walking The Dog Saturday Club, 1964
24. Confessin' The Blues The Joe Loss Pop Show, 1964
25. Everybody Needs Somebody To Love Top Gear, 1965
26. Little By Little The Joe Loss Pop Show, 1964
27. Ain't That Loving You Baby Rhythm And Blues, 1964
28. Beautiful Delilah Saturday Club, 1964
29. Crackin' Up Top Gear, 1964
30. I Can't Be Satisfied Top Gear, 1964
31. I Just Want to Make Love To You Saturday Club, 1964
32. 2120 South Michigan Avenue Rhythm and Blues, 1964

The BCB team brings you the latest Breaking News, Contests, On This Day rock history stories, Classic Videos, retro-Charts and more.

Latest posts by Best Classic Bands Staff (see all)