ZZ Top continues to release new tracks from a new album titled RAW, recorded in connection with the band's 2019 Netflix documentary That Little Ol' Band From Texas. The Grammy-nominated feature from Banger Films and director Sam Dunn includes an interlude that finds the group's classic line up—Billy Gibbons, Frank Beard and the late Dusty Hill—gathering for an intimate session at Gruene Hall, "the oldest continually run dance hall in Texas." That performance provides the basis for the RAW album release. Listen to many of the tracks below.
RAW will be released July 22 by Shelter Records/BMG on 180-gram vinyl, CD and through digital platforms and is dedicated "In righteous memory of Dusty Hill." The liner notes were written by Gibbons and Beard.
The album's title, according to a press release, "is derived from the unfettered and straightforward manner in which the tracks were recorded. As seen in the film, the band members played, for the most part, together within sight of each other in the course of one day. The methodology employed was something of an homage to the way ZZ Top recorded at the start of its epic five-plus decades run at the pinnacle of rock's pantheon."
Gibbons served as producer with engineering by Jake Mann and Gary Moon; RAW was mixed by Ryan Hewitt. The album's 12 tracks recall the very beginning of the band's recording career ("Brown Sugar" and "Certified Blues" from ZZ Top's First Album) and include many of their major hits ("Legs," "Tush," "La Grange," "Gimme All Your Lovin'") with a definite blues skew ("Blue Jean Blues," "Just Got Paid," "I'm Bad, I'm Nationwide") as well as some uptempo house rockers ("Tube Snake Boogie," "Thunderbird").
ZZ Top reached back to its very early days with "Brown Sugar," penned by Billy F Gibbons, and not be mistaken for the Rolling Stones song of the same title, the latter of which was actually released three months after ZZ Top's First Album.
A video for "Tube Snake Boogie" was made available on May 20. The song, written by Gibbons, Hill and Beard, debuted in 1981 as part of ZZ Top's El Loco album and is one of their most enduring in-concert favorites, typically provoking frenzied audience participation. Hill had characterized it as the ultimate "party song" while Gibbons credits Beard for getting it up and running. He noted, "It really revolves around Frank's opening which is kind of surf-meets-jungle." For his part, Beard credits his drum intro as having been inspired by Sandy Nelson's classic percussion-driven instrumental "Teen Beat."
RAW Track Listing
Side 1
Brown Sugar
Just Got Paid
Heard It On The X
La Grange
Tush
Thunderbird
Side 2
I'm Bad, I'm Nationwide
Gimme All Your Lovin'
Blue Jean Blues
Certified Blues
Tube Snake Boogie
Listen to "La Grange" from the album
At the same time the new album was announced, the band's forthcoming Raw Whisky Tour has been revealed. The first leg of the tour, starting on May 27 in San Diego, will see the band on stage in 50 markets across North America, with more dates to be announced soon. The tour's title is a hat tip to both the forthcoming album as well as the recent release of ZZ Top Tres Hombres whisky from Balcones Distilling of Waco, Tex.
RAW Whisky 2022 Tour Dates (Tickets are available here and here)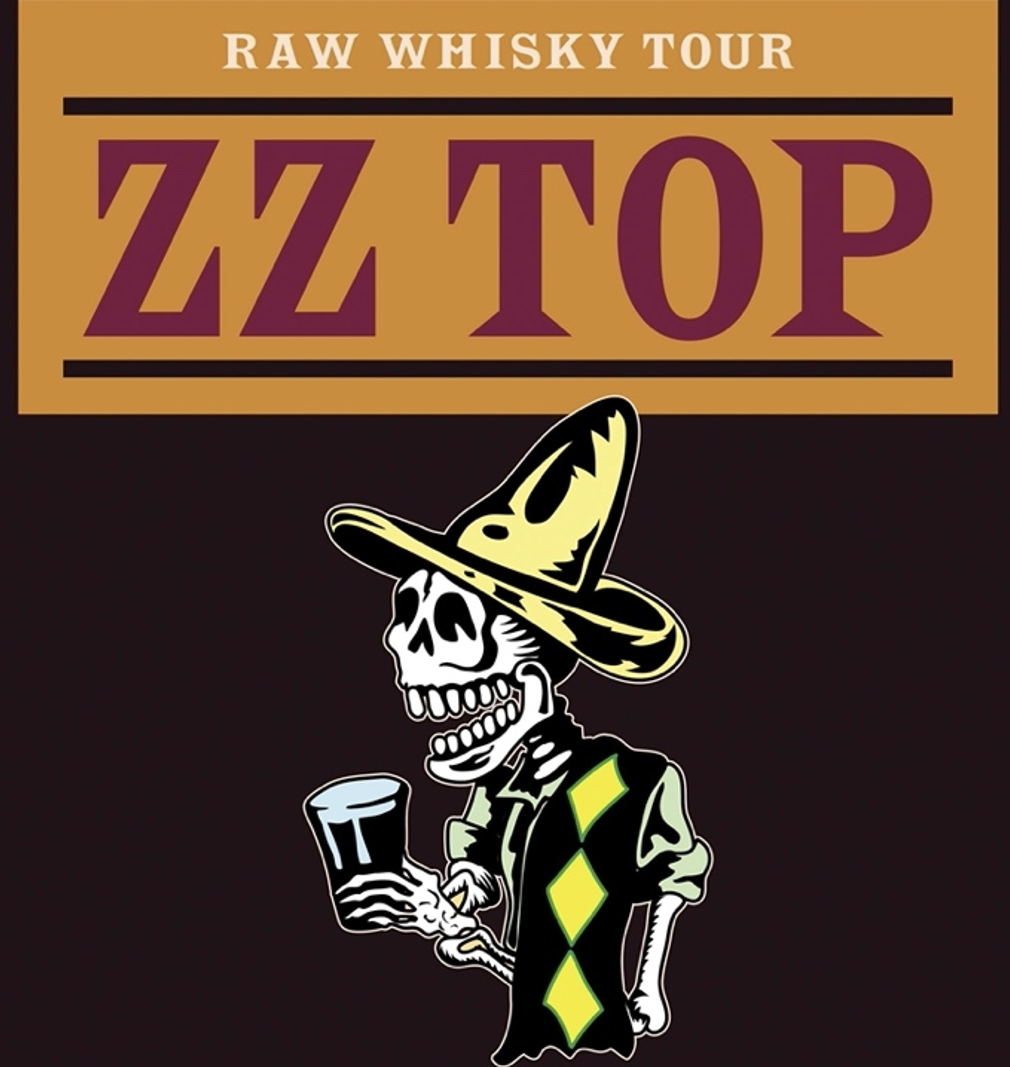 June 24 Park City, KS Hartman Arena
June 25 Oklahoma City, OK Zoo Amphitheatre
June 26 Little Rock, AR First Security Amphitheater
June 29 Rogers, AR Walmart Arkansas Music Pavilion
July 01 Toledo, OH Toledo Zoo & Aquarium Amphitheater
July 02 Sterling Heights, MI Michigan Lottery Amphitheatre, Freedom Hill
July 03 Woodstock, IL McHenry County Fairgrounds
July 05 Fort Wayne, IN Foellinger Theater
July 08 Traverse City, MI Cherry Festival
July 09 Greenville, WI Greenville Lion's Park
July 22 Boston, MA Leader Bank Pavilion
July 23 Watertown, NY Watertown Fairgrounds Baseball Diamond
July 24 Grantville, PA Hollywood Casino
July 26 Baltimore, MD MECU Pavilion
July 27 Harrington, DE Delaware State Fairgrounds
July 29 Cuyahoga Falls, OH Blossom Music Center
July 30 Cincinnati, OH Riverbend Music Center
July 31 Burgettstown, PA The Pavilion at Star Lake
Aug 02 Portsmouth, VA Atlantic Union Bank Pavilion
Aug 03 Asheville, NC Thomas Wolfe Auditorium
Aug 05 Greensboro, NC White Oak Amphitheatre
Aug 06 Atlanta, GA Cadence Bank Amphitheatre
Aug 07 Simpsonville, SC CCNB Amphitheatre at Heritage Park
Aug 10 Hyannis, MA Cape Cod Melody Tent
Aug 12 Gilford, NH Bank of New Hampshire Pavilion
Aug 13 Bethel, NY Bethel Woods Center for the Arts
Aug 14 Darien Center, NY Darien Lake Theme Park Resort
Aug 16 Des Moines, IA Iowa State Fair
Aug 17 Sedalia, MO Missouri State Fairgrounds
Aug 18 St. Louis, MO Saint Louis Music Park
Aug 20 Mystic Lake, MN Mystic Lake Casino
Aug 21 Lincoln, NE Pinewood Bowl Theater
Aug 23 Dubuque, IA Five Flags Center
Aug 24 Madison, WI The Sylvee
Aug 26 Indianapolis, IN TCU Amphitheater at White River State Park
Aug 27 Beaver Dam, KY Beaver Dam Amphitheater
Aug 28 Pikeville, KY Appalachian Wireless Arena
Sep 23 Del Valle, TX Germania Insurance Amphitheater*
Sep 24 Dallas, TX Dos Equis Pavilion*
Sep 25 The Woodlands, TX Cynthia Woods Mitchell Pavilion*
*With Jeff Beck
Related: Listings for 100s of classic rock tours

Latest posts by Best Classic Bands Staff
(see all)