The two Willie Nelson 90th birthday all-star concerts held earlier this year are being released in a variety of formats. Long Story Short: Willie Nelson 90 Live at the Hollywood Bowl, produced by Blackbird Presents, with performances by Nelson, Keith Richards, Emmylou Harris, Neil Young, Stephen Stills, Norah Jones, Kris Kristofferson, Rosanne Cash, and Tom Jones, among many others, arrives December 15, 2023, via Legacy Recordings as a 2-CD + Blu-Ray deluxe edition and as a 2-LP highlights edition. Listen to several of the performances below.
The pair of concerts were recorded live on April 29 and 30 at the legendary venue and also feature performances by Allison Russell, Beck, Billy Strings, Bobby Weir, Booker T. Jones, Buddy Cannon, Charley Crockett, Charlie Sexton, Chris Stapleton, Daniel Lanois, Dave Matthews, Dwight Yoakam, Edie Brickell, Gary Clark Jr., George Strait, Jack Johnson, Jamey Johnson, Leon Bridges, Lily Meola, Lukas Nelson, Lyle Lovett, Margo Price, Micah Nelson (Particle Kid), Miranda Lambert, Nathaniel Rateliff, Orville Peck, Rodney Crowell, Sheryl Crow, Snoop Dogg, The Avett Brothers, The Lumineers, Tyler Childers, Warren Haynes, Waylon Payne, and Ziggy Marley.
Listen to "Angel Flying Too Close to the Ground"
The deluxe edition will include three hours of video performances from the concert along with three video bonus performances, 39 audio tracks and a multi-page booklet. The 2-LP vinyl edition features select highlights from the event.
Listen to Dave Matthews' performance of "Funny How Time Slips Away"
2023 has been another banner year for Nelson, who recorded two new studio albums for Legacy: I Don't Know a Thing About Love (Willie's musical tribute to legendary American songwriter Harlan Howard, released in March) and September's Bluegrass (Nelson performing 12 of his favorite self-penned classics with a bluegrass ensemble). The latter entered the Billboard Bluegrass Albums chart at #1, marking his first appearance on the chart in its 21-year history.
In February, Nelson took home two Grammys at the 65th Annual Grammy Awards including Best Country Album for A Beautiful Time. Throughout the course of his career Willie Nelson has earned, among innumerable prestigious awards, 12 Grammy Awards including their Lifetime Achievement Award.
On October 31 from HarperCollins, Nelson's new book, Energy Follows Thought: The Stories Behind My Songs, arrived with the stories behind the lyrics of 160 of his favorite songs, along with an assortment of never-before-seen photos and ephemera.
Willie Nelson Greatest Hits, a freshly compiled career-spanning collection of 25 essential performances, chronicling his musical journey from early '60s country-pop singer-songwriter through the '70s outlaw country revolution to his current iconic status as an ambassador of musical goodwill, was released on Nov. 3.
That same day, Nelson was inducted into the Rock & Roll Hall of Fame at Barclays Center in Brooklyn, New York. (A broadcast edit of the event will air on ABC from 8-11 pm ET on January 1, 2024.)
The complete track listing of Willie Nelson 90 Live appears below the Amazon links. When you buy something using one of the links on our site, we receive a commission. Thank you for supporting Best Classic Bands.
Related: Our love letter to Willie Nelson—14 great collaborations
Long Story Short: Willie Nelson 90 Live at the Hollywood Bowl (CD track order differs slightly from Blu-ray)
Disc 1
1. Whiskey River – Billy Strings
2. Yesterday's Wine – Charley Crockett
3. Seven Spanish Angels – Allison Russell & Norah Jones
4. Remember Me (When The Candle Lights Are Gleaming) – Edie Brickell & Charlie Sexton
5. Cowboys Are Frequently Secretly Fond Of Each Other – Orville Peck
6. Me And Paul – Dwight Yoakam
7. Die When I'm High (Halfway To Heaven) – Particle Kid & Daniel Lanois
8. Georgia On A Fast Train – Margo Price & Waylon Payne
9. It Ain't Over Yet- Rodney Crowell, Emmylou Harris, Waylon Payne, Mickey Raphael
10. Hello Walls – Lyle Lovett
11. Hands On The Wheel – Beck
12. Midnight Rider – Warren Haynes
13. Loving Her Was Easier (Than Anything I'll Ever Do Again) – Rosanne Cash & Kris Kristofferson
14. Funny How Time Slips Away – Dave Matthews
15. Angel Flying Too Close To The Ground – Lukas Nelson
16. City Of New Orleans – Nathaniel Rateliff
17. Stardust – Willie Nelson & Booker T. Jones
18. Will You Remember Mine – Willie Nelson & Lily Meola
19. Something You Get Through – Willie Nelson & Buddy Cannon
Disc 2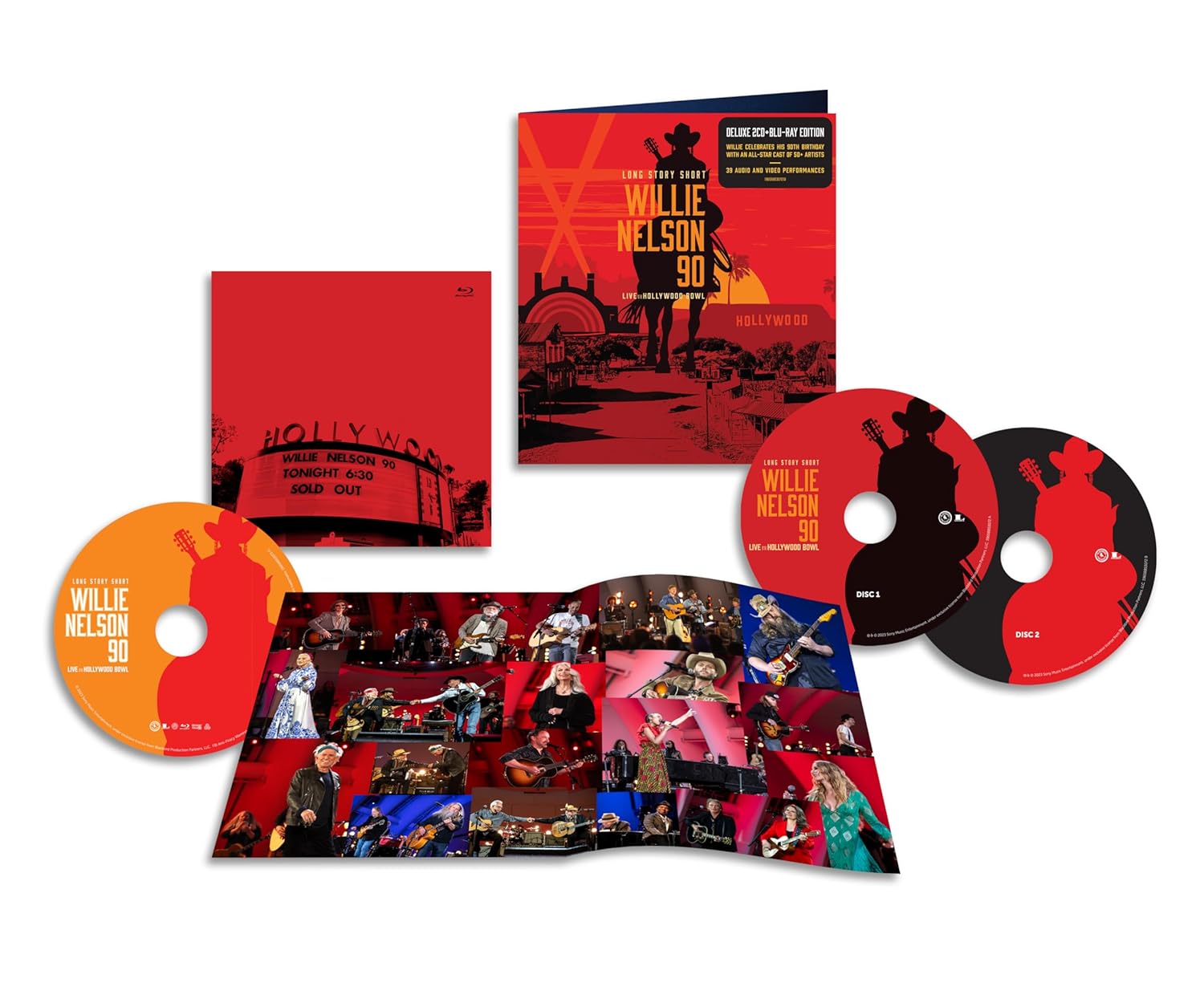 1. California Sober – Willie Nelson & Billy Strings
2. Still Is Still Moving To Me – Ziggy Marley
3. Down Yonder – Norah Jones
4. Pick Up The Tempo – The Avett Brothers
5. Pretty Paper – The Lumineers
6. Time Of The Preacher – Tyler Childers and The Food Stamps
7. Night Life – Leon Bridges & Gary Clark Jr.
8. Texas Flood – Gary Clark Jr.
9. Opportunity To Cry – Tom Jones
10. Blue Eyes Crying In the Rain – Bobby Weir
11. Willie Got Me Stoned – Jack Johnson
12. Georgia On My Mind – Jamey Johnson, Warren Haynes, Booker T. Jones
13. Mammas Don't Let Your Babies Grow Up To Be Cowboys – Miranda Lambert
14. Always On My Mind – Chris Stapleton
15. Are There Any More Real Cowboys? – Willie Nelson, Neil Young, Stephen Stills
16. Far Away Places – Willie Nelson & Sheryl Crow
17. Pancho & Lefty – Willie Nelson & George Strait
18. Roll Me Up And Smoke Me When I Die – Willie Nelson & Snoop Dogg
19. We Had It All – Willie Nelson & Keith Richards
20. On The Road Again & Happy Birthday – All Sing
Watch a video from an audience member of the finale

Latest posts by Best Classic Bands Staff
(see all)