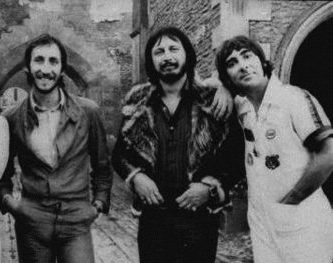 It was already a tour full of surprises when The Who brought Quadrophrenia to North America in late 1973 and a fan sat in for Keith Moon on the final encore of the band's first show after the drummer passed out on tranquilizers. (See our previous On This Day Item here.) Perhaps he should have taken them 12 nights later.
After a reportedly excellent show at the Montreal Forum, the group were enjoying a fête in a suite of the Hotel Bonaventure when Moon smashed a bottle of ketchup against the wall. Pete Townshend liked how it looked so well that he suggested they frame it. Moon kicked out a work of hotel art from its frame, and voila! Townshend later cut himself and added some of his blood to the masterpiece.
Both a TV and sofa went out the window. A heavy marble coffee table was used to enlarge the suite by knocking down a wall. Crashing TV and sofa notwithstanding, the destruction was supposedly not discovered until after the band members and their fellow revelers had left the suite, but someone left the door ajar and the hotel's night porter came across the scene.
Cops were called, and Moon, Townshend and Entwistle were arrested as well as 14 members of their crew. As he was being booked, Moon quipped, "I believe I reserved a suite."
Listen to "5:15" from the Montreal concert. "Why should I care?" "Dreadfully sorry…"
The next day the show's promoter had to go to the city jail with $6,000 to cover damages and spring the band to appear that night in Boston.
(This wasn't The Who's first altercation at a North American hotel. In 1967, Keith Moon inspired some damage at a Holiday Inn, but that's for another time….)
Related: Keith Moon – Rock's greatest drummer
John Entwistle wrote a song about the incident for his next Ox album.
When The Who schedule a tour, tickets will be available at Ticketmaster and here.

Latest posts by Best Classic Bands Staff
(see all)