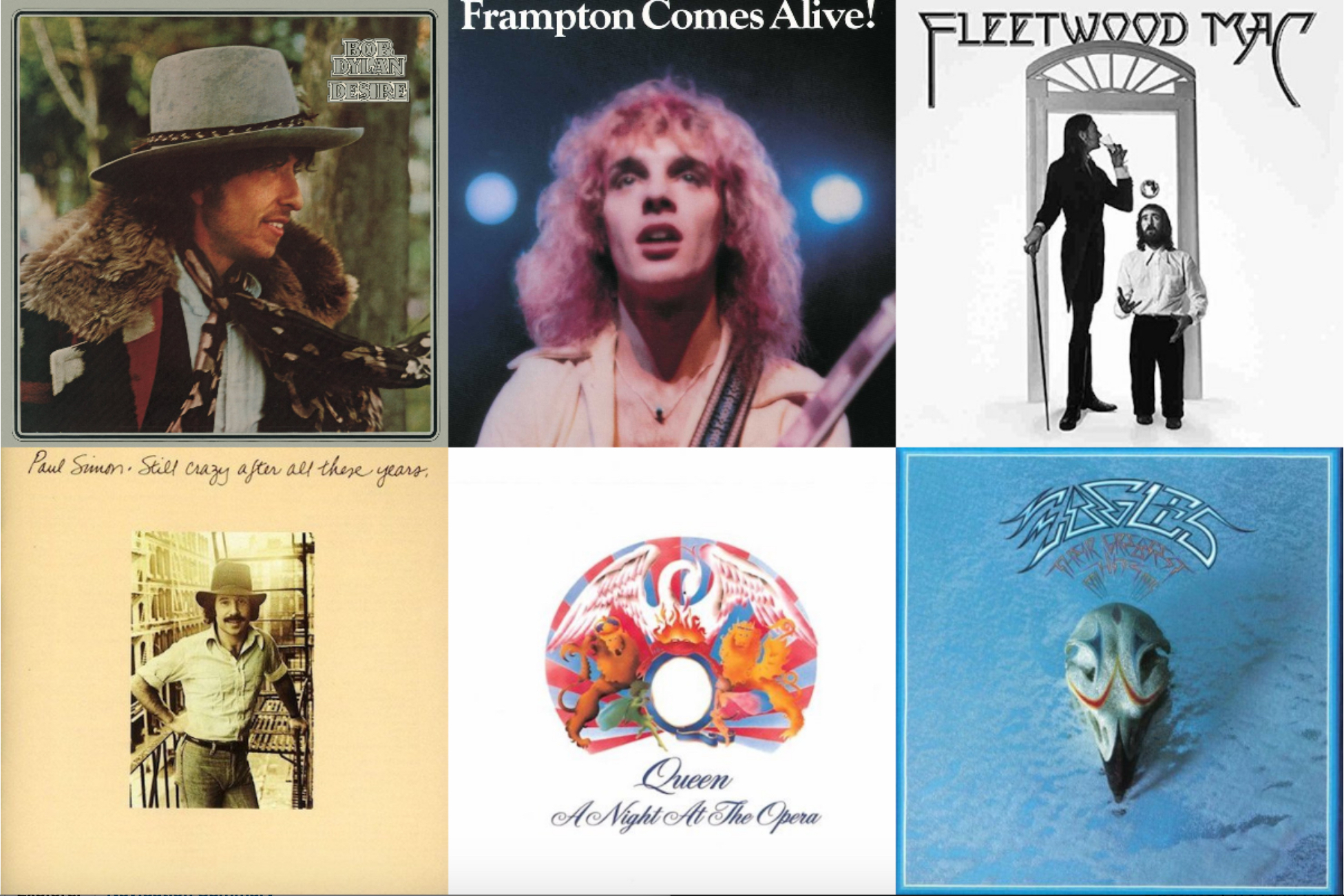 In April 1976… Apple Computer Company was formed by Steve Jobs, Steve Wozniak and Ronald Wayne. The U.S. Treasury reintroduced the the two-dollar bill for the nation's bicentennial. Filming of the first Star Wars movie was underway in Tunisia.
Recordings made by some of the biggest classic rock artists of the era dominated the list of top-selling albums in the U.S. The chart, compiled by the former music industry trade magazine, Record World, features several all-time classics among the month's Top 15 sellers, including legendary albums by Queen, Peter Frampton and Fleetwood Mac, plus greatest hits collections from several huge acts.
After eight studio albums (including several double LPs), Chicago had plenty of material to include on their first hits collection. It had previously reached #1–their fifth straight to do so–and was still #15 in its 20th week of release.
Former Spooky Tooth member Gary Wright scored a big solo breakthrough with The Dream Weaver, thanks to two huge singles. Both "Dream Weaver" and "Love is Alive" reached #2 on the singles chart.
Related: Our feature on Gary Wright – the Dream Weaver
Queen's A Night at the Opera earned the band their first U.K. #1 album. It reached #4 in the U.S. and gave us "Bohemian Rhapsody," "You're My Best Friend" and "39," among others.
Related: Our Album Rewind of the week's #12 album
From 1972 to 1975, America earned six Top 10 singles, bookended by the #1 hits "A Horse With No Name" and "Sister Golden Hair." The band celebrated with their first hits compilation, History/America's Greatest Hits, which was an enormous success with cumulative sales of more than four million copies.
The third studio album from Bad Company was Run With the Pack, at #7 this week, from Misters Rodgers, Ralphs, Burrell and Kirke.
1976's Desire marked the second consecutive #1 album for Bob Dylan. (He would return to the top spot 30 years later.) Desire features two well-received singles, "Mozambique" and "Hurricane." The latter helped build support for the subsequent release from jail of Rubin "Hurricane" Carter, more than a decade later.
You can win a bar bet with this one: Paul Simon's first–and only–solo album and solo single to reach #1 were Still Crazy After All These Years and "50 Ways to Leave Your Lover," respectively. You can look it up. (We did.) And, nope, his enormously successful Graceland peaked at just #3. Still Crazy also included the popular title track and "Gone at Last," his duet with Phoebe Snow.
If you release an album with three singles that reach #1, 2 and 4, you'll hit the jackpot. That's what happened to the Eagles with what became their breakthrough in terms of album sales with One of These Nights. Those singles were the title cut, "Lyin Eyes" and "Take it to the Limit." The album was their first to hit #1 and earned the band superstardom.
It's easy to forget, but until the longtime Fleetwood Mac lineup made its debut in the summer of 1975 with the band's second self-titled album, they had only one previous song on the U.S. singles chart. That all changed when the group, with Lindsey Buckingham and Stevie Nicks as members, released Fleetwood Mac. An overwhelming smash, it reached #1, spent more than a year in the Top 40, and sold more than five million copies in the U.S. This week, in its 37th week on the chart, it jumped from #6 to #3, thanks to the success of "Rhiannon" (though neither it nor the LP's other two singles–"Over My Head" or "Say You Love Me"–hit the Top 10).
What can be said about Peter Frampton's double-LP Frampton Comes Alive that hasn't been said already? It was #2 this week and would ultimately reach #1 in April. Three singles from the album—"Show Me the Way" (#6), "Baby, I Love Your Way" (#12) and "Do You Feel Like We Do" (#10)—became radio staples.
And at #1? The Eagles again. Their Greatest Hits 1971-1975 was originally released in 1976 and spent over two years on the album chart. It contains music from the group's first four albums (the pre-Joe Walsh period). In August 1978, the RIAA updated its sales figures and announced it to be the best-selling album of all-time in the United States, with more than 38 million sold, surpassing Michael Jackson's Thriller.
Related: Many of these artists are among the 100s of classic rock acts that still tour regularly
15. Chicago IX: Chicago's Greatest Hits (Columbia)
14. The Dream Weaver – Gary Wright (Warner Bros.)
13. Outlaws – Various Artists (RCA)
12. A Night at the Opera – Queen (Elektra)
11. History/America's Greatest Hits (Warner Bros.)
10.  Eargasm – Johnnie Taylor (Columbia)
9. Run With the Pack – Bad Company (Swan Song)
8. Come on Over – Olivia Newton-John (MCA)
7. Song of Joy – Captain & Tennille (A&M)
6. Desire – Bob Dylan (Columbia)
5. Still Crazy After All These Years – Paul Simon (Columbia)
4. One of These Nights – Eagles (Asylum)
3. Fleetwood Mac (Warner Bros.)
2. Frampton Comes Alive – Peter Frampton (A&M)
1. Their Greatest Hits: 1971-1975 – Eagles (Asylum)

Latest posts by Best Classic Bands Staff
(see all)